Help me bury my mother who has been in morgue for 2 years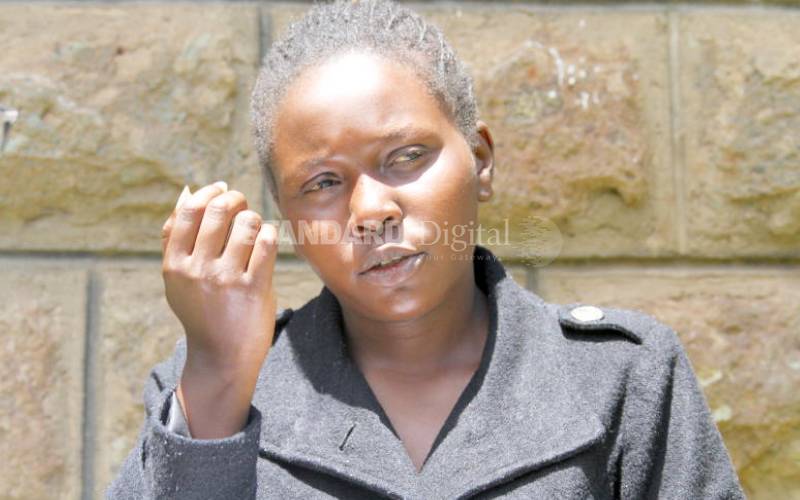 It has been two years of despair and unending mental anguish for Francisca Wanjiru.
Each day, she has to wrestle with the haunting fact that her mother's body is lying inside a freezer at the Nairobi Women's Hospital mortuary.
Wanjiru's story, although not unique, is a tragic one. Since the death of her mother, Stella Wamuyu Mwangi, on November 17, 2017, the hospital has detained the body over an unpaid bill of Sh4,046,341 accumulated during a four-month stay in the facility.
The daughter says they are victims of circumstance. In July 2017, during a strike by health workers, her mother unexpectedly fell sick. At first, Wanjiru and her sister arranged for Wamuyu to be treated in the house because they lacked medical insurance.
"We called a doctor to treat her from home. One morning we found her unconscious. The next day we took her to Kikuyu Hospital, but they said her condition was critical and advised we take her to a different hospital. There was a strike by health workers so we couldn't get space in the public hospitals we visited," Wanjiru narrates.
She says a nurse advised the family to take their mother to the private hospital.
"She was unconscious when we took her there so she was taken to the intensive care unit. Sometimes she got better and then she would deteriorate, so she alternated between the ICU and the general ward," Wanjiru says.
While Wamuyu was initially treated for meningitis, her daughter says that she also developed tuberculosis which pushed up her bill.
Wanjiru told The Standard that her mother had been healthy before the sudden illness, save for episodes of high blood pressure that started taking a toll on her health after their father died in 2015, leaving her to raise six children.
The daughter says she never saw Wamuyu open her eyes or speak in the months she was hospitalised.
According to Wanjiru, it was only after her mother's death that the family realised the bill had surpassed Sh4 million.
"The hospital did not ask us for a deposit. Even during treatment they did not pressure us to pay. We only saw the bill after she died"," she says.
By August this year, the family had accumulated an additional mortuary bill of Sh307,800.
Sitting around
Wanjiru says the family has unsuccessfully tried to get help, from attempting to get in touch with leaders to organising a fundraiser.
"I feel very sad seeing her. Even the last time I saw mum, I cried all the way home. It's not easy sitting around knowing your mother is in that state. I know it's her because I'm her daughter, but another person wouldn't recognise her.
"It is not easy for me because her body has changed; it has dried and shrunk and is darker. It does not even look like a body anymore; it's more like a stone," Wanjiru says.
After four visits, she has now stopped going to the morgue where a single visit costs Sh500,
Wanjiru is now appealing for help to get her mother's body and finally lay it to rest. She is jobless and stays at home to take care of the younger children while two of her siblings work casual jobs.
"We have no one to help us. My mother's family is not well-off so they cannot help. My father's family in Murang'a went silent after his death,'" Wanjiru reveals.
She adds: "We plead with the hospital to give us the body. We will never be able to pay the money no matter how long they keep it."
According to Shadrack Wambui, a lawyer, Wanjiru's predicament is just one of many cases where hospitals across the country continue to illegally detain patients' bodies.
Mr Wambui says that although it is unlawful to hold a body over unpaid bills, many families suffer in ignorance because they are unaware that they can take legal action against such hospitals.
"You have a right, but unless you invoke it, you cannot be helped. It remains a piece of paper."
He outlines the procedure for families facing similar problems, explaining, "It is a commercial dispute because the issue is money. The hospital is holding the body as lien. Therefore, you take the issue to the commercial department of the court."
Besides, Wambui adds, hospitals have other proper ways of getting the money owed.
Succession process
"A body is not property. You cannot auction it to get back your money. The reasonable thing to do is release the remains, for sentimental purposes.
"When someone passes away, the law of succession comes into place. The hospital should release the body and wait for the succession process to begin, then go after the deceased's estate. If the estate is not equivalent to the amount owed, the claim stops there," the lawyer states.
The Standard reached out to the Nairobi Women's Hospital several times, but they did not respond despite promising to get back on the matter.