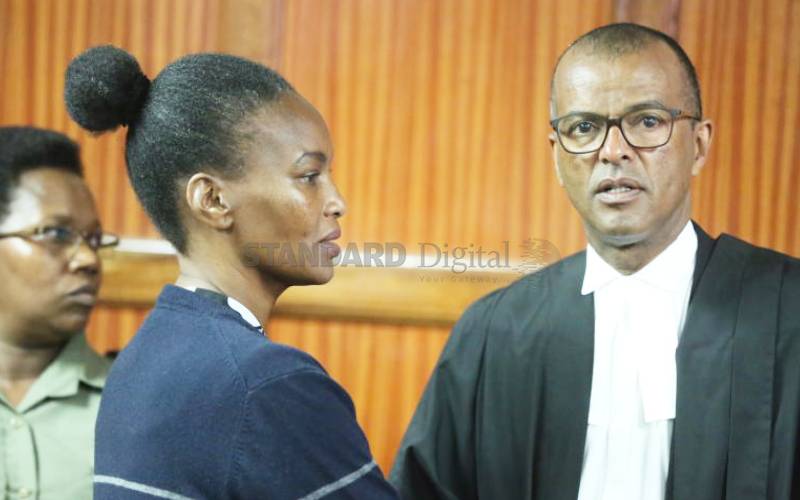 Court will tomorrow rule whether lawyer Philip Murgor will continue to represent Sarah Wairimu, the widow of slain Dutch national Tob Cohen, in a murder case.
Wairimu was expected to plead to murder charges yesterday but the prosecution said it wanted the Attorney General to confirm whether Murgor was still a public prosecutor.
Plea-taking was deferred for the fourth time.
High Court judge Stella Mutuku said she needed more time to make a ruling on the issue of representation before the suspect could plead to the charges.
Read More
Lawyer Cliff Ombeta, who is acting for the victim's family, said Murgor's status was in question because he was still a public prosecutor.
Murgor, at the same time, accused the prosecution of colluding with legislators to remove him from the case.
"I am not even sure whether Catherine Mwaniki is receiving instructions from the Director of Public Prosecutions (DPP) or from the Members of Parliament to have me removed from this case," added Murgor.
He told the court Wairimu had been in custody for 35 days and the prosecution had not produced any evidence in court, which was against the Constitution.
Delay case
Murgor said the issue of representation should not be used by the prosecution to delay the case because Wairimu had a constitutional right to be represented by a lawyer of her choice.
He said he had since resigned from being a public prosecutor and that it was not his duty to follow up on whether the State accepted his resignation or not.
According to Murgor, he is representing senior Government officials in Kimwarer and Arror dams scandal cases.
Murgor added that he had never received a cent from the State for being a public prosecutor, and that he expected an apology from the DPP.
"Unless the prosecution wants me to continue suffering and not conduct my duties, they should allow me to continue with my work," added Murgor.
"If the prosecution wants to continue buying time for this case, they should have good reasons because they are bringing shame on the office of the DPP," added Murgor.
Mwaniki, on the other hand, took issue with Murgor for alluding that she was in collusion with MPs.
"Murgor should substantiate and provide evidence on those serious claims," said Mwaniki.
Mwaniki said they were in court because someone's life was taken.
"The question in court is whether Murgor is rightful in representing Wairimu or not," said Mwaniki.
At the same time, lawyer Danstan Omari, who is a witness in the case, told the court he would also be filing an application seeking to lift a gag against the media.