Windstorm hits parts of Nairobi, causes widespread power outages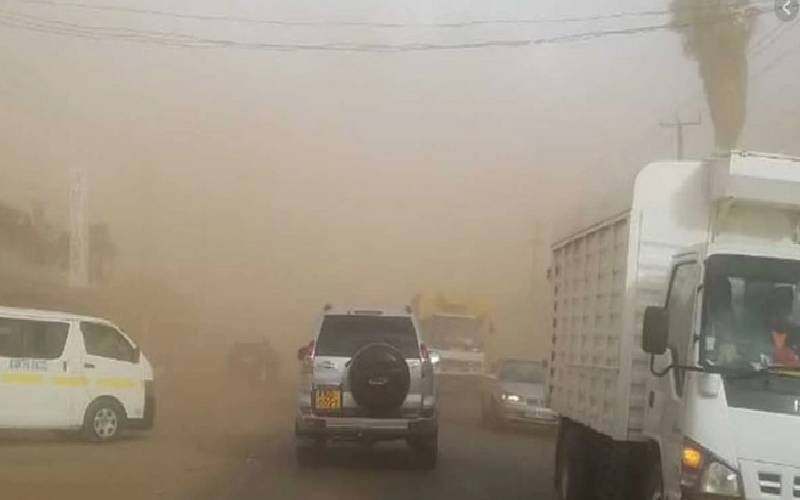 Many households in Nairobi and its surrounding experienced power blackouts on Tuesday evening due to strong winds and dust storms.
High winds ripped off building roofs, downed billboards and knocked out power to thousands in the affected areas.
According to the Kenya Meteorological Department, the windstorm is emanating from the Indian Ocean and that it could cause a few hitches in the affected areas.
"What we are experiencing is a deep convective system in the southern section of Kenya. This system is moving from the Coastal Kenya as it propagates inland toward South East low lands, Nairobi and Central parts of Kenya," said the department.
The weatherman has however said they are monitoring the situation and will make sure Kenyans are informed of any changes.
A massive dust storm blanketed Kitengenga, Kajiado and Mlolongo towns forcing people to hide in houses.
The dust storm which was also experienced in parts of Embakasi and on Mombasa Road was as a result of strong winds.
"I heard it coming, it was everything, wind dust and then the rain. Everyone was running to the houses," said Sherry Akinyi a resident of Embakasi.
Take a quick survey and help us improve our website!
Take a survey
Nelson Babu who works along Mombasa Road told Standard Digital that he was forced to run and board a vehicle as the huge wind approached from Kajiado sides with a lot of dust.
"I saw it coming and ran to the bus stage before it could catch up with me. I t was threatening and could even carry someone," he said.
The strong wind was also experienced in Thika, Murang'a Kirinyaga and Machakos.
The meteorological department told members of the public to brace themselves for rain to last for Tuesday and even Wednesday.
Meteorologists said the windstorm marks the start of short rain season in the country, warning Kenyans to prepare for rains.