President renews term of spy chief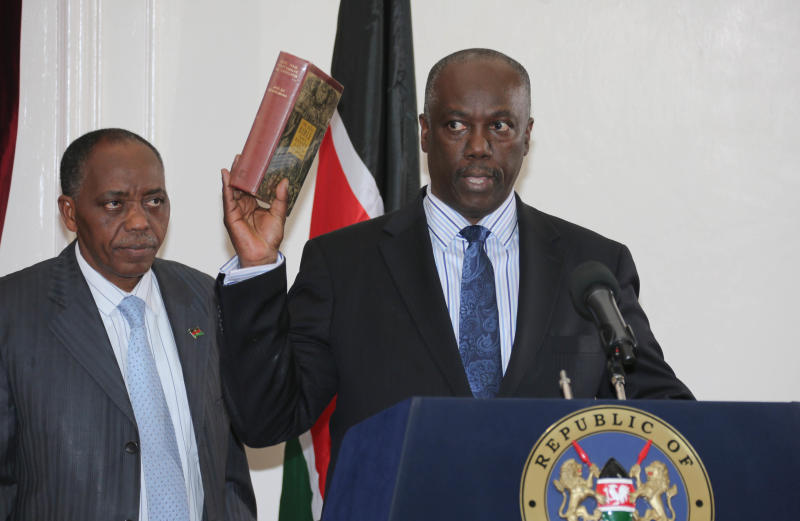 President Uhuru Kenyatta has renewed the term of the country's spymaster Major-General (rtd) Philip Wachira Kameru.
Uhuru is understood to have given Kameru (right) a second five-year term as Director-General of National Intelligence Service (NIS) a fortnight ago.
His first term was expected to end on September 11, the day he was sworn into office, having been nominated on August 21, 2014.
"The DG (Kameru) has already received the letter of renewal," a source familiar with development said.
According to the NIS Act, the DG shall hold office for a term of five years and may be eligible for reappointment for one further term.
Yesterday, State House Spokesperson Kanze Dena refused to confirm or deny the development only saying: "It will (decision) be communicated to the public in due time."
Insiders and observes say Uhuru appears to have put trust his trust in the spymaster who has been instrumental in the war against terrorism and graft.
Major role
Take a quick survey and help us improve our website!
Take a survey
In retaining him, the President has ensured that Kameru will play a major role in the transition and succession politics as Uhuru's second and final presidential term comes to an end in 2022.
The spymaster is also said to have played a significant role, behind the scenes, in the March 2018 famous handshake between Uhuru and opposition leader Raila Odinga.
Under Kameru, who took over from Michael Gichangi, incidents of terror have drastically reduced with the Garissa University attack in 2015 that left 148 dead being one of the only two deadliest incidents under his watch.
The second incident was the January 2019 dusit2 attack that killed 21 persons. Terror attacks that rocked Nairobi and Mombasa between 2012 and 2014 seem to have waned.
The spy chief also is said to have the ear of his boss on matters to do with war on corruption, with the NIS playing major role in the Multi-Agency Task Team.
The team
Members of the team include officials from the Directorate of Criminal Investigations (DCI), NIS, Financial Reporting Centre (FRC), EACC, Director of Public Prosecutions (DPP), the Asset Recovery Agency (ARA) and the Attorney General.
Uhuru has also appointed several spies to head key institutions in the past five years, with the hand of Kameru being seen in the move.
DPP Noordin Haji, FRC Director-General Saitoti Maika, Inspector General of Police Hilary Mutyambai, EACC chief executive officer Twalib Mbarak, Director of Immigration Alex Muteshi are among top spies tapped by Uhuru.
Haji served as the deputy director of counter-organised crime at the NIS before the current job. In December 2014, Uhuru appointed Joseph Boinnet, who had served as an assistant intelligence principal officer, as Inspector General of Police. He was a former police officer before he joined NIS.
Mutyambai, who was a deputy director of counter-terrorism at the spy agency then replaced Boinett as IG.