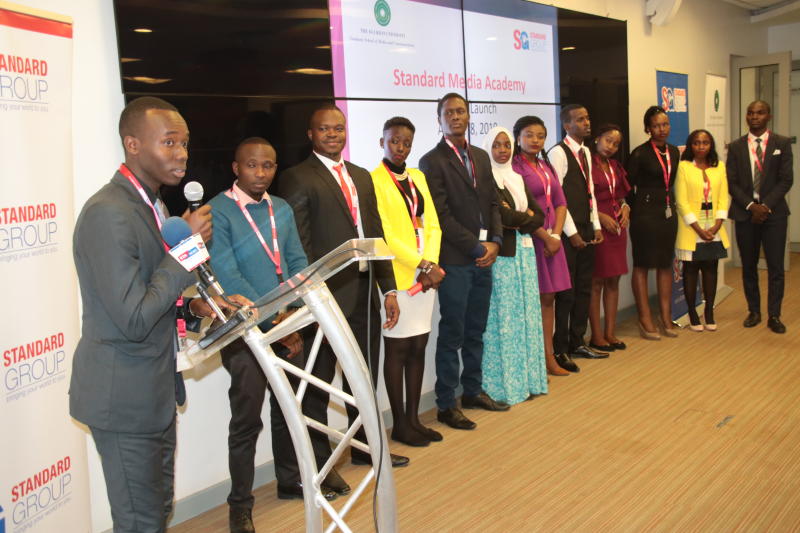 Twelve young aspiring journalists have started a nine-month practical training on media reporting at the Standard Media Academy.
The programme, which was officially launched yesterday, is a partnership between The Standard Group PLC and Aga Khan University Graduate School of Media and Communications.
The trainees are the third group to be trained at the media lab. The first and second groups went through the media talent incubator in 2015 and 2017 respectively.
The group was selected from about 900 applicants after a series of rigorous interviews, testing various potential skills required in the media industry, said Standard Group Human Resource Director Nicholas Siwatom.
The intensive training will equip the new trainees with modern journalism skills in line with the dynamic nature of disseminating information resulting from technological disruptions in the industry.
"The training will be led by experts in all fields including online, television, print and radio among other platforms," revealed Dr Peter Kimani, an author and lecturer at Aga Khan University.
Interim Dean of the Graduate School Alex Awiti said the programme will take six months before trainees are dispersed to the newsrooms to put into practice the skills they have acquired.
Standard Group's Editor-in-Chief Ochieng Rapuro told the trainees that the company has high expectations from them.
Standard Group Chief Executive Officer Orlando Lyomu thanked the Aga Khan University for the partnership, saying the programme is crucial towards strengthening the push towards ethical journalism.
The new trainees were addressed by some of the journalists trained at the media lab led by 'The Standard' reporter Wainaina Wambu (2017) and KTN News political affairs reporter Geff Kirui (2015).