Senator Soka elected Centre for Multiparty Democracy head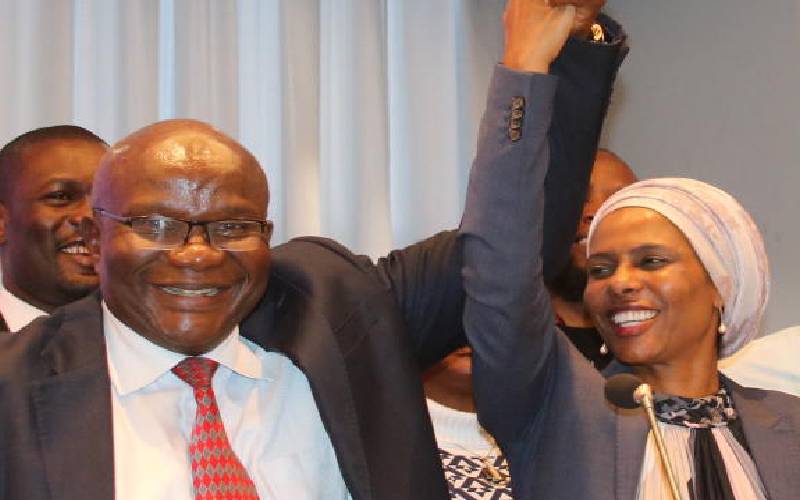 Nominated Kanu Senator Abshiro Soka has been elected Chairperson for the Centre for Multiparty Democracy (CMD)-Kenya
Orange Democratic Movement Secretary General Edwin Sifuna was elected vice chairperson, while Michael Orwa was made secretary and Joe Kanguchu treasurer.
Outgoing chairperson Omingo Magara congratulated Soka, saying he was confident that she would drive the institution to the next great level.
Ms Soka called other candidates who lost to work together with the elected team for the benefit of all.
"We will ensure we walk the talk and steer this institution to greater heights. I will constantly seek the counsel and consultations of outgoing chairperson, Hon Omingo Magara, to ensure we continue improving the institution where he and others have left it," she said.
She promised to forge relationships with other stakeholders and institutions.
"During campaigns, l didn't have money but promised that I have the leadership qualities that the institution and the country at large needs. I am therefore not surprised that l have been elected," said Soka.
She said the elections were free and fair, noting that no candidate complained of rigging.
Lauded predecessors
She commended her predecessors Amukowa Anangwe, Apollo Mboya, the late Bonaya Godana and Njeri Kabeberi Kanene, saying they had done a lot for the institution. She promised to follow in the footsteps.
"I am not going to play politics with the lives of Kenyans and the future of our country," said Soka.
The Centre for Multiparty Democracy brings together political parties and was established in March 2004.
It's mandate is to enhance multiparty democracy and strengthen the institutional capacity of political parties in Kenya through policy influence and capacity building.
The organisation provides a platform for political parties, political actors and policy makers to engage in dialogue and work together in strengthening multiparty democracy.
Among the programmes run by the centre is intra- and inter-party dialogue to improve multiparty democratic practice, party strengthening to enhance their role in policy making, gender and inclusivity as well as increasing constructive involvement of the youth in party politics.