Inside Kismayo seven years after epic battle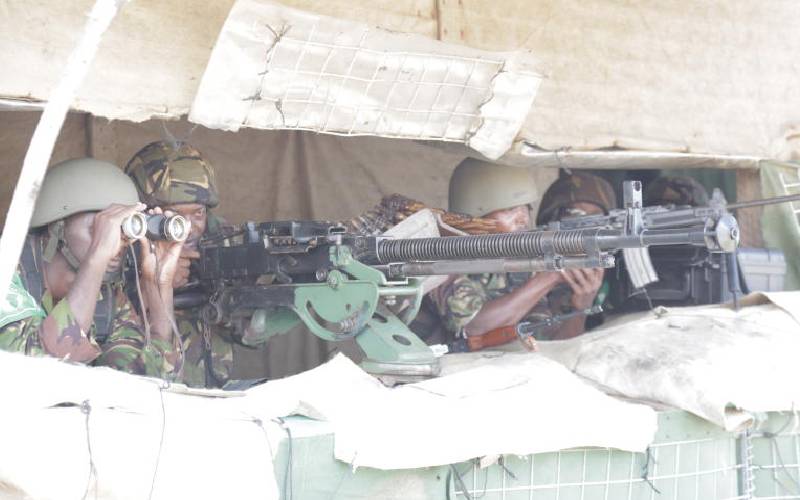 Tucked inside a trench on a hill overlooking the breathtaking beaches of Kismayo, a five-man Kenya Defence Forces (KDF) combat unit keeps steady aim.
One soldier's hand is firmly on the trigger of the DShK, a heavy machine gun with a two kilometre shooting range. Another soldier keenly sweeps the distance with binoculars, while the rest, armed to the teeth, wait in position for any imminent threat.
Beaches have come to define how wars are won, take for example the Normandy landings in 1944 by the Allied Forces- the largest seaborne invasion in history- which was decisive in liberating Nazi occupied France during World War Two.
Seven years ago a similar battle took place when Kenyan and Somali forces launched air, land and sea assault to wrestle Kismayo from the Al-Shabaab.
The liberation of the seaport was code-named Operation Sledge Hammer and marked the turning point of Operation Linda Nchi that had announced Kenya's entry into Somalia to crash the Al Shabaab.
Infantry battalion
Lieutenant Colonel Meshack Sinkira Kishoyian, the Commanding Officer 2nd Mechanised Infantry Battalion based in Kismayo, underscores the importance of the liberation of Kismayo in keeping Kenya safe.
Kismayo is located in Southern Somalia and is the capital city of Jubaland State.
"Jubaland borders Kenya, if you secure it you are also keeping Kenya safe," says Lieutenant Colonel Kishoyian.
The battle for Kismayo is still fresh in his mind.
"We had some forces from the sea and others from the land converging and liberating Kismayo alongside Jubaland security forces. We overwhelmed the enemy who took off," he says.
Kismayo is under sector six controlled by KDF, Ethiopian and Somali forces all under AMISOM.
The operational area of Kismayo is divided into two subs sector: north and south. Kenyan troops control the old airport area and the seaport.
Under an AMISOM plan of operations 2018-2021, Kenyan troops are mentoring their Somali counterparts ahead of gradual troop withdrawal from the country.
According to Lieutenant Colonel Kishoyian,the soldiers' mission is to establish and maintain a safe and secure environment within which the Somali people can rebuild their lives.
"Our mission is to support the Somalia security forces by conducting targeted offensive operations within Sector Six to disrupt and defeat Al Shabaab," he says.
Securing road
The troops are also working to degrade the Al Shabaab outside the environs of Kismayo through offensive operations.
Major Justus Cheboi, Officer Commanding the old airport, says that their main duty is to secure the road linking the new airport and the old one that passes through Kismayo town.
"Our main operational task here is to degrade the military capability of the Al-Shabaab and ensure that they are not active in our area of responsibility and to ensure the road is free from any harmful material like IEDs and any ambushes from the enemy so that United Nations agencies are able to deliver humanitarian aid to the Internally Displaced Persons (IDPs) within Kismayo town," he says.
The section has nine soldiers, five are dug in at the fighting trench while the rest are on patrol.
Cheboi says that their duty also involves ensuring that Kismayo as a capital city is safe as there are also Al Shabaab sympathisers still within.
"We are also occupying this place to ensure Al-Shabaab who are active in the north including areas such as Jilib do not infiltrate from their strongholds to Kismayo town. We also prevent civilian deaths and attacks on their property," says Cheboi.
There are also upcoming parliamentary and presidential elections in Jubaland in June and August respectively to protect.
"We have to ensure that within that period that Kismayo and its environs is secure," says Cheboi.
Corporal Kennedy Otieno, a Section Commander who is part of the combat team manning the old airport, says he misses home, but the call of duty is stronger.
The combat team came in January. Soldiers serve a one-year tour and take leave after every four months.
Although there have not been any major incidences recently, Otieno says the soldiers cannot afford to lower their guard.
"You can't say things are normal here. We can't relax," he said.
Lieutenant Colonel says that Kismayo is now a model of peace and KDF still controls the areas it liberated in 2012.
"Our areas have not changed, we are still in the same positions we liberated in 2012. Kismayo is now a model of peace because it has been secured, pacified and is a classic example of what the Somali people can do when they have peace," he says.
Business is now booming at the port city. A Kenya navy boat patrols the seas. Somalia has a non-existent navy and its military capability is still weak.
Boat unit
Captain Anthony Kibet, in charge of the special boat unit at the Kismayo seaport under the Kenya Navy Special Operations team says that their main role at the port is to provide security and check all outbound and inbound vessels.
The port is run threefold by the KDF under AMISOM, Jubaland security and the civilian administration running the day-to-day activities.
"We coordinate our activities with Jubaland administration within the Kismayo seaport. We usually check on the vessels that come in depending on the intelligence that we get," says Kibet.
On whether the soldiers have intercepted any illegal goods or arms, Kibet says that AMISOM has well laid out rules of engagement for such
Ships dock at the port brigning in sugar, rice, construction materials and clothing.
Loading and offloading at the port is goes on round the clock. But between 6pm and 6am no incoming or outgoing vessels are allowed.