President Uhuru's account hacked, suspended after corruption tweet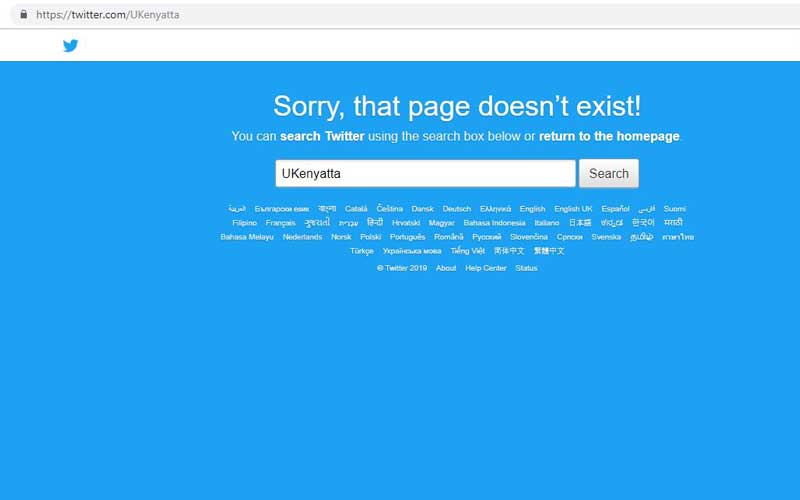 President Uhuru Kenyatta's Twitter and Facebook accounts have been deactivated.
Chief of Staff in the Office of the President Nzioka Waita says all the social media platforms of the president have been suspended to allow remedial measures.
On account of unauthorized access to the official social media handles of H.E the President of the Republic of Kenya, Uhuru Kenyatta .All official social media handles for the President have been temporarily suspended to allow for the necessary remedial measures to be undertaken. — Nzioka Waita (@NziokaWaita) March 22, 2019
This comes shortly after a tweet on the president's Twitter handle read: "If you are corrupt, we will fight you. You can be my brother or my sister or my closest political ally, but if you are corrupt we will fight you."
In another tweet Mr Waita adds: "It seems the president's stand on corruption has generated all manner of reactions".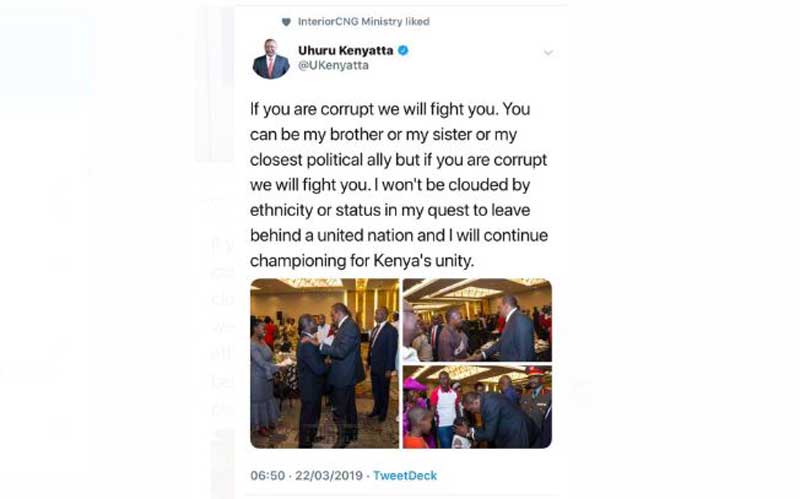 President Kenyatta has in the past told Kenyans to brace for more high-profile corruption prosecutions.
Mr Kenyatta assured the country there would be no sacred cows in the fight against graft that has plagued his administration.
The corruption debate has caused a rift between Uhuru and Deputy President William Ruto, with some politicians alleging that the push against graft has been weaponised against a certain community and the Deputy President.
DP Ruto has challenged state agencies responsible for investigating and prosecuting corruption cases - the Ethics and Anti-Corruption Commission (EACC), The Directorate of Criminal Investigations (DCI) and The Directorate of Public Prosecutions (DPP) - to ensure fairness and transparency in the war on graft.
His oft-repeated line has been that the fight against corruption through "distortions and peddling of inaccuracies" will not yield desired result.
On the other hand, President Uhuru Kenyata has praised Director of Public Prosecutions (DPP) Noordin Haji and Directorate of Criminal Investigations (DCI) head George Kinoti "for a job well done".
The President is on record as saying: "After investigations, Haji will take over and ensure that these people are prosecuted regardless of their standing. We want the rule of law to be followed and people taken to court."
Since Uhuru was re-elected in the controversial 2017 poll, his government has been dogged by corruption, with some cases involving high-profile individuals.
In the past, the President has said there was a proactive programme in place for the prevention of graft as well as asset recovery that will guard the public purse.
Not new to hacking
In 2012, cybercrime experts investigated a hacker who took down 103 Government of Kenya websites.
A Kenyan expert told The Standard an Indonesian hacker, identified only as direxer, was responsible.
The ministries affected include were the Local Government, Livestock, Environment, Fisheries, Housing, and Industrialisation.