Police reservists to be vetted, issued with new licenses-Matiang'i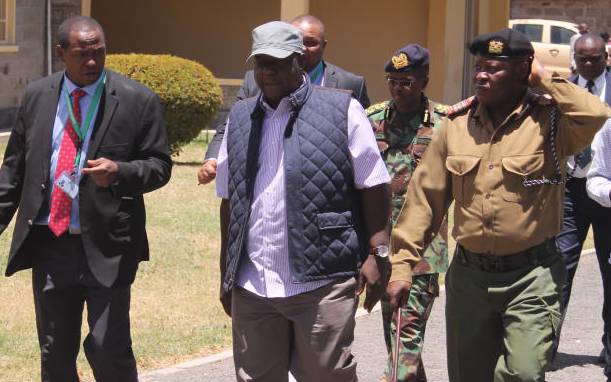 The Interior ministry has ordered a digital registration of all police reservists.
Interior Cabinet Secretary Fred Matiang'i said the digital registration, which begins this week and overseen by regional and county commanders, will help mop out illegal guns and check lawlessness in rural areas.
The number of police reservists in the country remains uncertain.
Dr Matiang'i also directed those with illegal guns to surrender them.
"I encourage communities to willingly surrender illegal firearms to the right authorities. Whether you are an elected leader or civilian, if you have an illegal or unregistered firearm, give it up now," said the Cabinet secretary.
He spoke during the signing of a peace agreement between communities living in Marsabit and Samburu counties on Friday in Nanyuki, Laikipia County.
Several communities
The two counties are home to several communities, including the Pokot, Maasai, Samburu, Turkana and Borana.
These communities have in the past been locked in conflict, mainly fueloled by land, pastures and water.
Elders from the two counties signed an agreement to cease perennial hostilities in a forum organised by the National Steering Committee on Peace-building and Conflict Management.
The Cabinet secretary said he was aware of pertinent security issues affecting communities in the region and ruining their economic potential.
Matiang'i warned politicians in the region against inciting communities into violence, saying some conflicts in the region had political undertones.
"Let me be clear, no one will politic at the expense of others. We will no longer lose lives because people want to play politics," he said.
The Cabinet secretary also recognised the significant contribution of the region's village elders and peace committees in resolution of conflicts.
"We must invest more time and resources in enhancing their capacity to prevent, manage, and resolve conflicts at the earliest stages before they escalate," he said.
The CS appealed to all leaders in the region to rally residents to embrace dialogue.
"It is my hope that elders and political leaders from the two counties will come up with recommendations to complement the Government's efforts to ensure peace and security," he said.