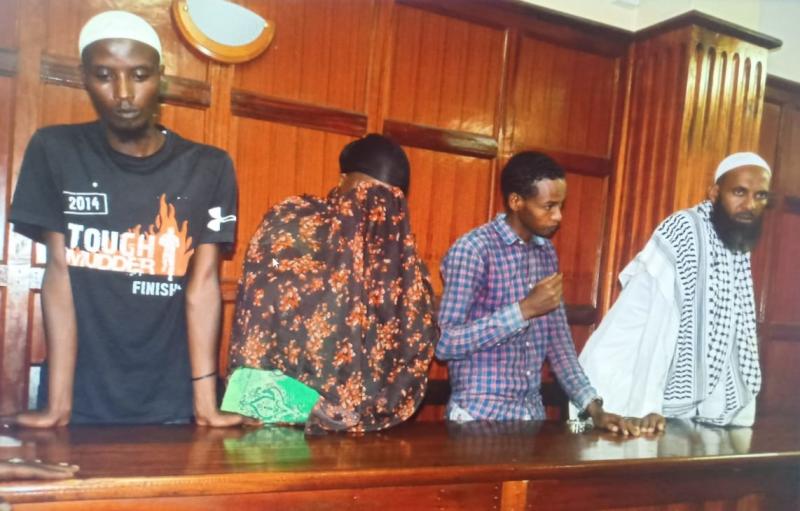 The mother of the mastermind of last Tuesday's terror attack was one of four suspects arraigned yesterday.
Sakina Mariam Abdalla, the mother to Ali Salim Gichunge alias Farouk, whom authorities said coordinated the attack on dusitD2 hotel and 14 Riverside Drive complex, was taken to a Milimani court yesterday.
The others were Muktar Ibrahim, an Imam from Mandera, Isaak Hussein, an Ethiopian who claimed to be his student, and George Ndung'u.
Apart from Ndung'u, who will be detained for 10 days, the others will be in custody for 30 days to allow the Anti-Terrorism Police Unit to conclude its investigations. Milimani Magistrate Martha Mutuku was told that Ibrahim ferried one of the terrorists from Mandera. He was also accused of recruiting youths to join Al Shabaab.
Abdalla told police her son last called her in 2016 to say he was studying the Islamic religion in Mogadishu, Somalia. She claimed that they did speak again. She said she saw his photograph in the media after the attack. Police said they wanted time to corroborate her account.
According to court records, Ibrahim is an Imam and was arrested on January 19 at Jamia Mosque in Mandera town.
"The first respondent (Ibrahim) is believed to have communicated and facilitated the movement of one of the attackers at dusitD2 hotel from Mandera. It is believed that he will aid investigators to narrow down on the identity and operation of the attackers," anti-terror police Inspector Monicah Githaiga said.
Ndung'u will be held for 10 days to allow police to establish whether he had links with one of the dusitD2 attackers. The State has so far brought 10 suspects to court.