Slums, State in fiery search for peace after police killings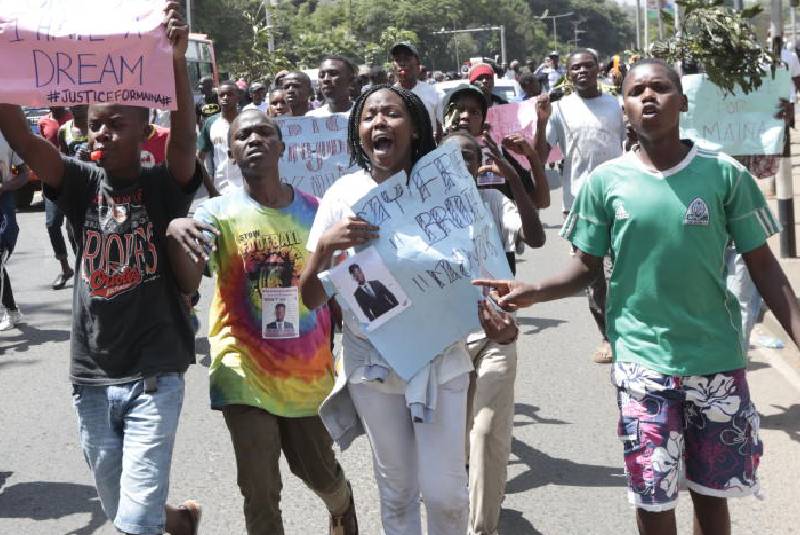 Kilimani OCPD Michael Muchiri and his fellow police bosses fondled with their smart phones as the government they had come to represent got roasted.
One of Kibera's brightest and most promising young men had been killed by the police a week earlier and the community which had become used to extrajudicial killings, was pushed to the limit.
On the dais, Carilton Maina's mother Josephine Wangare, who sat next to Amnesty International's Houghton Irungu, stared blankly as tempers continued to flare. More than a dozen times, the event organisers were forced to step in as police bosses almost walked away.
"Until you tell us who are these officers that have been taken to court there is nothing you are telling us. The only thing we want are names," said Nicodemus Odhiambo.
"I can see some of you pointing at us but I want to tell them there is nothing they will do to us because we are not criminals and are just fighting for our rights," another young man interjected.
One by one, and sometimes disrupting each other, residents of Kibera unleashed their anger at the very police force that had just days earlier violently disbursed them when they protested against Maina's killing.
Heavily armed riot police sat in their Land Cruisers just outside the slum as the heated meeting went on at the Kibera School for Girls on Wednesday. In the end, no bullets were shot or teargas canisters lobbed but the police and residents of Kibera made what was agreed as a step in the right direction on the issue of extrajudicial killings.
But this was not before the police for the first time, apologised for the killing of Maina, a university student who just days earlier they had insisted was part of a crime ring robbing people on the night they pumped bullets into his face, chest and stomach.
"We can feel the pain and expressions here. We must reach a level where we say we must do something about it," OCPD Muchiri told the crowd.
"But first I would like to apologise to Maina's mother for whatever happened. I hope this incident does not create a wedge between the police and the public."
Right there the residents had finally forced the government to admit it was wrong and something had to be done to improve relations and reduce unnecessary killings of young men on suspicion of being criminals.
According to Amnesty International, about 20 young men have been killed in the last three months by police in the informal settlements. Tired of watching their fellow young people killed, targeted or harassed, an emergence of youth fighting to reverse this tide has begun gathering pace in a number of slums.
By either aligning themselves with mainstream non-governmental organisations with a track record of fighting for human rights or venturing on their own, the people have begun to fight back. From Kibera to Mathare and Huruma all the way to Kayole, young people have formed various justice groups whose aim is to put a stop to police killings.
And by documenting all deaths they perceive as extrajudicial and then putting the government on the spot either through protests, court proceedings and exposures in the media, this grassroots activism is fast gathering steam.
Organisations, including the Dandora Community Justice Centre, Mathare Social Justice Centre, Githurai Human Rights Net and Kayole Social Justice Centre, have so far emerged as the most vocal. Mathare Social Justice Centre, for instance, convenes people every Tuesday to talk about their struggle for justice and how to demand for accountability from the state.
Some of these organisations, through the Police Reforms Working Group (PRWG-K), which includes Transparency International Kenya, Amnesty International and Independent Medico-Legal Unit (IMLU), have formed an online platform dubbed 'Missing Voices' to consolidate data on extrajudicial killings. By yesterday, the website had 285 people listed as being executed by police since the beginning of last year.
It is this turnaround of things that has been behind the almost a dozen protests that have been witnessed in recent months whenever there has been a police killing, which residents think was unfair.
Like in September last year, the Dandora Community Justice Centre organised the residents to protest the killing of a young man only known by his nickname Masai by the police as he took tea in a local kiosk.
Woken up at night
In November, Mathare Social Justice Centre organised a protest against the killing of Evans Oduor and Bernard Otieno who were woken up at night and made to lie down before being shot by police.
Then last month, 23 mothers and widows of young men who have been killed in controversial circumstances by the police filed a petition seeking to know why and how they were killed.
While calling for a thorough investigation into the killings, the Mothers and Widows of EJKS, a self-help group that comprises families of persons gunned down by police, and International Justice Mission (IJM) insist they have to know the truth on how their keen died.
"Truth is the primary value in the administration of justice and in instances where use of force is utilised by police officers, the truth can only be established through prompt, thorough and impartial investigations," reads the petition filed.
Fighting the police has however come at a huge price in the form of threats. Some activists have even reported being followed up by suspicious characters or being spied on by police informers.
Interestingly, most of the killer cops in the slums are well known individuals who have catapulted themselves to some god-like status by invoking fear and harassing those who stand on their way.
On social media, a group run by undercover police officers, 'Nairobi Crime Free', these types of threats are increasingly becoming common.
Kennedy Chindi of the Mathare Social Justice Network, for instance, has been having sleepless nights courtesy of an officer from Pangani Police Station he calls Rashid.
"Not more than once he has told me to stop standing on the way of police work or he will teach me a lesson," he says.
"How long can we continue living in fear of such officers when we have the law?"
And although what is happening in the slums is still a long way from the 1976 student uprising in Soweto that created global awareness on the excesses of the apartheid regime in South Africa, whatever is happening in Kenya's informal settlements has started registering some wins.