The year of demolitions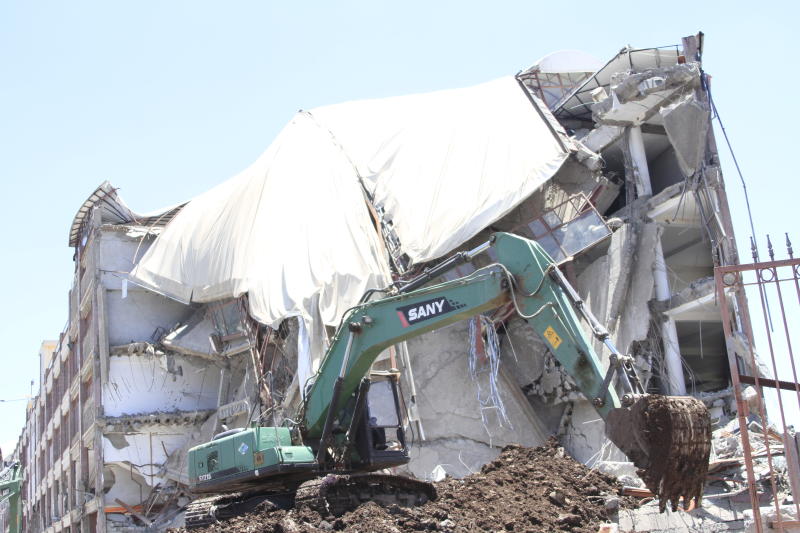 Investors and owners of buildings on road reserves and riparian land may live to remember 2018 as a horrible one.
In a report by the National Environmental Management Authority (NEMA), dated June 26, the Government earmarked buildings sitting on riparian land which were to be flattened.
South End Mall
South End Mall on Langata Road was demolished on August 8, 2018 during campaign by the national environment watchdog to reclaim grabbed wetlands in the capital Nairobi.
A bulldozer, on instruction of Nema officials complete with police guards, descended on the mall that stoodatop Mutuini-Ngong River on Langata Road.
The building, owned by former Bobasi MP Stephen Manoti, was said to be obstructing the river leading to perennial flooding and destruction of property in Nairobi West, South C and Lang'ata
The five-storey mall estimated to have cost Sh2 billion, was at the Mbagathi Way-Langata Road junction and opposite T-Mall.
Residential houses built on Ring Road Kileleshwa next to the Shell petrol station were also demolished on August 6th and 7th, together with the petrol station.
Taj Mall
On Saturday September 15, excavators started demolishing the multibillion-shilling Airgate Centre, formerly Taj Mall, which the government declared was standing on a road reserve.
This was after the expiry of a 14-day deadline issued on August 16 for the owner to bring the mall down.
The demolition was part of a sustained effort by the government to demolish buildings on road reserves and riparian land.
Taj Mall owner Ramesh Gorasia condemned the demolition, faulting those who approved its construction. He added that he had a genuine title deed and acquired all the paperwork legally.
"They gave approvals based on the title deed which was genuine and the land rates which were all paid. All I will say is that it is wrong to demolish this mall that people purportedly say was built on a road reserve," he told journalists.
Gorasia maintained that he was not at fault and urged the Directorate of Criminal Investigation (DCI) to investigate county officials who approved the mall's construction.
Ukay Mall
Friday August 10, the iconic Ukay Centre in Westlands was demolished in the crackdown on buildings and structures which are built on riparian land.
The National Environmental Management Authority bulldozers descended on the mall on Friday at 5am.
The Ukay Mall was said to have been constructed atop one of the Nairobi River tributaries. Building manager, Veeral Shah protested the move saying they had not been given an official notice.
Visa Oshwal
The management of Visa Oshwal in Westlands, Nairobi, started bringing down its structures built on wetlands on Saturday August 11.
Oshwal Centre hired two bulldozers which started clearing part of the perimeter wall that faces Nakumatt Ukay Centre.
However, Oshwal Centre manager Jinit Shah said the owners had not interfered with the flow of the river in question. Mr Shah argued that the canal was built using rainfall data received in the county and is big enough to allow natural flow of water, whatever the amount of rains.
Seefar Apartment
NEMA through Water Resource Authority (WRA) on October 12, 2018 issued a notice of Seefar Apartment's demolition. The 12-story building with 260 houses is owned by Edermann Property.
According to a letter seen by Standard Digital to the developers, the building sits on Nairobi Dam's riparian reserve.
"The building has encroached into Nairobi dam embankment; a permanent structure is built on the city dam reserve," NEMA said on Friday.
They added: "This is contrary to provision of EMCA CAP 387, part 111 section 137 which states that it is an offence for any person who fails to comply with a lawful order or requirement made by an Environmental Inspector in accordance with this act or regulations made there under."
The notice has sent shivers down the spines of Gakuya and all other owners and tenants of the building.
"How can the Government wake up one day and demolish the dreams of innocent people within hours? This is saddening and very frustrating," said Gakuya, who bought a two-bedroom unit at Sh3 million in 2014.
The 14-day demolition notice for Seefar apartments at Nyayo Highrise was later extended to 30 days after the directors of Edermann Property, the developers of the block of flats, presented an Environmental Impact Assessment report. Apartments yet to be demolished as tenants and owners struggle to ensure it's spared by the authorities.