Prof. Wanjala, a man who died painfully yet gracefully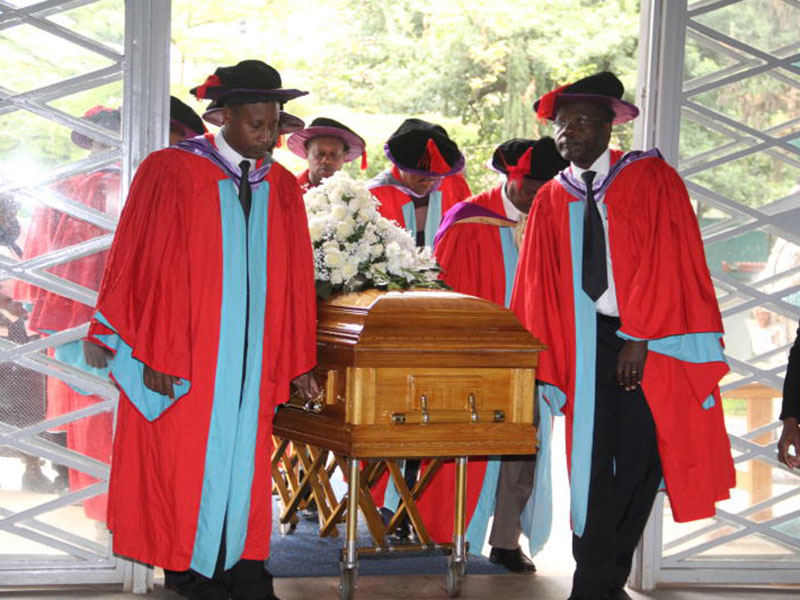 A sea of black and dark blue suits coupled with the chilly weather summed up the mood at the Parklands Baptist Church yesterday
Family, friends and academicians of celebrated literature don Chris Lukorito Wanjala were gathered at the church to pay tribute ahead of his funeral.
Prof Wanjala is famed and respected for his influence on Kenyan literature.
Wanjala, who taught and mentored several authors, poets and artists, was awarded the Elder of the Burning Spear in 2012 for his contribution to Kenyan literature, culture and book development.
While the professor received a colourful eulogy that dwelt on his vast accomplishments, many of the speakers - from his wives and children to colleagues and students - heartwarmingly described him as someone who made a positive impact on their lives.
"He loved seeing us reading. He often gifted us books and taught us how to read with confidence. We would run to read when he heard him driving in in the evening," said his son David Wanjala.
According to the professor's children and students, he was a strict disciplinarian who pushed for excellence.
The speakers also remarked on Wanjala's astounding strength and ability to gracefully hide the pain he experienced in the last months of his life, even from those closest to him.
"He suffered greatly over the last three months but hid it well. I blame myself because I was sick and he drove to the village to attend to me," said an emotional Mrs Sarah Wanjala.
Burial upcountry
Sarah said her husband attended a friend's burial upcountry and brought her medicine. Later that night, she revealed, he started shouting and vomiting.
At about 4am, she took him to a hospital in Eldoret for emergency care as she arranged for his transfer to a hospital in Nairobi.
"He asked me to clean him. I could see he was in a lot of pain. He could not breath properly and he told me he felt his tongue getting heavy, he could not talk," she said.
She revealed that she left him for just 10 minutes but by the time she returned, he had died.
Sarah met Wanjala more than 49 years ago, when both were studying at the University of Nairobi. Wanjala knew his second wife, Ruth, for more than 39 years.
According to the family, the professor was diagnosed with lymphatic cancer in 2014 but was cured after chemotherapy.
However, in May this year, he started getting sick again but specialists were unable to diagnose the problem. A postmortem revealed that he had been suffering from diabetes, which caused his essential organs to shut down.
Wanjala will be buried at his upcountry home in Lwandeti on Saturday.