Demolition of Simmers: Congolese and Kenyan popular clientele speak out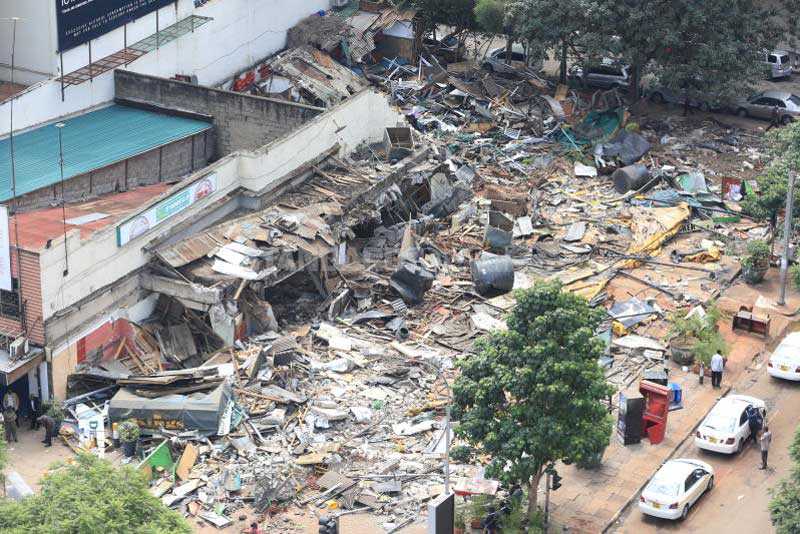 Last week's demolition of Simmers brings the curtain down on one of the most popular restaurants and clubs in the central business district.
As bulldozers brought down the walls of Simmers Club on Kenyatta Avenue last week, they also brought down a rich history of entertainment. Few will recall that the popular night spot started off as a small Chinese restaurant operated by an Asian in 1997.
The restaurant gave way to Simmers and with the change came live entertainment, with the legendary Bikassy Bijos among the first to take to the stage. Shortly after, he was joined by Kenya's military band, Maroon Commandos, led by the late Habel Kifoto.
They soon opened up for other bands like Rhumba Japan, Bilenge Musica, Mangelepa, L'Acromenege Stars, Viva Mosukusuku, Isso la Isso, Vundumuna, Station Japan and Generation Wenge. Others were Musa Juma's Limpopo International, Kanda Kings African Rhythm, Salim, and Prezda Bandassons Patron Musica Afro Sound.
Simmers' reputation grew with the different bands and delicious bitings, and their clientele began to grow. The call girls who trooped in after dark only added to the allure of the place.
But last week, the club, whose presence can only be compared to Modern Green on Latema Road and Sabina Joy on Moi Avenue, came down to the shock of its owner, former Kimilili MP Suleiman Murunga.
Two decades
Speaking to Metropolitan, Mr Murunga, who has run the club for over two decades, said police stormed in with orders to shut down without warning him.
"The police stormed into the club, and instead of being an arbiter they came with orders that they had not served me with before," he said.
Among those affected by the fall of Simmers are the Congolese musicians. In fact, the place was so famous with Congolese that many referred to it the 'Congolese embassy' in the city centre.
Vasco De Gama, one of the bandleaders of Rumba Japan, described the demolition of Simmers as unfortunate, citing the number of jobs lost for Nairobi-based Congolese musicians who depended solely on entertainment for their upkeep.
"Only a heartless person would choose to see the situation as normal," he said.
The bandleader of Fiesta, identified only as Elvis, echoed his sentiments.
"We have lost a venue where we performed every Wednesday and Sunday, and now have to figure out where we will go," he said.
Maandazi, another Congolese musician who pitched tent at Simmers every Friday and Saturday, described the incident as unfortunate.
"With an increase in lack of jobs, where do they expect us to earn money to fend for our families? Do they want us to indulge in social vices or what?" he questioned.
For businessman Duncan Onyango, Simmers was the perfect place for breakfast as he waited for business or political contacts every morning.