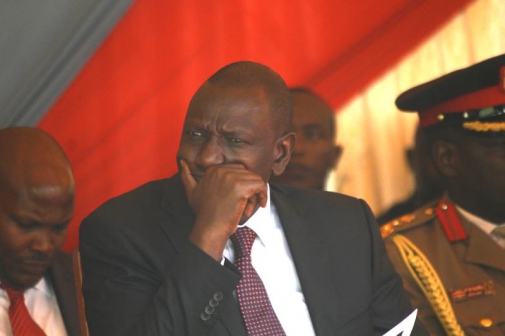 Deputy President William Ruto has withdrawn his appeal against a High Court decision requiring him to pay Adrian Muteshi Sh5 million for illegally taking away his land.
The Deputy President Wednesday informed Court of Appeal judges Patrick Kiage, Agnes Murgor and William Ouko that he would no longer pursue his appeal against Muteshi, meaning that the order to compensate Mr Muteshi by the High Court still stands.
However, the legal battle over the land is not over yet. Mr Ruto will now turn his guns to the person who sold him the land.
In the High Court, the DP told the court that he acquired the land from a woman by the name Dorothy Jemutai Yator.
Yator had sub-divided the 100 acres into nine parcels and sold them to the Deputy President who was then a Member of Parliament.
Read More
"We are going for the people who sold the land to us because they are the people who put us in difficulties," said Ruto's lawyer Katwa Kigen.
In the appeal, Ruto complained that High Court Judge Roslyne Ougo erred in law by ordering him to pay Sh5 million whereas was not found at fault.
He said there was an offer from him to return the contested piece of land.
"The honourable judge erred in fact and law by ordering the petitioner to pay compensation plus costs while no fault was found as against him in the process of acquisition, transfer, possession and ownership of the parcel," the appeal read in part.
He instead shifted the blame on the irregular transfer to the Commissioner of Lands- who he claimed did not find fault on the alleged purchase.
"The petitioner had offered to surrender the ownership and possession of the parcel immediately upon the second (Attorney General) and third respondent (Commissioner of Lands) admitting in their defence that the parcel was irregularly transferred by them to the petitioner without faulting the petitioner," it continued.
In reply, Muteshi told the court the court gave him justice since Ruto had the land for over five years.
"The learned judge was correct in finding that the appellant was a trespasser as his entry, possession and ownership was not licensed by the Commissioner of Lands, his entry, possession and ownership having being fraudulently acquired," he replied.
In the High Court, Muteshi testified that he bought the land in January 1968 and had been farming until the 2007-2008 elections violence.