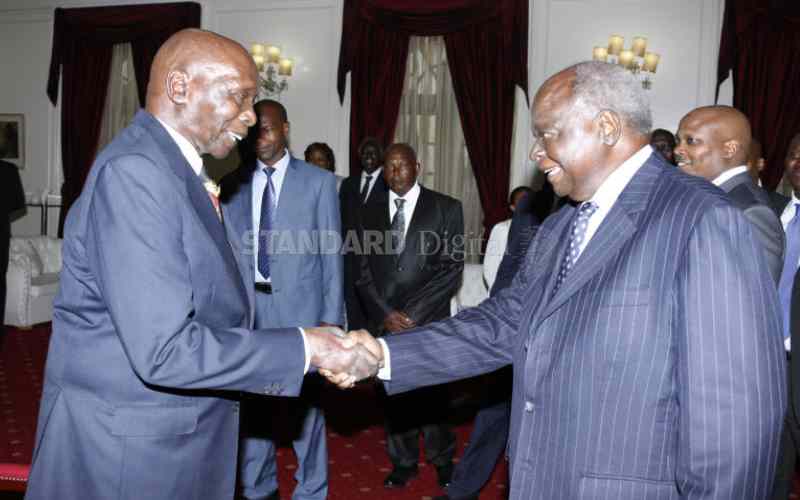 Once Daniel arap Moi took over as President in 1978 and constituted his Cabinet in October the same year, he retained Mwai Kibaki in the Finance docket and elevated him to the vice presidency.
In 1962 Kibaki was elected the Member of Parliament for Doonholm Constituency in Nairobi. It was later renamed Bahati and is now called Makadara. He was re-elected in Bahati in the 1963 and 1969 elections. But pressure from the people of Othaya Constituency in Nyeri District, where he hailed from, convinced him to move his political base from Nairobi in 1974. He was overwhelmingly elected and re-elected to Parliament in subsequent polls: 1979, 1983, 1988, 1992, 1997, 2002 and 2007.
After the infamous mlolongo (queueing) method of elections of 1988, Kibaki was appointed Minister for Health and Josephat Karanja replaced him as Vice President. Kibaki appeared to take his 'demotion' in his stride, performing his ministerial duties with the same professionalism he had the vice presidency. The man who was routinely accused of 'fence-sitting' because of his non-confrontational brand of politics continued to be loyal to Moi.
But just days after the repeal of Section 2A of the Constitution allowing the return of multipartism, Kibaki resigned from Government and from KANU, and announced the formation of the Democratic Party (DP) in December 1991. He was its party leader and its presidential candidate.
Kibaki was highly respected in global economic and academic circles. World Bank President Robert MacNamara once described him as "one of the greatest economic brains to have emerged from Africa". In 1974 Time magazine nominated him among the top 100 people in the world who had the potential to lead.
In his 50-year political career, Kibaki eschewed petty politics and controversy even during the one-party regime when mass condemnation of those perceived to be enemies of the State was the order of the day. He has been described as the gentleman of Kenyan politics even though his detractors interpreted his suave style to mean indifference.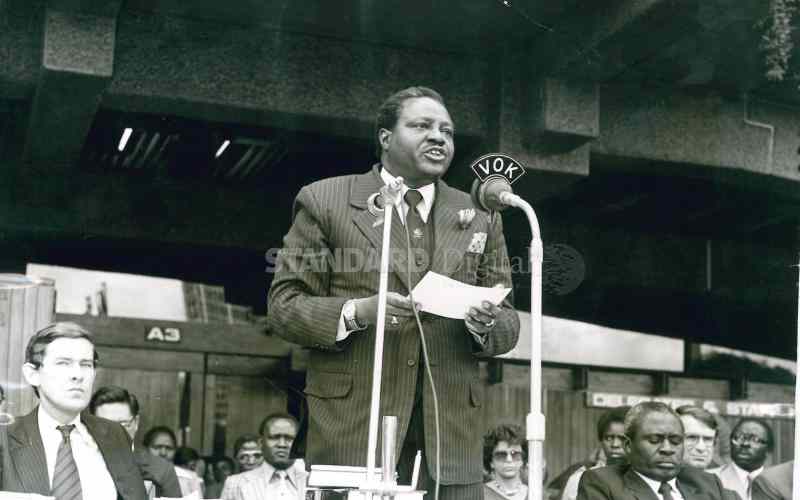 KAMWITHI MUNYI: A flamboyant servant of the people
Kamwithi Munyi attracted media cameras thanks to his heavy build and unique, well-designed and multi-coloured suits that distinguished him from his Cabinet colleagues – not to mention his famous habit of nodding at every statement the President made. Wearing a perpetual broad smile, Munyi would nod incessantly during the entire period that Moi was on the podium as he diligently jotted down notes in his diary, thus becoming the focal point for multitudes of TV viewers.
Besides his well-designed suits, he also wore two expensive wrist watches at the same time. People understood this to mean that he did not trust either of the watches to be correct, so he needed two of them lest he miss a presidential event. Those who knew him don't agree with this assertion, saying the flamboyant MP was simply a big spender and an extravagant person.
President Daniel arap Moi had one attribute that many came to acknowledge only after his exit from power; he never failed to show gratitude to leaders who worked tirelessly for the people they represented and those who demonstrated patriotism. These two traits characterised Munyi's political career. He is one man who spent most of his time working for the electorate. The MP set aside particular days to meet with his constituents and would meet them in his rural home in Kyeni, where people would queue to present their problems to him. Following his death in 2006, people described him as a down-to-earth person who never ignored anyone seeking his assistance.
In the first years of Moi's presidency, Munyi was able to influence a number of development projects in his constituency through the Government development programme spearheaded by the District Development Committees introduced by the Moi administration soon after he assumed power. The role of these committees was to allow people at the grassroots to select what projects they wanted the Government to fund. Previously, such projects were decided on at ministry headquarters in Nairobi.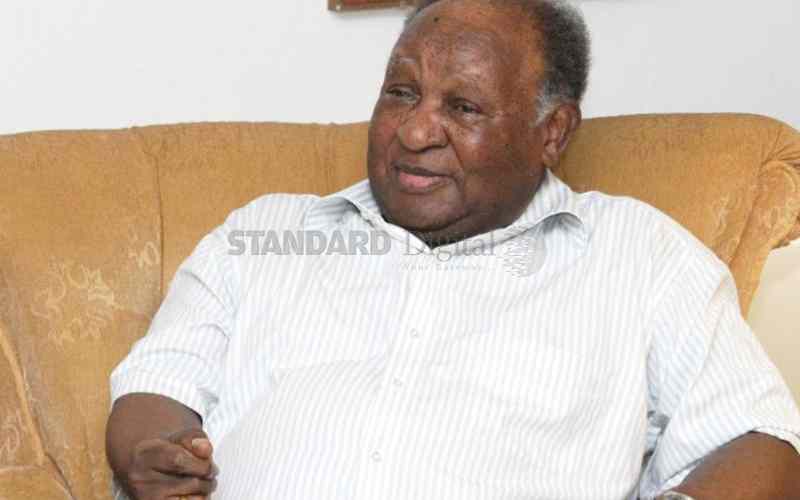 KENNETH STANLEY NJINDO MATIBA: The minister who resigned
As chairman of FORD-Asili party, Kenneth Stanley Njindo Matiba took second place after Daniel arap Moi in the 1992 presidential election and easily won the Kiharu parliamentary seat. He however ignored parliamentary sessions and only made what were famously known as technical appearances to sign the register. In 1997 he announced that he would be boycotting the 1997 elections and burned his voter's card.
Although Matiba was well-connected politically and through his businesses, no one doubted his commendable work ethic and determination. Wherever he worked, Matiba's passion and energy were apparent. He used the Kikuyu phrase "kuuga na gwika" (loosely translated in English as "saying it and doing it"). As a politician he confirmed this, leaving firm development footprints that included Murang'a College of Technology (now Murang'a University) and Muriranja's Hospital, a Level 4 facility.
-Moi Cabinets is published in two volumes by the Kenya Yearbook Editorial Board