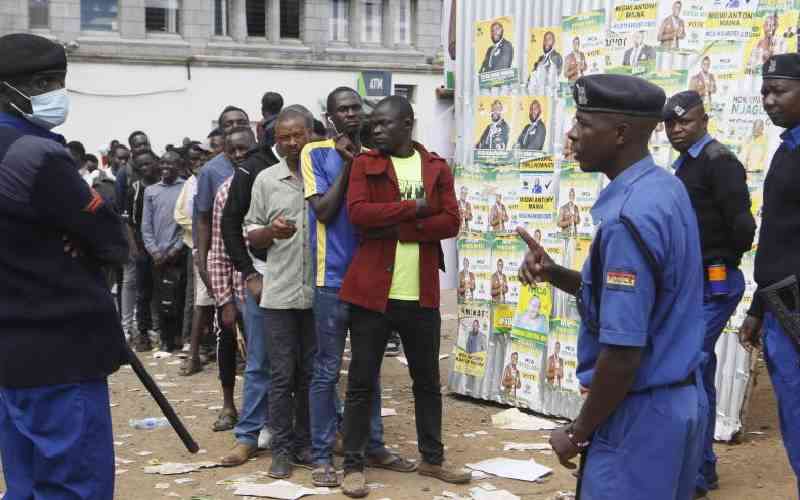 Most Kenyans have decided whom they will vote for on August 9. However, by June this year, about 4.4 million voters were undecided. Launching of manifestos might have reduced this figure by at most one million. That means approximately three million voters are planning to vote but have not yet decided where to cast their ballot.
The undecided voters, in opinion pollss, are those who give responses of "I don't know for now" or I have "no opinion yet", although I must vote. Most undecided voters make their decisions one week to 24 hours before elections.
But who are undecided voters? Against the chagrin of many conservative analysts, undecided voters are not uneducated; they are primarily a population that poses as uninformed to avoid controversies; they wait to be given reasons for queuing and assurance that voting will bring the desired change.
Moreover, given their critical posing, undecideds exhibit disinterest in politics and non-partisanship and hold no strong opinions on campaign narratives.
The world over, undecided voters have been clustered into religion, gender and class. However, the best two-tier classification is sophisticated and unsophisticated undecided. While unsophisticated undecideds are uneducated and uninformed, the majority of undecideds in 21st century Kenya are sophisticated voters—these are educated middle-class citizens who don't feel the price rise of ordinary commodities.
They are a critical population who initially give campaigns the cold shoulder and concentrate on things that matter the most in their lives. They are not carried away by sensational political marketing, promotions and doctrines of numbers, ethnicity, political hubris and braggadocio. Likewise, a critical number of undecideds are not prone to propaganda and political PR. Instead, they take time to observe and weigh their options.
Therefore, most of the undecideds are the educated, critical and sober middle class. They don't have time to attend crowd-filled campaign trails. They are either busy at work or are running their errands as opposed to a large population that politicians buy through t-shirts, cash handouts and hand-to-mouth material gains.
I say a majority of the undecideds are self-sufficient and occupied. They are the people to be targeted by campaign messages of "voting is your right." Most of them will vote as a democratic duty and not with expectations from the leaders—they are a bit pessimistic since they explore value for their time spent in voting queues.
So, how will they make decisions at the last minute? According to research conducted in Israel and published by Elsevier in 2021, the authors Moran Yarchi, Gadi Wolfsfeld and TalSamuel-Azran argue that these voters are from privileged social backgrounds and trust traditional media; they rely on news to make decisions.
These voters sometimes cast their votes for fringe candidates with issue-based manifestos. That's why pollsters can't lure them. They vote on issues. They can vote against a candidate by casting their ballot for a candidate they know won't win!
Furthermore, most undecideds are political 'sapiosexuals'—likely to be attracted to intelligence, ideology and hygienic politics. However, since they hate politicking, they are likely to follow candidates who are more civil in handling politics.
So, what are undecided voters looking for? Given the sophisticated nature of undecideds, given their social class, the undecideds constitute a critical mass of swing votes. First, this class won't be lured through handouts, reduction of prices of everyday commodities, or subsidies targeting maize flour, bread and sugar.
They are concerned with higher education. They are sensitive to the health and education of their dependents. They are susceptible to taxation policies and investment opportunities. They can be appealed by reduction of prices of fuel for their cars.
In conclusion, the undecideds are still waiting, and we hope the coming presidential debate can pull many of them, given that they rely on fundamental issues to decide.
Dr Ndonye is a senior lecturer in the School of Music and Media at Kabarak University