Covid-19 taught me that time is all we have - Heartstrings director Sammy Mwangi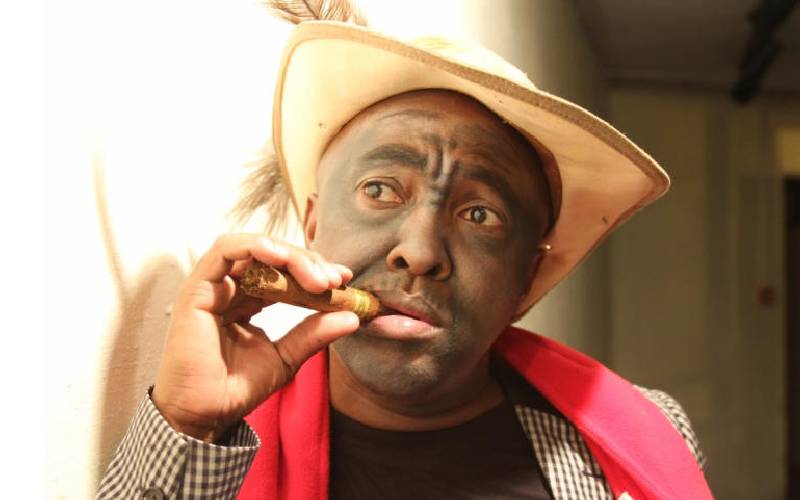 Many have watched his plays, but few can put a face to the name behind one of Kenya's theatre powerhouses.
Sammy Mwangi, director of Heartstrings Entertainment, has been at it for more than three decades, but he says the last two years have been his worst.
In fact, since he founded the Heartstrings Entertainment stable in 2007, theatre has been robust. For a sector that solemnly relies on crowds, there was no second-guessing on whether theatre would be drawn to its knees when events and in-person meetings were banned early last year.
At the time the lockdowns and the curfews started, Mwangi and his team had just finished auditions for the play Monkey Business, a comical piece he had plotted to turn into a mega-hit.
"There was the initial shock of the lockdown, but reality really did hit when we all had thought that this was a passing fad. The stimulus package that was drum rolled by the artistes did not come my way as was the case with many artistes and for the entire lot that depends on theatre the challenge became as mental as it was monetary," he says.
"The break taught me that time is all we have. That time is an equaliser. That there is nothing more ruthless as unaccounted time. That time is an equal guarantor. That time must not be spent unconsciously. When I was in the isolation ward, I saw just how time is not to be taken for granted," he says of his worst ever experience, contracting Covid-19.
Hundreds of artistes, technicians, office staff and other support acts who depend on Heartstrings Entertainment were rendered jobless. He says it is not even nearly possible to come up with an estimate of how severe the industry was financially hit. Caught up in a life-defining moment, one could only dream.
"The return to face-to-face theatre has been really tumultuous. It was a nice mixture of emotion and determination. Emotion because we got back to the place that makes us all what we are; stage. Determination because this was off from the many encouraging messages we got from fans.
"The fans were waiting for us in earnest. This is not what took over the day. What threw us off our feet is the wild reactions the fans had when they first came to watch a play after a long time. We are glad we are back," he says.
Mwangi and his Heartstrings Entertainment team are at the forefront of ensuring that theatre is alive again. In the last three months that have seen the economy open to the resumption of entertainment activities, Mwangi has been a man on a revival mission.
Heartstrings opened the theatre doors with Don't Knock, a hilarious comedy play that was staged for four days at the Alliance Francaise, Nairobi, last month.
Two weekends ago, the stable was back with Three is a Crowd.
"This side-splitting comedy play, Three is a Crowd, hilariously explores the situation many people found themselves in during the Covid-19 necessitated lockdown. It unfolds the truth on how people wanted to get away from one another, seeking a breather from their socially suffocating surroundings," says Mwangi, who is also the director of the play.
"Just like our previous play Don't Knock, this is a Covid-19 inspired production that should be able to give theatre lovers good therapy as theatre resumes. During the lockdown and the entire curfew time, people were under immense pressure, socially talking. Three is a Crowd brings out the special treasure that is only found in human beings," he adds.
He says Heartstrings Entertainment has deliberately lined-up plays that hilariously reflect on what Kenyans went through during the pandemic as they tried to survive challenges that came with the season. He says Kenyans are fatigued and need some kind of therapy.
"People needed to know that the greatest asset we have is ourselves. Covid-19 sort of paused the planet so that we can rediscover ourselves and reconsider some things. Three is a Crowd quite hilariously brings out the consequences of going out of ourselves to find out what is inside. The results are as funny as they are brutal," says Mwangi.
"The return of theatre is cathartic. It is really calming to see just how therapeutically the fans are approaching theatre. It is refreshing to see how the fans hold us in high regard in that sense.
"This is rejuvenating; even more, the zeal to do what we do, entertain and educate. For actors and other players, this return is a realisation of the important part they play in the jigsaw that is theatre. They are realising that they are such a primal important piece in this field," he says.
While actors have been out of the scene for long hence the need for them to work extra hard to get their groove back, the expectation from fans is overwhelming, with play sessions registering full capacity attendance.
"I have steered off with the cliché portrayal of the Covid-19 period in the plays. I have gone ahead and made it entertaining," says Mwangi.
The celebrated voice of theatre has lived in the theatre almost all his adult life. Having acquired acting skills from a young age, the vast experience he has gained has set him apart as one of the best theatre icons, championing a better theatre industry in the country.
Since, awards have lined the way for him in an effortless journey. While he was in Form One, he got the Best Actor in the French Drama Festivals. He has since been feted Best Director, Best Producer, Best Theatre Group, Best Production, Best Comedy and Lifetime Achievement Award. The list is long.
Having discovered his path in his late 20's, he decided to take a front seat in shaping the industry, one that has never had formal structures nor clear guidelines to learn from or follow.
This is the quest he lives for; modelling theatre into a reputable industry where players can proudly execute their roles while comfortably living off their art.
"Theatre industry is exactly where it is supposed to be - a position of growth. The capacity that is in the industry is sufficient to take us to levels that are considered competitive. I am really excited that I am playing my part in shaping what has proved to be a formidable industry that is becoming an authority as a go-to tool of communication and education," says Mwangi.
"For a very long time theatre has been taken as a pastime by many, a hobby. This puts the industry in a position that cannot attract any serious or credible attention. I am thrilled that is quickly changing. For us to make theatre industry great, then it must take its position side by side with other industries, financial, agricultural, hospitality and so on. Another milestone that is so evident in theatre is the uptake by artistes. Artistes can now authoritatively say that this is no longer a hobby, but a job. The fact that theatre can fight for space as an employer gives me a reason to go on and on," he says.
Recalling back in the early 80s when the theatre was gaining ground in Kenya with Phoenix Theatre Company being the home of upcoming thespians, Mwangi says much has positively changed.
Then, he says, Phoenix Theatre Company had the support of the membership. It was almost like a club.
The membership model worked right up to when James Falkland, its founder, passed on. It was not sustainable to have a membership and so it had to go public to go with the times. But Phoenix days were over. The Falkland dream had died with his exit.
"Those were lessons that I learnt so fast and picked up a model that was workable with the times. Theatre is to the most extent a mass movement. And hence approaching it as that allowed many people to be reached.
"This in turn allowed theatre to self-assess and take that turn that we see, a turn that embraced the mass and had a voice of the masses. It is then not surprising that Heartstrings Entertainment has remained the beast of stage theatre because of that very fact," he says.
He recalls the late Samuel Otieno, Charles Kiarie, Ian Mbugua and Keith Pearson as some of the personalities who rose from Phoenix to make a mark on theatre as we know it.
"The God's are not to Blame, King Oedipus, Aikin Mata, This is Kenya, 43rd Kenyan Tribe, Concubine, Romeo and Juliet are plays that have left a mark on the theatre scene. Five Alive led by Eric Wainaina, the late Jacob Otieno, Paul Olungae, Edwin Nyutho, Keith Pearson and Hawi Odingo are also some greats that have made a major contribution to theatre as we know it," says Mwangi.