How Murang'a politics made singer Musaimo the king of benga music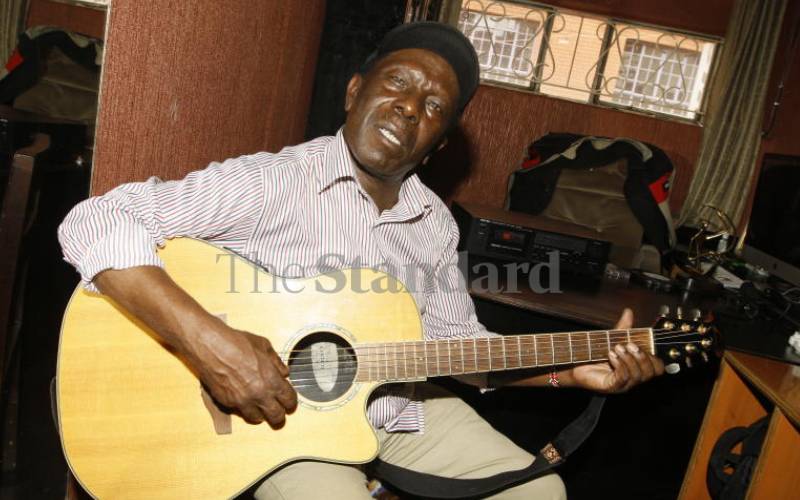 As the General Election fever hit fever pitch in 1979, a titanic battle was brewing in Murang'a's Kangema Constituency between Joseph Kamotho and John Michuki.
It was the first elections in the Moi era and having left his civil servant job to join the murky world of politics, Michuki was ready to take on Kamotho, the incumbent then.
"I was home since I was struggling with school fees. At this young age, I had developed love for music and I had a guitar. In-between my casual gigs at construction sites, I would play the guitar as my peers discussed politics," says Simon Kihara aka Musaimo wa Njeri, the benga musician whose fortunes changed thanks to the heated Kangema politics at the time.
"Michuki and Kamotho were in a big political supremacy battle and each needed a magic move to beat the other. When Michuki heard about me, this young musician, who was moving crowds with songs supporting him, he invited me to Cargen House, Nairobi.
That is how we started," says Musaimo, adding that he had decided to support Michuki as he was a fresh political face.
Michuki expressed his desire to work with Musaimo.
He was moved as Musaimo strummed the guitar, singing two songs he had composed for him. It was magical.
"He gave me Sh3,000, which was like Sh3 million back then, and asked me to go record the songs. I recruited four musicians and we formed the Mbili Stars Band. I paid the artistes Sh600. I decided to compose the songs under my new recording label," says the Ndia Ndiku star.
Build a decent house
With his Mwana wa Ndigwa 1985 release, in which he featured Queen Jane, Musaimo became a household name, his music was flying off the shelves, and concerts coming calling.
The money was flowing. He was making a fortune and he established himself as a formidable star, whose studio was fully equipped.
He managed to build a decent house and he was doing well. His only wish, he says, was that his father, who was against his singing career – was still alive to celebrate his success.
"Music and politics were inseparable. I think it applies even now," he says.
This is the same political stand that Joseph Kamaru, the then king of Kikuyu benga, had taken years back as he waded in to issues considered taboo then.
He was an advocacy man — politics, social justice… name them. He agreed to work with politicians on issues touching on justice.
But, he had no qualms about opting out when he felt they were pushing him to the wall.
Having had a see-saw affair with President Jomo Kenyatta, as he came to power, Daniel arap Moi opted to work closely with Kamaru, before the warning came in a song titled Ni Maitho Tunite. It warned that "if the bees come out of the hive, somebody will get stung."
Musaimo reveals how tribalism and politics rocked the lives of the musicians. Some were arrested for their songs that seemed to go against the government of the day.
Others had their songs banned on the only available radio station, Voice of Kenya's general service.
"It was tough, I tell you. Receiving airplay took more time and energy than releasing good music. Politics determined what was played on radio," he says.
His recording studio on Sheikh Karume Road, Nairobi, he has been operating from for decades, is a hive of activity.
"I usually arrive here at 5am every day. This is my daily routine. With many changes in technology, there is a lot to learn, if I have to remain in this industry. I have been around for over 40 years. I try to be 10 steps ahead," he says.
Pirating music
Over the years, he has seen the changing fortunes of River Road, which has been home away from his Dandora residence.
Back in the day, River Road was Kenya's music basket, where artistes made millions of shillings off their creative work.
However, the plot changed. Piracy and change in technology, according to the musician, have killed the once lucrative industry.
He started off with vinyl LP records, then the compact cassette, before the digital age gave birth to the DVD-audio, flash discs, and then online music platforms.
"There was no piracy during the age of vinyl. You could not pirate a single vinyl that had only one song. One could release a single song and make a lot of money, before releasing another one," says Musaimo.
"After 1995 when music cassettes took over, artistes were forced to work on 12 to 15 songs in one album and that is when pirates took hold of the industry. River Road crooks started pirating music, and it became impossible for artistes to make money."
The musician also recognises the increase in the number of local musicians.
"Around this time (1995), Kenya only had about 2,000 known artistes. Currently, we have about 23,000 musicians. It is a case of everyone for himself as music cartels thrive at the expense of artistes' sweat," says the legend, who has more than 200 self-composed songs.
Thunderbolt
After launching his own recording label in 1983, where he put together his Mbili Stars team, Musaimo, approached Joseph Kamaru, seeking his opinion on a new song he had planned to release – My Dear Kwaheri.
But, the feedback was not very good. He then approached Wahome Wa Maingi of the popular Sue hit who turned My Dear Kwaheri into a mega-hit.
However, things took another twist. His band members revolted.
He changed the name to Mbili Young Stars and released My Dear Kwaheri part two, followed by another version of Mwana wa Ndingwa, another thunderbolt that was distributed by Matunda Electronics, a leading River Road music stable.
Musaimo took a four-year hiatus from music.
Tour abroad
He, later, returned with Chai wa 14 and in 1998, he released Mwegerekanio, a hit that saw him land many gigs. Events organisers got him a six-month tour abroad.
"When I arrived in East London, I was so shocked that hundreds of fans were singing Mwegerekanio. While in London, I recall pausing during the performance and reimagining my dream of going abroad to study and now here I was, 18 years later, as a musician and not a student," he says.
"I thought of my parents and how life had been hard. Reflecting on all that, I decided to never allow wealth to be my only source of joy, but rather, the inner peace that comes with the satisfaction that is derived from one's passion," says Musaimo.
Musaimo regrets that piracy has killed the industry.
"Piracy is killing the music industry, just the same way alcohol has been killing the careers of many artistes. I would urge Kenyans to buy original music so as to support artistes.
"Also, musicians should go slow on alcohol and promiscuity. If you go to the clubs and get drunk, our Wanjikus and Njeris will finish you," he says.