Chief Okundaye: The queen of Yoruba textile art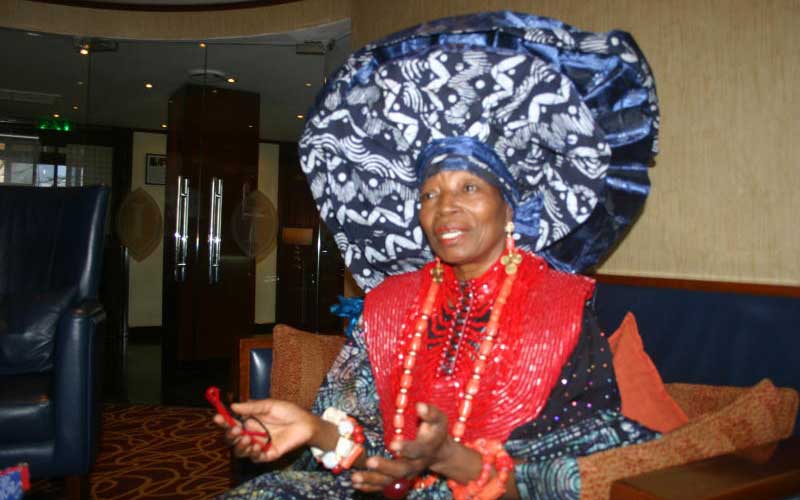 Her artistic creations are sought-after and cherished by art aficionados, private collectors and museums worldwide. In 2014, for instance, the prestigious London's Gallery of African Art did for nearly two months showcase a retrospective of her multiple-media artworks.
Over the past six years, a collection of her unique creations have been on permanent display at the Smithsonian Institution's National Museum of African Art in Washington DC.
And yet, unlike most of her contemporaries, Chief Nike Davies-Okundaye grew up as a typical girl in an African family – her formative schooling was never considered a necessity.
The fact that her parents were impoverished traditional artisans meant getting access to preparatory and formal art education was almost hardly guaranteed.
Ultimately, Nike was forced to drop out of school after Grade Six, with the older women around opting to take her in as an apprentice in the family's age-old traditional crafts, textile and fabric dyeing art.
"My mother passed on when I was barely six and year later, I also lost my grandmother. I'm forever grateful to my great-grandmother – a renowned Adire weaver and leader of all the village weavers. She took me under her wings, taught me the ropes on this ancient craft," recalls Nike.
She goes on to describe the art of adire weaving as the art of creating a hand-painted indigo-coloured fabric, which are traditionally worn and treasured by Yoruba women hailing from parts of south-western Nigeria.
"I was fortunate to learn tie-and-dye craft from a master. She taught me how to harvest indigo plants. I also gained handy skills on dyeing techniques, hand-painting and making decorative embroidery patterns on adire cloth using palm-fronds or feathers dipped into a blue-black dye and cassava starch," she explains. Indigo is considered a traditional colour of love among the Yoruba.
"I love making adire – the process is like a spiritual thing, with the patterns enriched in cultural symbolism to preserve our roots and history," she adds.
Her passion for the indigenous craft, is reflected in her flowing, colourful outfits and an eye-catching head-gear all which, like her stylish batiks and popular hand-painted textiles, she creates herself.
But more significantly, Nike not only doggedly rose to the pinnacle of illustrious artistic crafts career. For years, she remains focused on inspiring hundreds of disfranchised and poor rural women, going the extra mile to teach them the basic skills for free.
"My art has given me a sense of accomplishment, and along the way, I have also learnt to give back to the source, just as I gained so much from my great-grandmother," she asserts.
The celebrated queen of Yoruba textile was recently in the country as part of the African Twilight series of events hosted at different venues across Nairobi.
Her paintings, bead work and textile art, are on showcase for an exhibition at the Hotel InterContinental's lobby, restaurant, corridors, business centre and lounge.
Two years ago, she also helped curate an array of artworks drawn from various Nigerian artists, which served as the centre-piece of the 50 Years of Oshogbo Art Exhibition held at the National Museums of Kenya, the Nairobi Gallery and the Alliance Française.
It is these artworks which moved to the Intercontinental Hotel, a venue that occasionally also offered exhibition space for the display of local artists' work. The Hotel will be marking 50 years in Kenya in May this year.
Nike's love affair with Kenya and Nairobi goes back to the 1970s, when Alan Donovan organised the Nigerian Festival, part of a pan-African trade fair held in Nairobi in 1972.
"This was officially my first international debut as a textile and adire craft artist. Some of my work was displayed at the African Heritage House gallery – founded few years earlier on by one-time Kenyan Vice-President Joseph Murumbi, his wife Sheila and Donovan," she recalls.
The partnership did later flourish over the subsequent years, spurring the launch of her own Nike Art Centres – with the first opening its doors to the public and budding artists in 1983.
"At this point in time, I strongly desired to give a chance, like I was given, to others – we started working out of the streets of Osogbo town, where I shared my adire weaving and painting skills with other disenfranchised women who also had informal education," she recounts.
Looking back, Nike is proud of her relentless efforts, with the Nike Art Centres having grown to three more, with others located in Abuja, Lagos and Ogidi, her hometown.
She notes that her own art gallery, reportedly the largest and monumental showcase space for arts in West Africa – at any given time displays over 8,000 artworks sourced and brought in by visual artists drawn from across Nigeria.
"We need to pass on our fast-diminishing cultural heritage and restore the value in our indigenous crafts to the youth – our traditional knowledge and valuable practices are disappearing in Nigeria and elsewhere across Africa," she advises.