Kenya's film industry 'about to erupt', says British author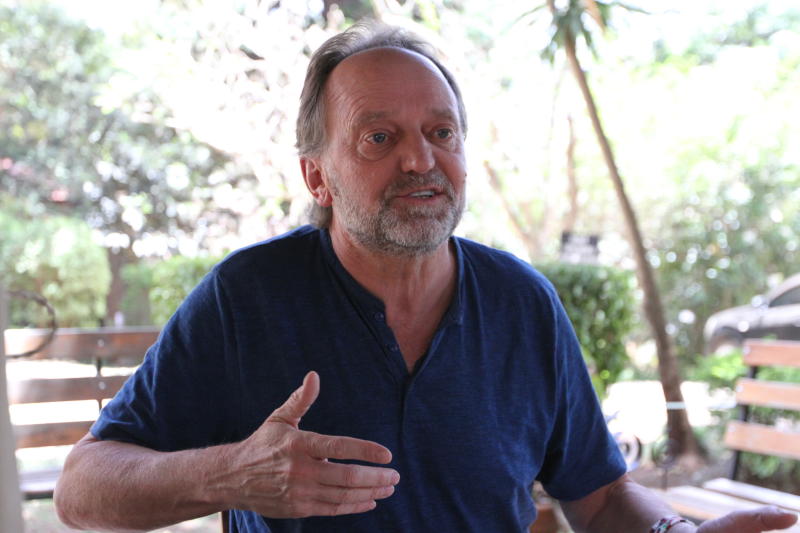 Visiting British author, film-maker and story teller David Baboulene feels that the Kenyan film industry is about to erupt if players maintain the positive spirit and keep the focus.
In an exclusive interview after presiding over the "Primary Colours of Story" workshop in Nairobi, Baboulene celebrated the energy of the hundreds of film-makers and script writers who attended the free fair, a partnership of Goethe Instituit, One Fine Day Films and Ginger Ink.
Baboulene holds a PhD in story theory and has published among other works the Ocean Boulevard, Jumping Ships, Kepple the Kite, Oopsie... I Forgot, The Story Book, A Constructivist Narratology and soon to be released The Primary Colours of Story.
"What I have really enjoyed here has been the energy and people, especially those in the film-making community. The energy is enormous. You can feel the industry is ready to erupt. There is so much positive energy and a sense of growth," Dr Baboulene said.
"You can tell that more people are beginning to look at the possibility of succeeding and investing in quality output."
Sitting at the shed outside the Ginger Ink offices, David had a slight tan from the Maasai Mara sun, a trip he took after completing his official business of the workshop.
Through an assured smile, he confesses: "This is not my first time in Kenya actually, I have been here before. I came in through Mombasa and went on Safari to Tsavo which was when I was working in ships. This has been a first time in a long time to Nairobi then to the Mara."
His story is as interesting as his books. A high school dropout, Baboulene took multiple careers before settling on writing.
"My problem is that I get bored. I have probably had 10 different careers. I travelled for about five years, then got into music for a while but I wasn't very good. Then I went back to school, I later ran some companies and worked in corporate environment, writing. Then I got published as a writer, which was the beginning of this (story consultant) journey."
Soon thereafter, he was bagging continental awards. He moved to work with a story consultant for a Hollywood project.
"I didn't know much about film so I did everything he said. I hated what happened to my story at the end as it was being forced into the Hollywood formula. At the end of the process we produced a horrible movie that didn't sell." From this experience, he turned himself round into the story consultant who is now globe-trotting, teaching how to powerfully tell stories.
"There was proof there that he (story consultant) wasn't helpful. I was later complaining to my publisher and he asked me 'If you got a story consultant what would you have liked from this person?' It got me thinking of my expectations as a writer. "
Baboulene says he expects stories that come out of Kenya to be different from those that come out of other parts of the world. He says audiences gravitate to the things that resonate to them at that point in time.
"Here, being in the arts feels very exciting and new for people to create. Out there, people have an expectation that they can just do it because the industry is more established whereas here people truly love film and they are involved in its growth," he said.
Kenyan film makers have tried taking their films outside the borders through their curation and story over the past couple of years but are said to be a far cry from making a name out there. However, with the success of films like Supa Modo, Nairobi Half Life, Disconnect and Rafiki, there has been quite a shift in reception of Kenyan films.
"You have to work hard to get these (written) nuggets out. To turn the gold into jewelry, one has to work a lot harder. It is all about digging deep and working hard to differentiate yourself from other artists in the basis of quality in the crowded world of writers," says the accomplished scriptwriter.
One Fine Day Films and Ginger Ink Films, sponsors of his tour, are two of most successful film production companies in Kenya. They felt the need to prepare potential participants for their upcoming long-running TV project on what they should expect as they apply to become writers for the project.