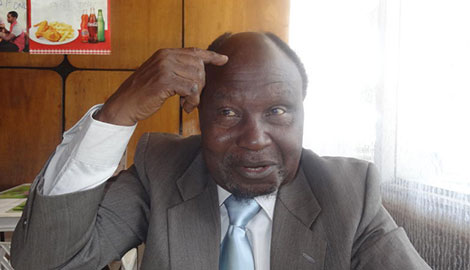 Veteran politician Mark Mwithaga is perhaps the only Kenyan politician to have landed in jail for allegedly beating his wife. He gained another distinction for winning a parliamentary election while in prison. He was the vice chairman of the JM Kariuki assassination probe committee in the mid 1970s, a role that earned him a lot of bile from President Jomo Kenyatta's administration.
Kenya: Shortly after populist politician Josiah Mwangi (JM) Kariuki met his brutal death at Ngong Hills in 1975, his friend and confidant Mark Mwithaga, who played a pivotal role in the inquiry to unravel his murder, was made to suffer a two-year jail term that saw him effectively out of Parliament.
To the fury of his adversaries, he won two parliamentary elections while in jail and still managed to pull strings to push his preferred candidate to victory in the third election.
Mr Mwithaga had won the Nakuru seat in the December 1974 General Election, but some powerful forces in Government could not tolerate his closeness to JM Kariuki.
"My incarceration on trumped up charges was part of a grand scheme to rest the JM case," reminisces Mwithaga, his voice full of bitterness that has lingered through the years.
He says the court, for unclear reasons had nullified an election he had won with a convincing 700 votes, arguing the difference was too small for a clear win, but absolved him of alleged offences.
"The regime's calculations barely a week to a by-election I was certain to win were shamelessly malicious," he declares, his face drenched in disgust. "To the Government's unease, I won the by-election from behind the high security Kamiti Prison walls, beating Amos Kimemia with a big margin. But I could not sign the acceptance papers after prison officials on instructions from above declined to allow my wife hand them to me. My enemies had won and another by election was in the offing."
Again, to their frustration, it was the person I supported from inside prison, William Komen who won after my family campaigned for him. Not Amos Kimemia.
The diminutive man whose name is synonymous with Nakuru town politics still looks strong at 79. He stands slightly above five feet and dresses smartly, the bald strip on his pate smooth and shiny between a fringe vegetation of dark short hair, his trademark white beard well groomed. "Americans once compared my brief height to that of Haile Selassie," he muses with a laugh.
"I hope you had no problem locating me," he says after a handshake at his popular joint in Nakuru. "My name resonates with many here, having been in Nakuru politics for more than 50 years.
"Now, what else do you want to know?," he says, piercing me with a hard look that makes me fidget on my seat amid sips from my cup of steaming tea. The discussion abruptly changes course midway.
"As you digest that, let me shock Kenyans a bit. Many may think independence is not so rosy after all. But it is better what we have, than a Kenya initially perceived by the British as a future white homeland," he says.
I am fascinated by his eloquence and sharpness of memory.
"What is today Zimbabwe and South Africa were together with Kenya identified by the Mzungu as adopted homelands.
Parts of Kenya they christened 'White highlands' bore the right climate and fertile soils they preferred. They also carved out resource-rich Northern Kenya that included the North Coast as Northern Frontier District (NFD). The arid and semi-arid mass of land measuring almost half of Kenya was a closed district for its oil and other natural deposits.
"So oil was not discovered in Turkana and offshore Lamu only yesterday. The colonial authorities discovered it long ago and safeguarded it for future exploitation," he says.
But independence threw their plans off the mark, hence their desperate efforts to covertly destabilise the unitary Mzee Kenyatta's government by being part of the agitation for autonomy of NFD disguised as secession.
Contrary to popular belief that the Shifta War of 1964 to1967 was the upshot of expansionist designs by the Somali regime in Mogadishu, the uprising was watered partly by a recommendation made decades earlier by the British Government to the effect that greater Somalia incorporated NFD that ran into the current Lamu, Tana River and Turkana counties in addition to the former North Eastern Province.
For selfish reasons, the colonialists secretly backed the Northern Province People's Progressive Party and incited local Somali Muslims to agitate for secession to Somalia as Kenya was negotiating its last bend to independence.
"I am sure you know Wabera Street in Nairobi. The thoroughfare that runs between the Supreme Court and Macmillan Library was named after independent Kenya's first African District Commissioner in charge of NFD, Daudi Dabasso Wabera, assassinated in June 1963, the month Kenya attained self-rule under Prime Minister Mzee Jomo Kenyatta.
Wabera was gunned down as he returned to his Isiolo base from Mudogashe where he had gone on a mission to dissuade his Borana community from supporting NPPP and its call for secession. "Colonial conspiracy in the upheavals that culminated in the Shifta War crystallised with the deportation of a Mr Prodgem, the police boss in charge of NFD after he was accused of recruiting Wabera's killers and helping them escape into Somalia. He was the first white man deported from Kenya," he says.
The Shifta menace spread to Lamu, another treasure trove for oil, leading many locals to flee their ancestral land later occupied by upcountry and other immigrants due to wrong land policies. Is it a wonder then that Lamu is a powder keg today? Al Shabaab is but a reincarnation of the Shifta insurgency and interference from people begrudging us for the oil and fundamental infrastructure that is the LAPSSET corridor cannot be ruled out.
Mwithaga, pauses, lets his fingers run lazily through his beard and with his fist planted on his chin, prods me to ask him questions.
"Oh, spare me the trauma of commenting on JM's death," he says in response to my question on the murder, grimacing at the memory of the macabre killing of then Nyandarua North MP on March 2, 1975. "I was deputy chairman in the Elijah Mwangale-led committee of inquiry into the murder and I carried many political crosses for it. President Kenyatta frustrated our efforts by ordering deletion of Minister of State Mbiyu Koinange's name from the list of people we recommended to be investigated further, among them his bodyguard Wanyoike Thungu."
And Tom Mboya? Unknown leads to his assassination that you may want to share with the world?
Mwithaga says: "Mboya had been my close friend since our days in the Labour movement where I was secretary of the Transport and Allied Workers Union, Nakuru branch, an affiliate of the Kenya Federation of Labour that he headed as general secretary. When he arrived from Addis Ababa on July 4, 1969, he met me in the lounge at Parliament Buildings and asked me; 'Mark, why all these conspiracies of eliminating one another? I was dumbfounded by his question and said nothing in reply. The following day, Tom was dead!."
In retrospect, the question reminded me of a substantive Motion then Teso MP Oduya Oprong had tabled in Parliament accusing Mboya of being a member of the American Central Intelligence Agency. I concluded that Oprong's Motion was part of the conspiracies Tom was alluding to. "But one thing was clear. Mboya and JM were casualties of the Kenyatta succession manoeuvres by the powerful cabal surrounding him," he says.
Avoided hasty decisions
Mwithaga says of Jaramogi Oginga Odinga: "There was no doubting his honesty and forthrightness. He talked his mind without fear; mentioning Kenyatta's name in Parliament at a time doing so was taboo and had to be sent out by colonial Speaker Fredrick Ferdinand Cavendish for six days.
He had described Kenyatta, then in jail as an African leader. Later, he told Kenyatta to his face that he was a land grabber and earned the old man's wrath for it."
He describes his relationship with Mzee Kenyatta as warm until he got involved in the JM murder probe. "Kenyatta avoided hasty decisions but was firm. He believed in hearing the other side of the story before arriving at a decision. He refused to accept my detractor's accusations when I returned from a much-hyped US trip in December 1969 that I had gone to America to complete Mboya's work."
"Moi, however, was genuine but took issues at their face value and ended up hurting many of his friends as a result," he added.
Mwithaga was first elected MP in 1966 to represent Nakuru Town Constituency after Ramogi Achieng Oneko resigned to join Jaramogi's Kenya Peoples' Union. He previously served as a councilor and district Kanu Chairman since 1960.
He was re-elected in 1969 and 1974 before a petition filed by Kimemia on instigations from power barons surrounding Kenyatta removed him for his role in the JM murder probe. He sprung back in 1979 after a stint in jail and was appointed assistant minister for Labour in the Nyayo regime, deputising Elijah Mwangale.