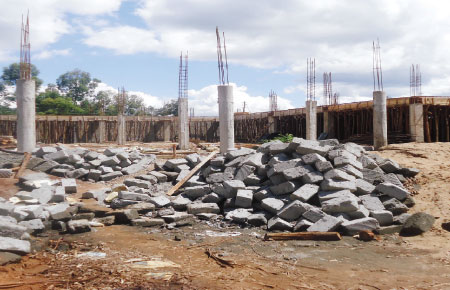 When train services stopped, It almost became a ghost town. But that is gradually changing, writes JAMES WANZALA
Sagana is a small town in Kirinyaga County, central Kenya, along the Nairobi-Nyeri highway and 100km north of Nairobi.
The town got its name from Kenya's longest river, Tana River, which is also called Thagana.
The town, which was initially agricultural, traces its origin to the 1920s.
Read More
The agricultural products used to be transported with train. When train services stopped, Sagana, which used to be abuzz with activity, nearly became a ghost town.
Today, the railway line is bushy as one approaches the town from Murang'a town and warehouses that used to stock agricultural produce like coffee also stand disused. But the town is reawakening.
Despite the town lacking essential facilities like banks, colleges and supermarkets, new buildings are coming up. A good indicator of growth is the new Magunandu supermarket, which is being built on Nyeri-Nairobi highway.
The other new developments are Kenya Women Finance Trust, Post Bank Agents and Fortune Sacco.
Three petrol stations exist, too, with mini-supermarkets like Majibu and Msafiri. Companies like Royal Millers, Ego Feeds, Macadamia and Kenya Planters Cooperative Union also have a presence in town.
According to one resident, Gachiani Kabebia, the town's growth is slow because it lacks essential facilities like streetlights, sewer system and good roads.
But Kabebia says the town's current growth is being propelled by Kagio, a busy agricultural market centre on the Nairobi-Nyeri highway.
Some notable hotels like Chakaka, Country, Roots and Skyline have pitched tent in the town to capitalise on the town's strategic location near a highway.
Another notable growth drivers are the Sagana Fisheries College, which is attracting students to town who in turn seek accommodation in rental houses.
The apparent growth is slowly leading to increase in land prices and accommodation costs.
According to J K Muraya, a Managing Director with Geo-Plotters, a company dealing in surveying, real estate management and plot sales, land prices have been fast rising for the past ten years, with a 50ft by 100ft plot moving from about Sh500,000 to about Sh2 million currently.
Muraya says the advent of county governments has also seen people buy land back home to build rental houses in the town. There are now also new retail chains in the town.
Failure
He, however, blames the county government for failing to put in place sewerage system and street lighting.
Hotel business, according to S K Mumo, a manager at Chakaka hotel, has still not caught up well mainly because the town thrives on agriculture.
"But I hope that business will be good when the dual carriageway from Nairobi to Nyeri is completed," says Mumo.
According to Kirinyaga County Physical Planner, William Loka, the town got a development plan in 2007, but plans are underway to prepare an integrated one to cover the entire county.
"The planning has involved zoning of educational, industrial, social, agricultural and public office areas for an organised development of the town," says Loka.
He says the town is growing mainly towards Sagana-Makutano-Nairobi Road due to availability of large chunks of freehold land.
"Good road network like Makutano-Sagana-Nyeri highway… is influencing investment in hotel industry," he says.
Lack of sewerage system, footbridges for pedestrians at the Murang'a/Nyeri and Kagio junction, lack of industries to offer employment opportunities like used to happen when the railway was active, are some of the challenges affecting the town, according to Loka.
The town seems suitable for both commercial and residential developments due to availability of land, electricity and water.
The hospitality industry is coming up fast in the town, with several cottages coming up. Tourist sites have also come up along River Sagana. They include Sagana Rapid Camps, which is renowned water adventures; White Waters Camp and Sagana River Lodge.
A five star hotel, which is nearing completion, is being built on a 24-acre piece of land.