Physical to virtual learning in wake of Covid-19, teacher's experience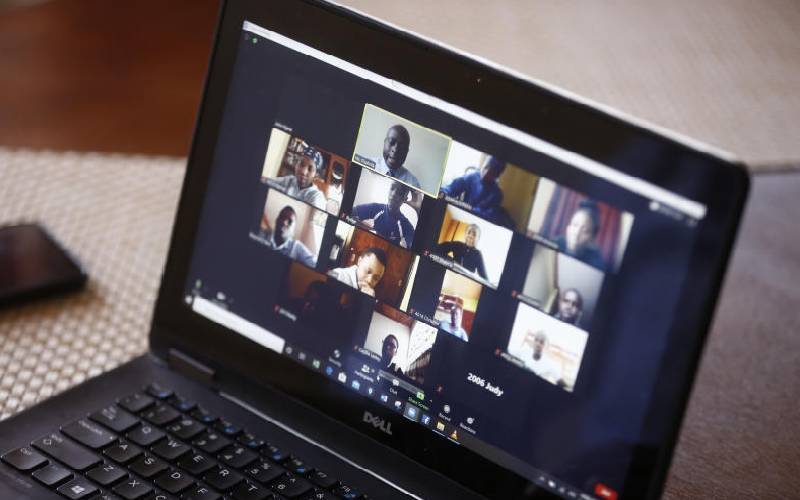 The exact date is emblazoned in our minds: March 17, 2020. The day that we started the new norm in education, the move to an online platform to slow down the rate of Covid-19 infections. Teachers were compelled to become instant IT wizards (or something akin to that!). No longer could we hide our ineptitude in ICT by touting the excuse that too much exposure to computers was detrimental to teenagers. In a matter of days, a child's access to the internet and a device would become the determining factor in their academic progression and success.
Our challenge as educators was to ensure that we were delivering quality teaching and learning while maintaining a firm grip on the pastoral welfare of learners. More than anything, our versatility was tested. A versatile teacher is broad-minded and learner-centred. A good teacher is self-analytical and seeks ways to make the classroom experience even better.
Crash and whizz course
We started with the ICT Department conducting a crash course on how we were to use Microsoft Teams. True to the word, it was a 'crash and whizz' course! Within one morning, the whole staff of 51 teachers had mastered the basics. We could create classes, add students, add resources, set up our calendar, share documents, set tasks and more. The Headteacher meanwhile communicated with parents and students to explain the new system. Classes started the next day, and it still amazes us how smoothly we transitioned, 'like pros' as our students would later say!
Of course, with time, challenges emerged. As staff, we had to guard against many things and one was getting complacent with the basics we had learned about Microsoft Teams. Unlike some schools, we did not simply send out work and ask students to do it and then submit assignments by email. We aimed to continue to provide an active teaching and learning experience online and sticking steadfastly to our five-70 minutes a day- lessons. We started to grow acutely aware of the numerous challenges posed.
Challenges
How could we engage each and every student constructively online, for a full 70-minutes lesson? How could we ensure that they were not burnt out by the end of the day (as this was a massive challenge, we too, as adults, were experiencing)? How could we ensure that each child was actively engaged and not just logging in and doing other activities on their devices? In many cases, there was the question of how to get some students to log on because, without an adult presence in the home, it was not guaranteed that a student would diligently attend class. The temptations and distractions around the student, sitting at home with devices and access to the internet were just too overwhelming for many students!
New policies had to be developed to suit remote teaching and learning. Among the rules enforced was that cameras had to be on throughout the lesson. This enabled us to gauge feedback more readily; a thing we take for granted in a physical set-up. Communication between parents and staff was enhanced. A quick phone call or text message to a parent would go a long way to ensure attendance. We never underestimate the importance of parental engagement at Hillcrest. We relaxed the rules on personal communication with students and allowed staff to create WhatsApp groups to facilitate immediate communication.
In order not to lose focus on each and every student, we observed our weekly Tracking and Monitoring meetings where each Head of Department provided a report of students of concern and the initiatives that were being engaged to support such students. Needless to say, the pastoral team proved invaluable support with the deputy head pastoral, counsellor and the Learning Support Team always ready to extend support in innovative ways. To continue to ensure excellent teaching and learning standards, we held regular Continuing Professional Development courses (CPD's) and were overwhelmed by the pool of knowledge generated just among the staff. We learnt how to mark and feedback on students' work on pdf and using camscanner as we could not use exercise books. We enhanced the use of educational apps to break the monotony of long lessons. Apps like Kahoot, Mentimeter and Quizlet made lessons fun. Group tasks were enabled by shared documents and homework continued to be set on Firefly platforms.
Lesson observations had to continue and the online mode of observation proved to be easier because one only needed to switch from one class to the other from the comfort of their seats. Assessments became more formative - but there was still a need to test students in a standardised and summative way but under robust conditions so that the results were creditable. Exam.net was introduced, and this continues to be a precious tool for testing online.
Blended learning
It has been almost a year and a half of education in the pandemic and some days still present learning opportunities for the teacher. We may be back in the physical classroom but certainly have not dropped our guard. We remain vigilant and prepared, the government can decide to shut schools to guard against rising rates of infections. There are occasional cases of individual students remaining at home and being compelled to learn online because they are isolating themselves or are in quarantine.
This has necessitated teachers developing efficiency in the art of teaching both the online students and those in the physical space, at the same time. To facilitate this, we have invested in Bluetooth microphones and more efficient smart boards in every classroom. Adequate syllabus coverage geared towards examinations continues to be most challenging. This has necessitated many intervention lessons being conducted during lunchtimes, after school and even at the weekends. Teachers have had to devise innovative ways of completing the practical components and ensuring that students have adequate work to merit a grade in the subject.
Success
As we review the one and a half years in the pandemic, we can safely say that we have surpassed our targets; of course, this by no means suggests that we are now complacent. In any organisation, a clear vision and teamwork are vital for success. Each member of the vast team is aware of our mission which is to ensure that each child achieves personal excellence as a valuable member of our global community. All facets of the school have worked together in harmony to ensure that each learner is supported. Communication remains key and has been our forte.
Mrs Razwana Rana-Kimutai is the deputy Headteacher, Hillcrest Secondary School