Three suspects arrested cultivating bhang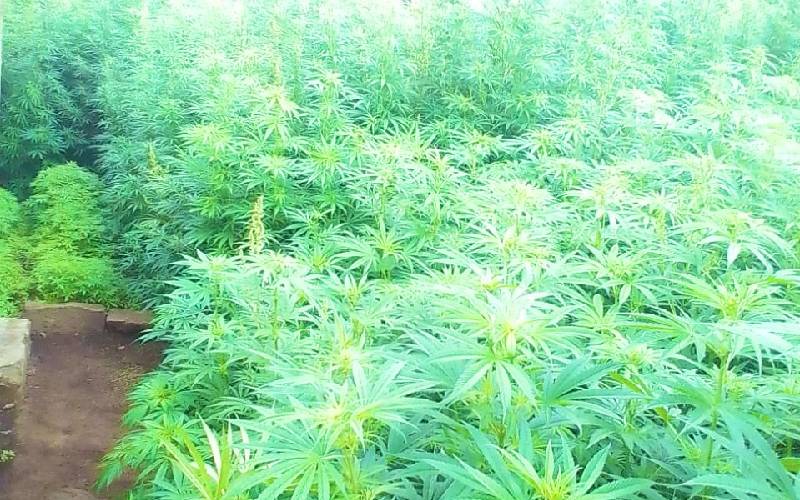 Three suspects were on Friday arrested for cultivating bhang.
The three, Victor Kung'u Wainaina, Broddus Wainaina Kung'u and Dennis Matete were arrested in a ¼ acre plot in London Ward, Nakuru County.
The Director of Criminal Investigations, George Kinoti, said the arrests were made following a tip-off on their hot-line.
According to Kinoti, the plantation was fully grown and awaiting harvest.
"The multi-agency security team led by Nakuru Anti-Narcotics sleuths stormed into the compound and destroyed what would have been a bumper harvest for the owners," he said.
He said the three suspects were arrested on suspicion of cultivating the plant, approximated to have a street value of Sh15 million.
The plantation has since been uprooted by the police.
He said the suspects are currently in custody awaiting arraignment in court.
In February this year, police in Naivasha torched marijuana worth Sh81 million after a court-ordered that the drugs be destroyed.
Nearly 3,000 stems of marijuana went up in smoke at the Naivasha dumpsite.
This comes as the attempt to legalise marijuana continues to gain momentum in the country.
Dagoretti South MP John Kiarie renewed calls for Parliament to craft a law legalizing the industrial and medicinal use of marijuana.
While arguing the country can no longer be blind to its economic benefits, the legislator said there was a need to review the country's agriculture concept to net into the benefits of the non-conventional crops.
"It is time we stopped being cowards as a house and start looking at crops that will be of benefit to this country," Kiarie said.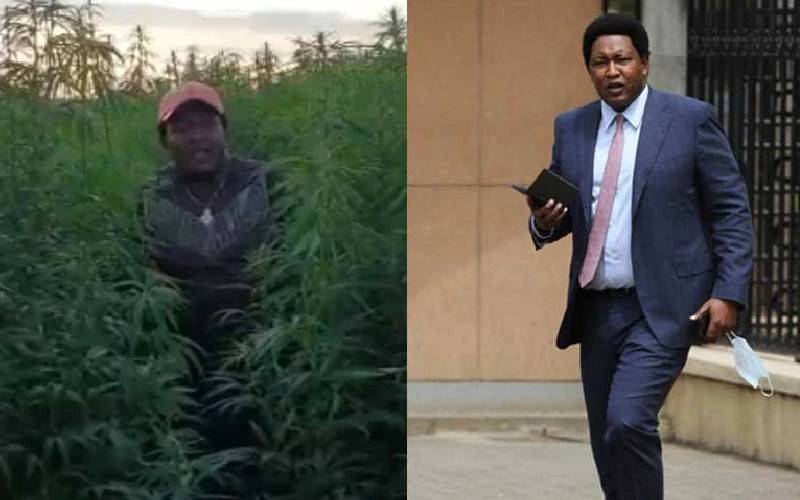 His sentiments were echoed by Narok Senator Ledama Olekina who called for the legalisation of marijuana in Kenya, citing the plant's economic and health benefits.
In a video shared on Twitter, the legislator was seen standing amongst marijuana plants before revealing that he's in Lithuania, Europe.
He wondered why the plant is still illegal in Kenya, saying the law is part of the 'old ways'.
"Ladies and gentlemen, this is crazy. I'm right in the middle of a farm in a place called Lithuania. What you can see here is marijuana. Why is it that we in Kenya we are still stuck with the old ways of saying this is an illegal drug? My host is telling me that hemp (fibre extracted from the stem) is used for construction and making ropes. If it's also good to reduce pain for cancer patients, why not legalize it? What is so bad about it? If this weed is good for us, let's legalize it," he said, before showing the expansive marijuana farm.