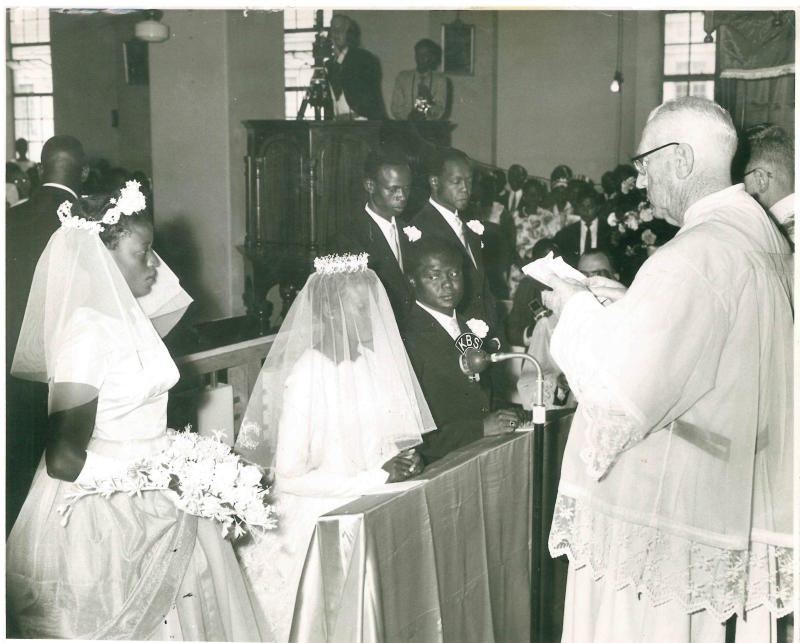 Tom Joseph Mboya (TJ) was one of the most polished politicians of our time.
And his memories will forever haunt this country, especially the political elite who betrayed him. But before the political elite came to loath the man they had once loved, he showed them a thing or two about fashion and style.
He had already demonstrated his mastery of debate and perhaps this is what attracted Pamela Odede, the woman whom he married on January 20, 1962.
Tom Mboya tied the knot at St Claver's Catholic Church in Nairobi in a ceremony presided over by Nairobi Archbishop, JJ McCarthy and witnessed by only 1,000 guests.
This was no ordinary wedding, for 900 telegrams were sent, including one from Pope John XXIII. And as the guests, including Jomo Kenyatta, Jaramogi Oginga Odinga, the Kabaka of Buganda kingdom swayed, tapped, and danced to the tune of Kiko Boys of Equator club at the reception, Mboya was whisked out of the party to the Promised Land of Israel where he was to savour the beauty of his bride.
But not everyone was excited by the event; Charles Njonjo lamented that Mboya had ditched the bachelors club they had both founded. It would take the 'Duke of Kabete' a whole decade before he too ditched the bachelors' club when he wedded Margret Bryson in 1972.
By then, Mboya had fallen to an assassin's bullet. Mboya was gunned down on July 5, 1969, in broad daylight in a shooting that dazed the nation and triggered countrywide protests that rocked the government to the core.
Unlike his wedding which was attended by who is who and was described by his biographer, David Galsworthy as without a doubt the grandest in Nairobi, his burial was a riot of emotions.
Although Kenya's political leadership wanted to wish away Mboya, his biography was appropriately titled - The Man Kenya Wanted to Forget.
Although some of the principles he wrote about in the famous African Socialism Paper of 1965 have been partially achieved, one of his greatest visions-that of self-reliance as a country-has been trashed.
Fifty-one years after Mboya's death, the ethnic tensions and power play that reigned then, fuelling political tension, still prevail.