Policeman suspected of slapping girlfriend's child escapes lynching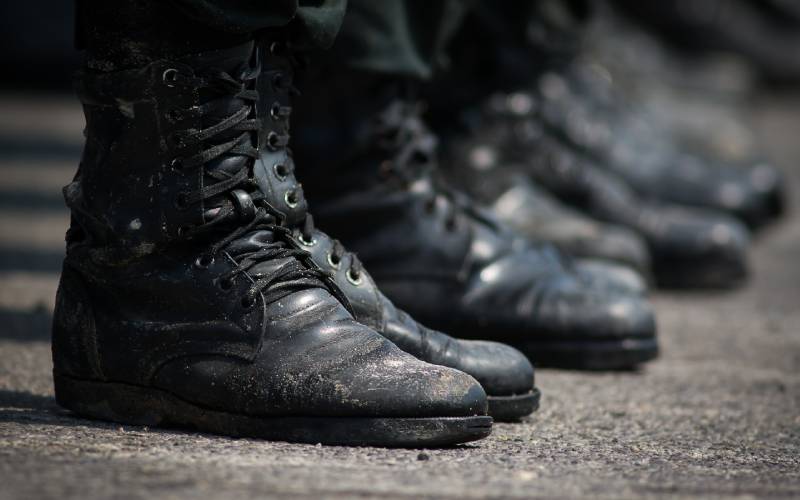 A police officer stationed at Kamwosor police station in Keiyo South, Elgeyo-Marakwet County narrowly escaped lynching moments after allegedly slapped his girlfriend's child.
Irate locals attacked the visibly drunk police officer after the Saturday evening incident at Kamwosor trading centre.
According to residents, the officer, who was transferred to the station earlier this year, had fallen in love with a local bar attendant but quarreled on Saturday morning.
He had gone to the bar for a drink on Saturday morning when he differed with the bar attendant who is suspected to be in a relationship with another police officer from the same station.
Richard Kasarani, a local, said the officer returned to the bar in the evening and was heard trying to break the door demanding answers from the bar attendant on why she had slapped him earlier in the day.
"The officer was spotted drinking at the bar where his girlfriend works on Saturday morning. The lady is also in a relationship with one of the officer's colleagues. In the evening, he stormed the bar with a gun and demanded to know why the woman had slapped him in the morning," Mr Kasarani explained.
He claimed the officer forcefully gained entry into the bar where the woman and her employer were holding a closed-door meeting, occasioning drama.
Mr Kasarani claimed the police officer ordered his girlfriend out, but the bar owner intervened and asked him to wait until they conclude their meeting.
He said the officer later gained entry into the bar, but his alleged girlfriend, who was with her son pushed him out of the bar and the officer, in retaliation, slapped the pre-school child.
"The woman screamed and called for help after her child was allegedly slapped by the drunk and angry officer, attracting a mob that attacked him. The officer pointed a gun at the charged crowd as he ran towards the police station. The angry locals followed him to the station," Mr Kasarani said.
He said angry locals stoned the officer but escaped with minor injuries as he ran for his life.
He said his colleagues rescued and disarmed him when he reached the police station.
"His seniors at the police station calmed the irate locals before he was whisked away by DCI officers. He was handcuffed and whisked away to Kaptagat Police Station by the DCI officers. He tried to shove a colleague when he was being disarmed," he said.
Officer Commanding Kamwosor station, Raymond Jembe, said the officer was still in custody and that he was helping his officers with information in an ongoing probe.
Mr Jembe said the matter was being handled internally by his seniors.
"The officer is new at the station. We are glad that we have calmed the residents and the matter is being handled internally. It is always our pride to work closely with residents," he said.