Kenyan paraglider soars high in Iten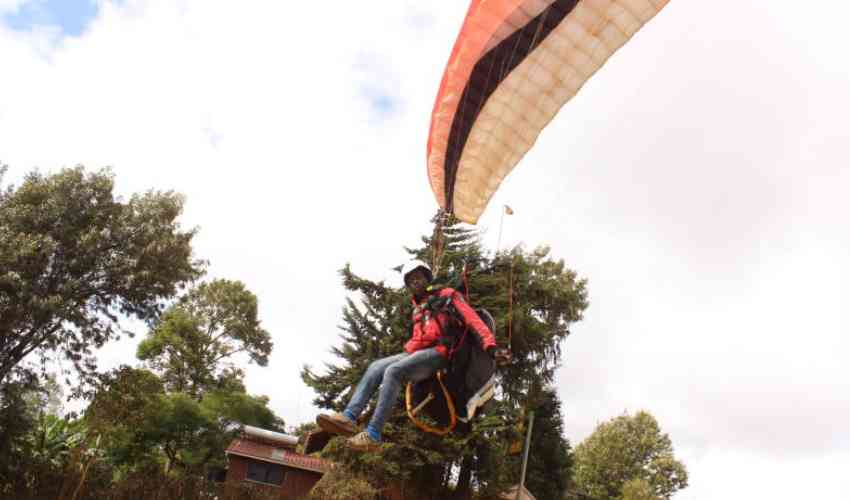 The hanging valleys of Kerio Escarpment give visitors a gorgeous view of the scenic Elgeyo-Marakwet County.
Iten, a small town famed as the country's most preferred athletics training base, has in recent years earned another distinction. It is the home of paragliding.
When paragliders from Europe and America are in the skies from October to March every year, they enjoy the rocky and picturesque Kerio Valley as well as the meandering Kerio River and Kapnarok ox-bow lake.
For years, the extreme sport had been a preserve of foreigners before one local lead a handful of Kenyans to join the club of the dreaded paragliders seeking to stamp authority.
Peter Kibet, a 24-year-old Class Eight drop-out, and resident of Iten, joined the league of professional paragliders after several years of helping his counterparts from Europe assemble paragliding gear at the take-off and landing areas.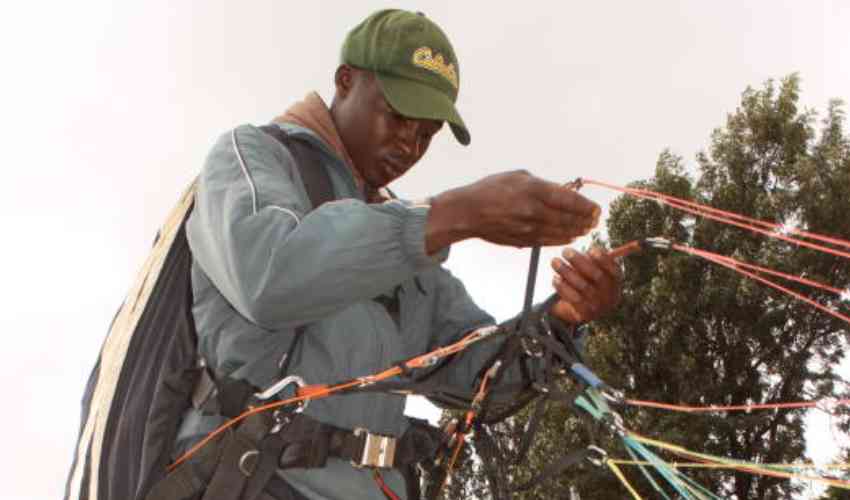 He says foreign paragliders landed at their homestead, giving him a rare opportunity of interacting with them.
"I learned about the little-known sporting activity from a German paraglider, Markos Shapy, and his team who used to land outside our home. I got the opportunity of interacting with his team," he said.
During the landing time, Kibet adds, he made sure he was there to converse with Markos and his team and here the trust grew, and he was given the task of folding and packing the wings. He earned Sh50 for each piece of equipment he folded and packed.
"People within the area refused to allow the foreign paragliders to land on their farms because they could destroy crops. They also didn't want their children to come close to foreigners," Kibet says.
His bond with Markos and the paragliding team was cemented as days passed and with the curiosity of knowing more about the well-being of Kibet, the team visited Kessup Primary School where he was studying.
He adds his love for paragliding would see him out of school for several days because when he was not folding and packing equipment, he was busy making his own paraglider using local materials including wood and polythene papers.
"It all started in 2006 when I chose to fly on my own wing. I had then made a wing-like structure using old polythene bags and after several days of designing the wing, it was ready and on one windy morning, I took off to the skies," Kibet narrated to The Standard.
To his surprise, he landed on a tree several meters down a cliff where he had taken off. Luckily, he survived the risky fall.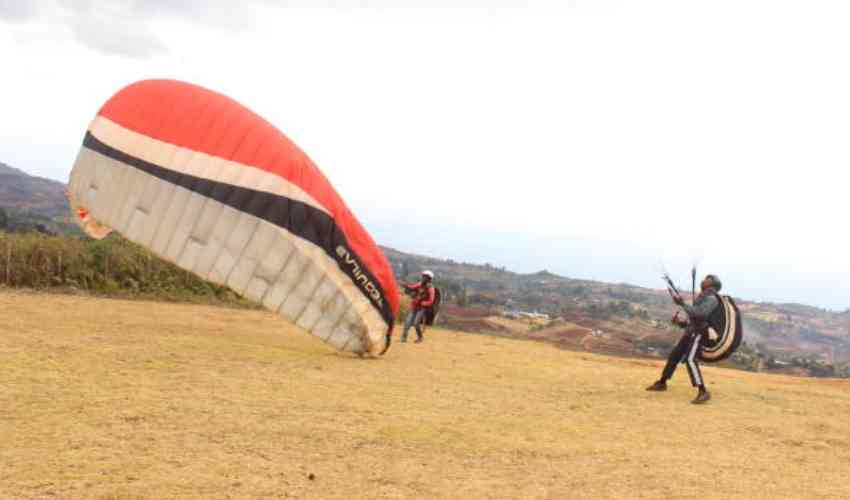 He says after he was expelled from school, he moved to Kiptoro Primary School, 10 kilometres away, but could not proceed to secondary after sitting his Kenya Certificate of Secondary Education in 2010.
"I was eventually kicked out of school for falling in love with a new sporting activity. I used all the time I had to focus on flying up the sky,'' said Kibet.
Kibet says he later reunited with Markos who was shocked to learn he had not cleared school yet he had paid the caretaker but accepted him after explaining that he had been expelled for his insatiable love for paragliding.
After quitting school, Kibet says he started working closely with Markos and the German team with a keen eye on becoming a professional paraglider.
Kibet was tasked with bush clearing in landing areas until the day he took his first flight under the control of Markos, a professional paraglider.
And when his time to fly came, Kibet recalls that the skies were a blend of anxiety and fear.
"I was directed by his trainer to follow every step right from taking off techniques, operating the wing up the sky, balancing and as well as taking directions that favors the wing for several hours up the sky all the way to a safe landing," he narrated.
He adds, "Taking off for the first time came as joy into my life after years of watching and waiting for the opportunity, I gained courage and took off."
He said that he and his trainer Markos flew with him four times, taking off from Kerio View Hotel and landing in the valley after taking almost the whole day in the skies.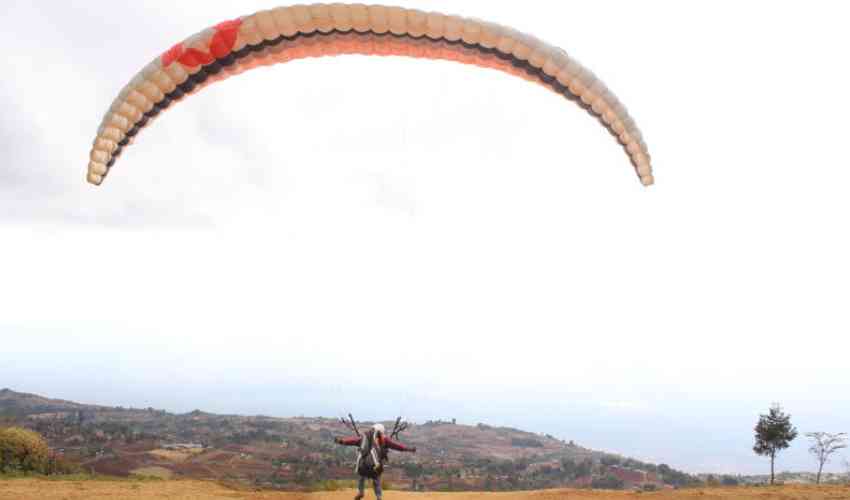 Lucky enough Markos and the team gave Kibet an old paraglider gear and he and the Germans flew together up the skies.
"We often fly for four hours. I came to realize that Markos was eager to train a local, and he had already seen a potential in me," he said.
Kibet said that he came to learn paragliding was not just flying up the skies for leisure, but it was a form of training for competitions where speedwork was key.
He started flying at the recommended 3000-4000m above sea level, lasting about eight to ten hours over a distance of 150-200km.
Apart from learning how to fly, he was also schooled on how to monitor weather patterns.
"It was a bit challenging in monitoring the wind patterns, but currently I have mastered the prediction after years of experience," said Kibet. "I also use my phone to do professional monitoring. Flying is always from 7am to around 10am, and also we come back at around 2pm, the wind at this time is cool and safe for safe take-off and landing,"
He said that despite seven years of experience, he once fell from the sky after a rapid change in wind direction.
With the skills he acquired from Markos, he has already trained four youths who paraglide mostly during the dry season.
"During these months, we are left alone because the valley is not safe for landing due to farming activities, and our partners from overseas avoid attacks from the farmers," said Kibet.
He adds, "If the county government can provide landing areas across the valley could have attracted more gliders across the year''.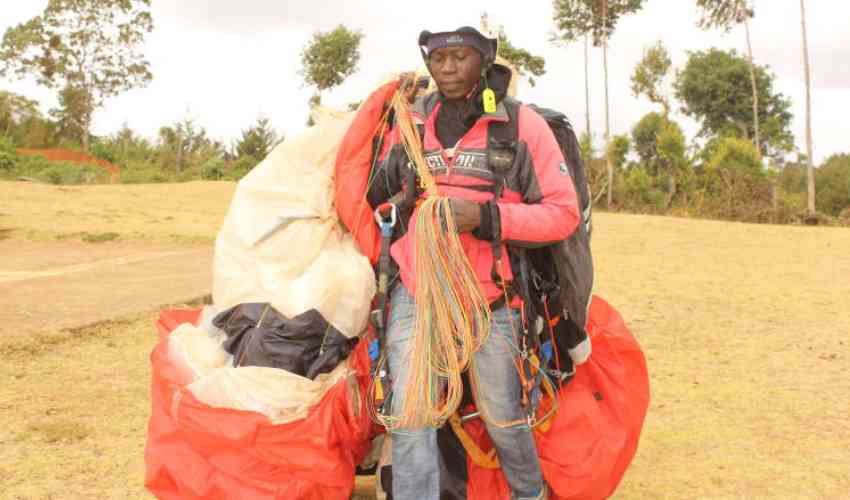 He said apart from training, acquiring a single wing is very expensive.
A used wing for example costs up to Sh300,000 and a new one costs between Sh700,000 to Sh800,000. He says a double-wing is too expensive.
"Repairing a broken wing is impossible and that is why you have to handle it with care," he explains.
The budding paraglider and his team are eager to take paragliding to the next level and are looking forward to participating in international paragliding events.
During every flight, the teams post pictures and videos across social media platforms.
"We have our social media platforms, and we have been using those platforms to build our profession across the globe, we have partners who visit Iten once every year, and it is our duty to give direction when they are around," he added.