More MPs hit by Covid-19 but fail to declare status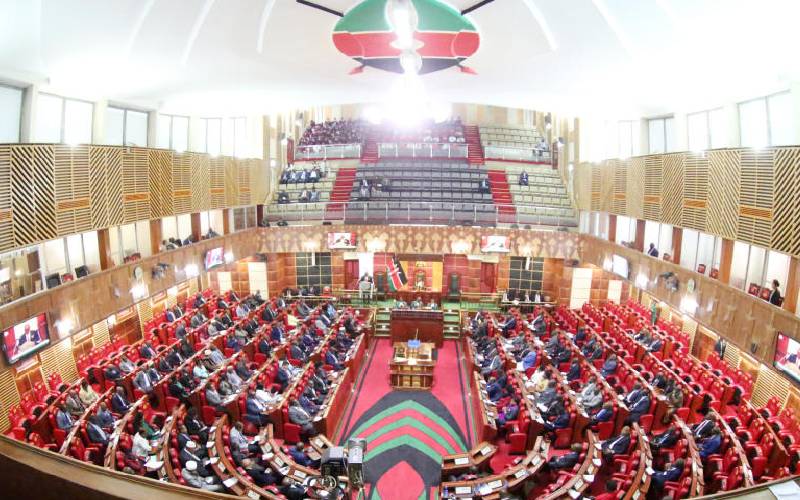 Many MPs have been hit by Covid-19, with a number currently in ICU, The Standard has reliably learnt.
And parliamentary leadership has expressed frustrations in containing the spread of Covid-19 in the House due to lack of disclosure by most legislators.
Sources say a number of MPs who contracted the virus, or are identified as primary contacts, continued to attend House proceedings as well as committee meetings without disclosing the same to speakers or clerks.
The concerns have emerged even as the National Assembly Majority Leader Amos Kimunya informed the House that some members of the joint committee on Justice and Legal Affairs (JLAC) have tested positive for Covid-19, thereby halting its sittings meant to engage experts and write a report on the Constitution of Kenya (Amendment) Bill, 2020.
Senate Majority Leader Samuel Poghisio and Kimunya yesterday moved motions in their respective Houses to alter the calendar for the Fifth Session.
Kimunya even informed the House that JLAC sittings were suspended last week after some members tested Covid-19 positive and went into isolation.
Health status
But National Assembly JLAC vice chairman Otiende Amollo disagreed with Kimunya's assertions on the Health status of the BBI team members. The committee was expected to table its report today.
Both Members of the National Assembly and Senate took the leadership to task, questioning why they were taking directives from the Executive despite Parliament being an independent institution.
A section of MPs had opposed the adjournment of the bicameral House on Tuesday, just days after President Uhuru Kenyatta imposed lockdown in Nairobi, Kajiado, Machakos, Kiambu and Nakuru counties.
National Assembly Minority Leader John Mbadi attributed the irresponsible action of some of the MPs to the surge in infections.
"It should be a matter of personal responsibility for one to stay away and isolate until they are sure they are safe before engaging with colleagues," he said.
Mbadi criticised some MPs for doubting the vaccine, a thing he says will endanger the lives of other members in the House.
"I know there are some of my colleagues here who have been offered opportunity to be vaccinated but they are cowards Mr Speaker," he said.
Mbadi openly stated that the virus has seriously made its way into the chambers and if members do not take action, more lives will be put at risk.
"Some of us, a good number of our members, have been affected and that is true, that is factual. Some are fighting for their lives," said the minority leader.
He supported the motion by Kimunya to send MPs on recess as a means to limit the spread of the virus.
Busia Senator Amos Wako also challenged the Senate to take radical steps to ensure safety of senators and Kenyans at large.
"As somebody who has gone through this terrible thing and has been lucky to survive, I fully support this motion (alteration of Senate calendar)," said Wako.
Senate and the National Assembly will resume sittings in May with the agreement of having committees meeting virtually.
Senate Speaker Ken Lusaka was on the spot over his communication which senators felt had been an extension of the president's directive.
"The speaker's communication was like a directive. The speaker's powers are very limited. The House makes decisions and resolutions in plenary," said Minority Leader James Orengo who, at the same time, underscored the need for taking necessary precaution.
The Siaya senator had proposed that senators take weekly Covid-19 tests to ensure their safety during the sittings.
No powers
Vihiga Senator George Khaniri also faulted President Kenyatta's action, saying he had no such powers.
"We passed the Constitution 2010 to ensure that Parliament has its independence. We can decide when to sit and when not to. All three arms are independent of each other," said Khaniri.
He went on: "We are happy to adjourn but we must continue working."
"The calendar of Parliament cannot be amended and discussed in any other meeting," said Kericho Senator Aaron Cheruiyot, who faulted the Speaker for his communication.
Senate had been sitting from Tuesday to Thursday until last week when members resolved to sit only on Wednesdays.
The National Assembly introduced night sittings on Tuesday and Thursday to clear backlog of pending House business because of Covid-19.
Download the BBI Judgement by all seven Judges - Civil Appeal No. E291 of 2021