President John Magufuli's love-hate relationship with Kenya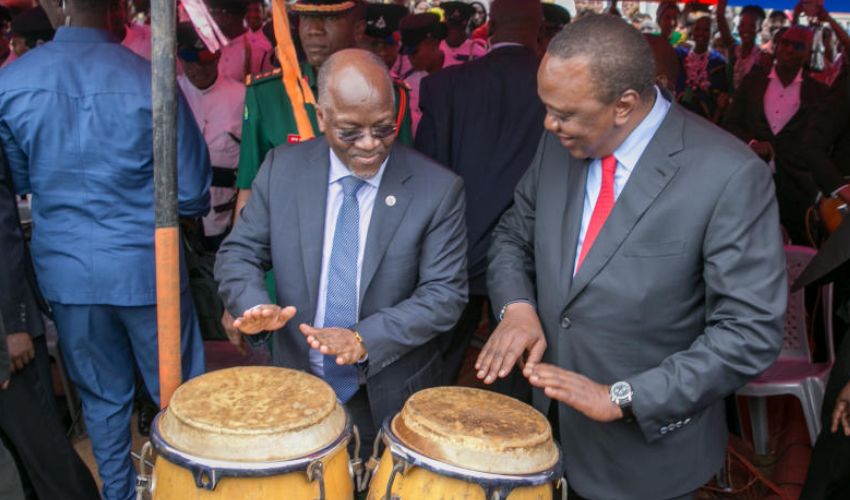 The late Tanzania President John Magufuli had what can be described as a complicated relationship with Kenya that dates back to when he was first elected president of Tanzania.
When he assumed office in 2015, there was little in his inauguration speech that would indicate just how frosty this relationship would be.
And in the years that underlined his presidency, Magufuli made it clear that Kenya was no longer an important trading partner for the region's biggest country.
He never hid this from the public, often belittling what his counterparts in Nairobi termed as achievements while addressing public rallies in his home country. In 2017, after the election of President Uhuru Kenyatta and his Deputy William Ruto into office, State House Nairobi sent an invite to State House Tanzania.
The cordial message was the official invitation to President Magufuli to attend President Kenyatta's inauguration in Nairobi. As the respected statesman that he was, Magufuli confirmed attendance.
"The government is informing the public that President Dr John Pombe Magufuli would be joining other heads of state for the swearing-in ceremony of His Excellency Uhuru Kenyatta as the president of the Republic of Kenya for his second term," an official reply from the government of Tanzania read in part. But at the last minute, he dispatched his vice president, Samia Suluhu Hassan, to represent him.
Magufuli's inauguration
Three years later, President Uhuru Kenyatta returned the favour by snubbing Magufuli's inauguration and sending the Ministry of EAC and Regional Development Cabinet Secretary Adan Mohamed to represent him.
But this apparent bad blood between the two was not confined to the respective State Houses.
The biggest tiff between the neighbouring countries, though, was experienced in the early days of the coronavirus. In May last year, just two months after Kenya recorded her first case of the virus, Nairobi closed its border with Tanzania in an attempt to control the spread of the virus.
"There will be a cessation of movement of persons and any passenger-ferrying automobiles and vehicles into and out of the territory of Kenya through the Kenya-Tanzania international border," President Kenyatta said in a May 16 address to Kenyans.
Tanzania was soon to return the favour by announcing a ban on Kenyan flights into Tanzania in August of that year. "Tanzania has noted its exclusion in the list of countries whose people will be allowed to travel into Kenya," Tanzania Civil Aviation Authority Director General Hamza Johari said in a letter sent to Kenya Airways.
"The Tanzanian government has decided to nullify its approval for Kenya Airways (KQ) flights between Nairobi and Dar/Kilimanjaro/Zanzibar effective August 1, 2020, until further notice," Johari wrote. "This letter also rescinds all previous arrangements that permit KQ flights into the United Republic of Tanzania."
A month later though, Kenya backed down on its decision and added Tanzania to a list of countries it considered safe in relation to the pandemic. His death may herald a turning point in the relationship between the two countries.