KNUT to TSC: You've until end of February to remit union dues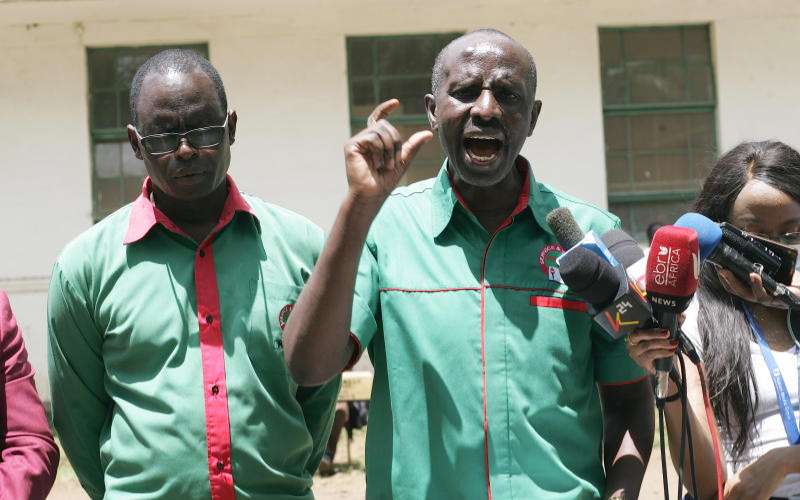 The Kenya National Union of Teachers (Knut) has given the Teachers Service Commission (TSC) up to the end of the month, to start remitting teachers' dues.
Speaking during the Nairobi branch elections at City Primary School yesterday, Secretary-General Wilson Sossion said the union's staff have gone for several months without salaries and some of their offices closed due to failure to get union dues from TSC.
"We have many options to use to ensure our concerns are addressed and one of them is organising a strike," said Sossion.
He added: "For instance these elections expenses were catered for by global teachers unions that have gone through what we are going through. We will be taking a register of our members and we are looking at other ways including use of standing orders if checkoff system through TSC will fail because even other such unions throughout the world are using the same method."
He said they are losing Sh144 million in a month due to teachers struck off from the union.
He denied claims by TSC that Knut has lost all its members, showing the media the present members who were voting.
So far, the union has conducted elections in 83 branches by Saturday, remaining with 27 branches that they hope to be through by March 20.
On Teachers Promotion Guidelines (TPG), he maintained the promotion based on Careers Progression Guidelines (CPG) is still illegal as TSC wants it to be done.
"The code of regulation for teachers which is under the law recognises promotion based on years the teacher has worked and on merit, unlike what TSC wants to use which is career progression based on performance of learners," said Sossion.
The William Ruto many don't know
For the first time, those who know and have closely worked with Deputy President William Ruto have freely or in confidence talked about his qualities.