Organisations adopt forests in race to boost Kenya's cover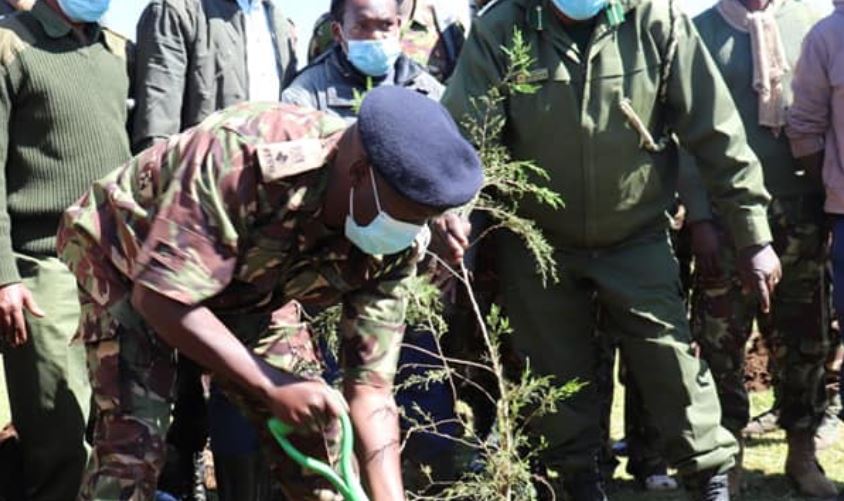 NAIROBI, KENYA: 20 ministries, departments, and agencies of government and 14 private sector entities have embraced the Kenya Forest Service 'Adopt a Forest Framework' which aims at boosting forest cover.
Kenya targets to increase forest cover by 10 per cent in the next two years, a task which Chief Conservator of Forest Mr. Julius Kamau says needs such framework to fulfill.
"Achievement of 10 per cent forest cover, restoration, and rehabilitation of degraded forests requires a strong cooperation and collaboration between KFS and other partners, it is a collective responsibility," he said.
"Such a framework allow partners to adopt a degraded forest area, plant and maintain trees for at least 3years. So far 20 ministries, departments and agencies of government and 14 private sector entities have entered into this framework with KFS."
"We are encouraging other partners to come on board."
The CCF was speaking on Wednesday after KFS hosted the Kenya Defence Forces under the Environmental Soldier Program to a tree planting activity at Kinale forest station where a total of 25,000 tree seedlings were planted.
The planting exercise also involved the Kinale forest local adjacent communities who through the Kinale Community Forest Association (CFA), have been complimenting the Service efforts in forest conservation, management, and protection.
Through the planting exercise, over 25Ha of degraded forest land was rehabilitated.
The Environmental Soldier Program which began in 2018, has seen the KDF plant trees in various forests across the country namely Kibiku forest and Ngong Hills forest station in Kajiado County among other forests.
KDF is complementing KFS efforts in rehabilitation and restoration of degraded forests through the adopt forest framework where they have so far adopted five forest blocks which includes Ololua, Kibiko, Thogoto, Ngong' Hills, and Maleba wetlands in Uasin Gishu County.
Besides, the Environment Soldier Program has also enabled the Forces to dedicate part of their vast land towards afforestation by growing trees in military camps such as Modika (Garissa County) and Wajir camp.
The exercise was led by Lieutenant Colonel Joseph Yator Commander Kenya Army Corps of Transport and Lieutenant Colonel Stanley Kithuva Commandant School of Transport.
The duo encouraged the local community to ensure that the planted trees grow to maturity. They expressed optimism and thanked the locals who came in large numbers to participate in the tree planting exercise.