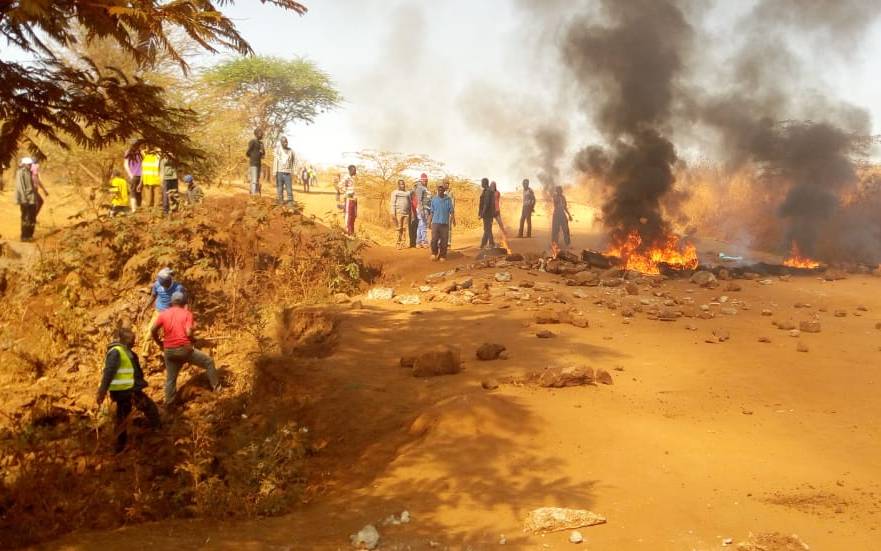 Irate residents, boda boda Operators and matatu drivers have staged demonstrations in the outskirts of the busy Emali town in Makueni County over the poor state of Emali-Ukia road.
The angry residents, among them traders burnt tires for the better part of Monday accusing Makueni Governor Kivutha Kibwana, and three Members of Parliament namely Patrick Musimba (Kibwezi West), Daniel Maanzo (Makueni) and Joshua Kimilu (Kaiti) of failing to ensure the road is tarmacked.
Matatu owners, private motorists, transporters and boda boda operators say they sustain losses due to frequent maintenance of their vehicles.
"You charge a passenger Sh100 from Emali town to Mulala but this money ends up into pockets of mechanics due to the potholes in this road," one demonstrator, who only identified himself as Muendo, said.
Read More
Locals with land next to the road complain of poor crop yieds, eye and chest problems because of the dust storms from the poorly-maintained road
Although the Class C road's construction and maintenance lies under the Kenya Roads Authority (KERRA) but not the county government, the demonstrators said that leaders had a responsibility of making follow-ups to ensure its tarmacking kicks off.
On his Twitter handle earlier today, Prof Kibwana said he had lobbied for the tarmacking of the road construction and work had started.
However, no construction machinery has been mobilised to any site but the KERRA website says construction will start in 30 days' time for the initial six kilometres although some local leaders the first phase is 14 kilometres.
Prof Kibwana, who has an interest in vying for 2022 presidential elections, has had a rough time with social media groups criticizing him for showing interest in a bigger seat while he had failed to secure the tarmacking of the road that passes barely 100 metres from his Mwanyani home.
The issue of county feeder roads being smoother than one of the most important roads in the county never ceases to generate debate.
Residents have accused the national government of giving the three Makueni constituencies a raw deal considering that it has tarmacked the Kibwezi-Kitui and Sultan Hamud-Kasikeu roads but somehow forgotten the Emali-Ukia one.
They also cite the tarmacking of the Emali-Loitokitok and Meruesh-Kajiado roads in the neighbouring county as evidence of the raw deal.