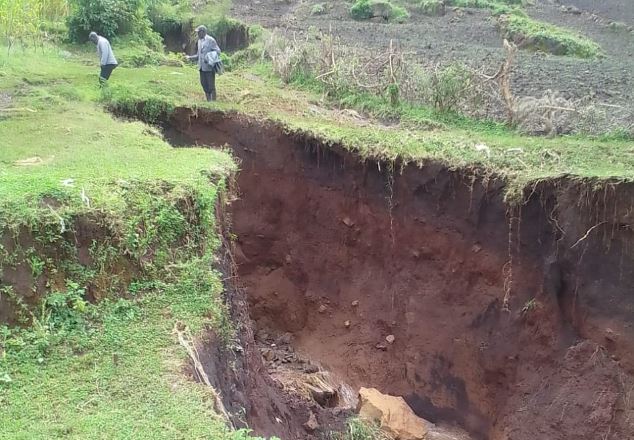 A four-year-old girl was killed in a landslide triggered by heavy rainfalls at Kalaha village, Trans-Nzoia County.
The landslide reportedly occurred on Wednesday at around 7.30pm.
The minor identified as Elestina Tata and her two brothers were inside their house when they were buried by landslide.
The survivors were identified as Naftali Barasa and Noah Sebeti aged six and nine respectively.
The parents of the minor, Solomon Okodoi and Pamela Omojongi, were away when the incident happened.
The children's mother had gone to sell vegetables at a nearby trading centre.
The woman received the sad news while returning home.
A neighbour, Jane Wafula, said she heard screams and rushed to the home when she found the house collapsed and the children trapped.
She raised alarm and villagers using hoes and spades struggled to dig through the debris and managed to rescue the boys.
"I heard screams from the home and rushed to find the two boys trapped. Their bodies except the heads had been covered by the debris. It when I raised alarm and villagers arrived to help rescued them," Mrs Wafula said.
Tata was discovered dead during the rescue mission.
The two minor were rushed to Saboti Sub-County hospital where they were admitted.
Teldet assistant chief Leonard Khaemba told the Standard that the incident happened after heavy rains.
Khaemba said the area inhabited by over 30 families is prone to landslide and emphasised the need to relocate the families.
He said the families were allocated one acre each after the farm was purchased through a co-operative society.
"The 30 families are living in dangerous grounds. They were allocated land despite environmental concerns from National Environment Management Authority (Nema) and Water Resource Management Authority (Warma),'' said the administrator.
Kinyoro Member of the County Assembly Lawrence Mokosu urged the national government to consider relocating the affected families.
"The ongoing rains pose dangers to the families. The situation is a time-bomb and it is good the government evade a disaster by relocating the families," said Mokosu.
The MCA said local roads have been rendered impassable due to rains which destroyed and washed away sections of the roads.