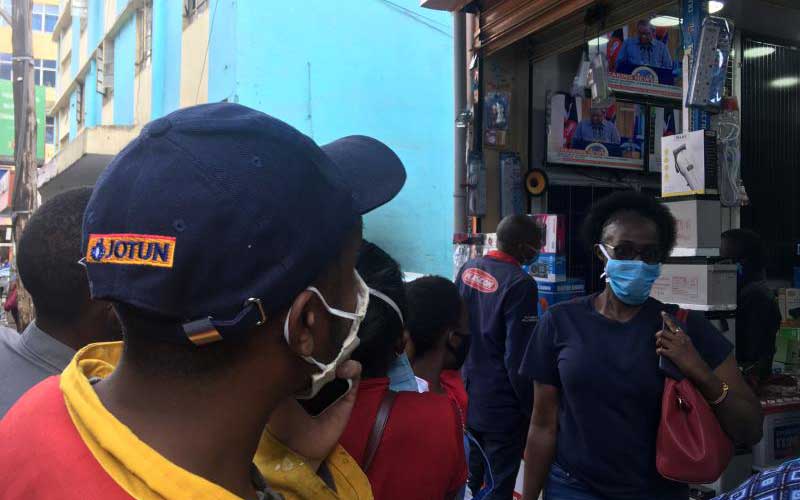 As anxiety gripped the country ahead of President Uhuru Kenyatta's address on Saturday, fun-lovers were optimistic that clubs, bars and other entertainment spots would be reopened.
They did the countdown, flooding social media with memes and other celebratory messages in what was widely dubbed "New Year celebrations".
The mood was ripe as bars stocked up and hundreds of Nairobians waited outside entertainment venues for a thrill after three months of 'thirst'.
Parking spaces outside some major malls – in Nairobi - that host some of the leading entertainment places were full as the party started in personal vehicles, with young Kenyans drinking and playing deafening music from their cars.
Read More
But woe unto them! The President had other ideas.
"The ban on gatherings, including bars, will be extended by 30 days," President Uhuru Kenyatta said in the Saturday afternoon address.
The heartbreaking announcement was met with hilarious rib-cracking memes as Kenyans ranted and raved, redirecting their wrath towards Busia and Siaya counties whose isolation facilities were used as examples by the president.
This did not, however, stop the party mood among the already tipsy Kenyans. A random check in South B, Hurlingham, Utawala, Kiambu Road and Mombasa Road showed that hundreds stayed out in bars and parking lots, drinking long past the dusk to dawn curfew time, which was varied to 9pm to 4am starting yesterday.
"We now have our freedom back. The fact that we can stay out till 9pm means we can do our alcohol without pressure," a reveller at a South B joint said.
A new lounge in Utawala, seems to have taken this illusive freedom to heart. In videos circulating on social media, revellers are seen parting without care as a deejay plays music to which the crowd jams.
Here, the social distancing health directive does not seem to ring a bell. Jovial, vibrant and rejuvenated, the happy Kenyans have their mask guards down, high-fives are ideal…hugs and many more passionately livening the party, complete with cheers and toasts announcing what seems to be a real New Year party.
The celebrations ended on a bad note. After police got wind of what was happening, they pounced in at 9pm and made a swoop, bundling 17 of the revellers into their vehicles and locked them up at Kayole Police Station.
Those arrested will be charged in court today with contravening the laws and guidelines stipulated by the Government on curfew hours and social distancing.
Fatigued
It was not the only club arrest made in the week. On Friday, police arrested scores at Buffet Park in Hurlingham, in yet another drinking spree. Two days before, they had raided the adjacent Guava club – on the same day 1824 on Lang'ata Road had been ordered closed after allegations that the club had flouted guidelines on public gatherings.
Clearly, even with the Government restrictions, Kenyans are too thirsty to keep off alcohol drinking and other social activities.
"Kenyans are fatigued. It can really be depressing for somebody to stay in the house all day, something many people were not used to. People are simply looking for places where they can get socialising relief and that is why some bars are operating to fill this demand," says Ken Ouma who operates a wines shop in South B.
From clubs to estate parking places, houses and personal cars, every available spot is being turned into a drinking den. And it is not just an uptown thing as places like Kibera and Zimmerman reportedly have drinking spots in full operation.
"All one needs is a license that lets them operate as a restaurant. That way, they get leeway to sell alcohol in the disguise of allowing a little drink to accompany a client's meal. Don't be surprised that you can just order a sausage and have a whisky bottle accompanying it," says Ouma.
However, Pubs, Restaurants and Entertainment Owners Association Chairman Patrick Muya has distanced the organisation from clubs flouting the Government directives.
"The clubs that are contravening the Government directives are not our members. Our biggest worry as an association is that through online sale of alcohol products, many underage people are accessing alcohol easily," said Muya during a recent interview with KTN News.
He said the fact that people had moved from drinking in bars to drinking at home poses a big social and behavioral challenge to parents who might have their teens picking drinking habits from them.
But the National Authority for the Campaign Against Alcohol and Drug Abuse (Nacada) is asking the public to step up and stop this wayward behaviour.
"Enforcement is a responsibility for all of us, not just police and other law enforcement authorities. Young people are accessing alcohol in their homes and this speaks to our morals," says Victor Okioma of Nacada.
"The measures the Government has put in place have led to an upsurge in alcohol sale online."