237 Kenyans killed by floods since start of rains in April - CS Wamalwa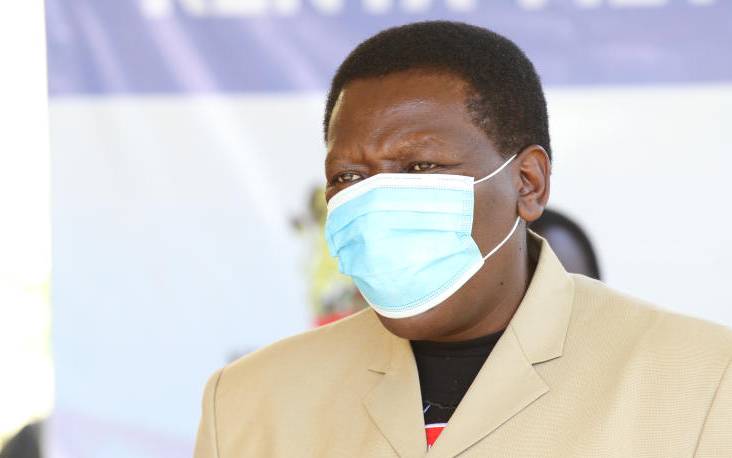 At least 237 people have died since the onset of the long rainy season in April, Devolution Cabinet Secretary, Eugene Wamalwa (above) has said.
The CS warned that the situation is worsening as the number has risen from the 194 deaths confirmed during the last briefing on the flooding situation.
"As of this (Wednesday) morning, Kenyans who have lost their lives due to floods are 237, that is a very high number compared to those who have lost their lives to Covid-19," said Wamalwa.
He said 161,000 households are also affected or displaced. At the same time, the CS urged Kenyans who are living close to rivers and to the areas prone to mudslide and landslides to be cautious.
"Meaning we have 807,000 Kenyans who are affected by these floods. With rains still going on and our dams filling up, it means more will be affected. We are urging people in flood-prone areas, mudslide prone areas to move to safer grounds," the CS said.
The CS said Lake Victoria has been largely affected and the water levels keep rising due to the ongoing rains.
Wamalwa said that over 44,000 people have been displaced by floods in Budalangi and over 60,000 in Nyando.
"All affected families will receive support from the national government. In terms of relief food, we continue supplying to all regions that have been affected and as the situation worsens we are also going to step up supplies," he said.
All over the country
Other areas Wamalwa mentioned that have been heavily affected are Lake Naivasha, Tana River, Nzoia Rive, parts of Central Kenya along tributaries that flow into Tana River from The Aberdares, Garissa, Nakuru and Mandera.
"Today River Dawa has broken its banks and there are many Kenyans in Mandera who are affected," said Wamalwa.
Kenya Meteorological Department Director Stella Aura said there are areas where they are giving advisories like the highlands on west of the Rift Valley, Central and South Rift Valley and highlands east of the Rift Valley including Nairobi. These areas are expected to receive heavy rainfall.
"This is the long rains season and in the next seven days we will continue receiving rains, in fact till the end of the month and into June," said Aura.
About 100 schools across Central Kenya have had their infrastructure destroyed by rain.
A report by Regional Director of Education Margaret Lesuuda indicates that Murang'a county has suffered most, with 71 primary and secondary schools affected.
Kenya Red Cross Society Central Regional Manager Gitonga Mugambi said worst-hit counties are Murang'a, Kiambu and Kirinyaga, adding that teams on the ground were assessing the situation.
At the Coast, Regional Commissioner John Elungata toured flood-hit areas in Tana River County to assess the extent of the destruction.
The floods have left more than 5,000 people homeless and acres of maturing crops along the river bank submerged, leaving locals at the mercy of relief aid.
Elungata, who was accompanied by County Commissioner Oning'oi ole Sosio and Coast Development Authority Managing Director Mohamed Keinan urged residents to move to safer grounds. He later supervised the distribution of face-masks, sanitiser, soap and sanitary towels to those living in displaced camps.
Reported by Anyango Otieno, Boniface Gikandi , Philip Mwakio and Hassan Barisa.