Less than 50 people to attend Ndingi's burial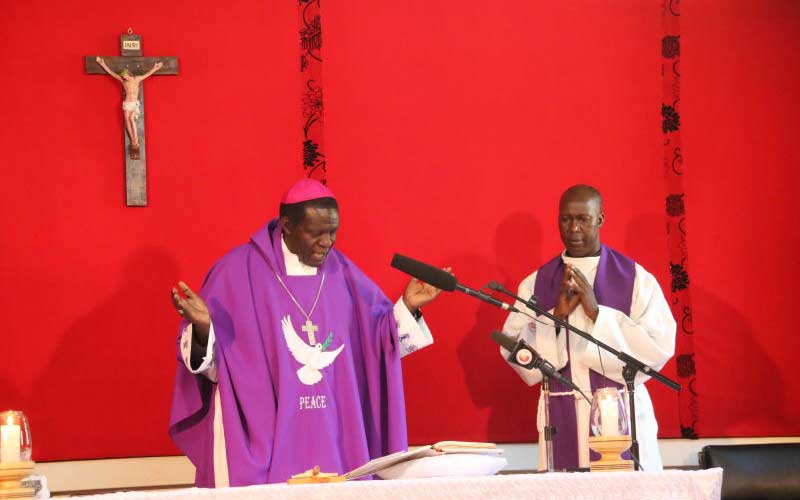 Less than 50 people will attend a requiem mass for Archbishop Emeritus Ndingi Mwana a'Nzeki.
The number is small to conform to the Ministry of Health's directive on social distancing to prevent the spread of Covid-19.
A 13-member burial committee, co-chaired by Fr Stephen Mbugua (St Paul's University Chapel) and Fr Wallace Ng'ang'a (pastoral coordinator), has set the guidelines and liturgy for a proper send-off of Nding'i next Tuesday at the Holy Family Minor Basilica in Nairobi.
According to Archdiocese of Nairobi Communications Coordinator Fr David Njau (Waithaka Parish), all Catholic bishops, Apostolic Nuncio to Kenya Archbishop Hubertus Matheus Maria van Megen, family members and government representatives have been invited to attend.
At a meeting held on Wednesday at the Archdiocese of Nairobi Clergy House where Ndingi lived, the committee resolved that the funeral mass would take an hour.
"We agreed that the cortege will leave Mater Hospital mortuary for a Mass at the Holy Family Basilica at 10am. We will be as brief as possible but will not skip the stages of Mass," said Njau.
The committee will also include Head of Catholic Church in Kenya John Cardinal Njue, his assistant Auxiliary Bishop David Kamau, Fr Calisto Nyagilo (secretary to Njue) and Fr Simon Ng'ang'a (procurator).
Committee members
Others are Fr Moses Kago (liaison), Fr Peter Ng'ang'a (liturgical coordinator), Prof Fr Lawrence Njoroge, Fr Mahusi (Clergy House) and Kennedy Kihara (Principal Administrative Secretary, Office of the President) to represent the government.
Njau explained that the cleric, described as pro-democracy champion, will be buried next to Archbishop John Njenga in a tomb.
The tomb, similar to a cabin with two opening doors, will accommodate the remains of the archbishop placed inside a coffin. Inscriptions of his personal details, including date of ordination and date of death, will be written on an adjacent slab.
Globally, Catholic cathedrals have crypts holding remains of their cardinals, archbishops and bishops. The crypts are within tombs located in the basements of the churches.
Catholic bishops are normally buried in the cathedrals in archdioceses or dioceses where they last served, except Maurice Cardinal Otunga who was buried elsewhere in accordance with his wish.
Few Catholic bishops have been buried inside the church since most of them die past age of retirement.
Burial places
Clerics buried inside the church include former Nyeri Archbishop Gatimu Ngandu (1987), his successor Nicodemus Kirima (2007), Tiberius Mugendi of Kisii Diocese (1993) and Bishop Longinus Atundo of Bungoma (1996).
Otunga was buried in accordance with his wish at Saint Austin's cemetery in Nairobi in August 2015.
Nding'i died on Tuesday from an ailment associated with aging.