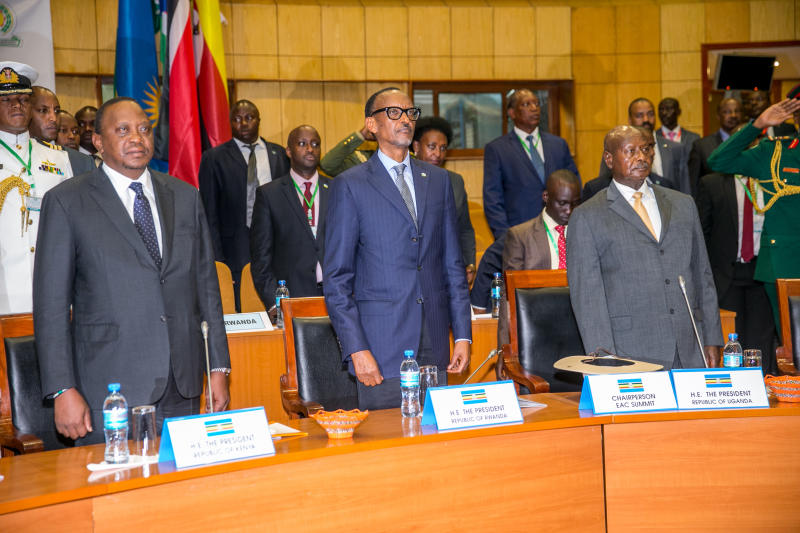 What a spectacle it was! Menacing police officers armed with cocked guns herded the impeccably dressed high ranking Kenyan officials into a room at Dar el-Salaam Airport.
One by one, the dignitaries were stripped off their finely cut suits and dresses then paraded in their underwear.
Finally, after the degrading inspection which satisfied their tormentors that they were not sneaking out any state secrets, the Kenyans were freed. Meanwhile, the files and personal notes they were carrying were also scrutinised and returned to the scandalised owners.
And with this action, the relations between Kenya and her neighbour Tanzania plummeted into irreparable new levels. Inevitably, when news of this humiliation was relayed to President Jomo Kenyatta in 1977, he was livid.
He threatened to take drastic action unless his counterpart Julius Nyerere apologised for the humiliation of the Kenyan delegation who had been on official duties.
Read More
Secret documents
Tempers somehow cooled, according to some confidential documents, after the then Tanzanian Foreign minister, John Malecela, cabled an apology which had to be read over phone to Kenyatta by a trusted government official to avert an international incident.
A thourough scrutiny of some secret documents show this was not the first apology to an angry Jomo by an annoying neighour who had crossed the red line.
Ugandan President Idi Amin had shortly after the infamous Entebbe Raid by Israeli on July 1976 pricked Jomo to the quick when he made what looked like a declaration of war on Kenya. He had to swallow his pride and sue for peace.
"Your Excellency and dear brother, I am sending this telegram to you in the spirit of brotherhood and good neighbourliness. I know in any society and in human nature members of the same family can quarrel but such quarrels can always be settled through understanding and desire for us as leaders not to cause any suffering to our people," he wrote.
Amin further pleaded: "I now consider whatever happened in the past weeks since the Israel invasion as history to be forgotten completely. I have stated on several occasions publicly that the people of Uganda and Kenya have blood relations and we in Uganda cannot possibly cross even an inch into Kenya and cause harm to our brothers and sisters…"
Amin had rattled Nairobi when one morning in February 1977, he called an international conference in Kampala and claimed a third of Kenya's territory.
His threat was not taken lightly because at the time, Kenya was spending a meagre eight per cent of her budget in defence and was militarily inferior to Amin who was using half o his country's earnings in arms and the military.
Because of membership in the East African Community, Kenya expected little of military aggression from Uganda and Tanzania and invested in other sectors such as education.
Further, Nairobi had signed a pact with Ethiopia, and also saw no potential threat from Sudan.
At that time, Uganda had an army of 20,000 soldiers and 1,000 men in its airforce as well as 30 Soviet heavy tanks, 100 armoured vehicles and 46 combat aircraft.
Kenya had an army of 6,500 personnel, an airforce of 700, a Navy of 350 and less than 20 armoured vehicles, 14 combat aircraft and four patrol boats.
This balance was tilted in favour of Nairobi after the Entebbe raid as the Israelis unwittingly aided Kenya by destroying Amin's airforce, in the process cancelling out his military strength.
This explains why Kenya was able to nip Uganda's campaign in the bud when it sent its own fighter jets to Tororo just for show and at the same time blockaded Kampala, by stopping transportation of fuel from Mombasa by road to Kampala.
Back to the uneasy brotherhood of the regional body, a report by Anthony Hughes published by Washington Post on March 6, 1977 sums up the environment and the suspicions which hastened EACC's death.
Hughes wrote: "The latest excesses by Uganda's President Idi Amin have further damaged the tottering East African Community, whose member states, Kenya, Uganda and Tanzania, are already divided by economic confrontation, personal abuse and ideological differences."
"The disputes involving the three countries will increase the instability of the Eastern Africa region. What renders the developments all the more dangerous is that each of these states has close political, economic and military links with a major international power."
Political ideologies
The different outlooks and political ideologies adopted by the three member states notwithstanding, the neighbours formally signed the protocols, signaling the formation of the East African Community in June 1967.
The Community was entirely an economic entity, which created provision of common services and a market.
This paved way for the establishment of East African Airways, East African Railways and Habours, and an agreement on the East African Common Market
In fact, Obote was offered exile by Nyerere who ultimately propped him back to power by sending forces to invade Uganda in 1979.
Amin, who was more fascinated with the Arab world and the organisation of oil producing countries as well as the liberation of Palestine, was contented as long as Kenya allowed smooth passage of goods to the country.
The development in effect reduced the three-state organisation into an affair between Kenya and Tanzania.
Tanzania, was attracted to East and favoured socialist policies. So entrenched were the Chinese in Tanzania that that Tanzanian Central Bank decreed that no imports were to be allowed in the country unless the specific goods could not be sourced from the Peoples Republic of China.
Nyerere banned imports from Kenya and further directed that should China fail to supply the goods in a reasonable period or in required quantities, imports would be sourced from elsewhere but only for a temporary period until the Chinese were able to meet the orders placed.
During this time, the East African Railways and Habours for which Kenya had a bigger stake, the long distance transporter, KENATCO, lost half of its business which taken away by Tanzanian government and given to the TanZara Railways, even as Nairobi protested that this was in breach of the EAC protocol.
Unable to make profits in Tanzania hinterland, EAR & H and KENATCO closed shop in the country, followed by the East African Airways.
There had been grumbling in Nairobi that East African Airways had never made profits in Tanzania because government officials who accounted 70 per cent of the passenger traffic insisted on free flights as they hopped from village to the other.
The ultimate fall out between Nyerere and Nairobi was the expulsion of one thousand Kenyans who were kicked out of Tanzania for refusing to live in Ujamaa villages.
Noisy and messy
The divorce was noisy and messy -- President Nyerere closed the common border, accusing Kenya of being irredeemably corrupt and dismissed its capitalistic tendency as epitome of 'man eat man' society.
In retaliation, Kenya hit back with its propaganda that Tanzania was a man eat nothing society and also expelled an equal number of Tanzanian immigrants who were accused of illegally settling at the Kenyan Coast.
It is from Tanzania that Yoweri Museveni and other forces opposed to Idi Amin would launch their guerila warfare which finally toppled the government, ushering in National Resistance Movement, which is still in force to date.
After the dissolution of the Community, the member states signed an agreement in 1984 which among other things mapped out the distribution of assets and liabilities, and provided an opportunity for Kenya, Tanzania and Uganda to explore areas of future co-operation.
The Treaty which established the Community was signed on November 30, 1999 and came into force on July 7, 2000 following its ratification by the original three partner states - Kenya, Tanzania and Uganda.
Twenty years later, EAC is a regional intergovernmental organisation whose members now include Burundi, Kenya, Rwanda, South Sudan, Tanzania and Uganda.
But the old tickering is still evident with claims of Uganda invading Migingo Island in Lake Victoria even as Tanzania bans importation of some of Kenya's products into her territory.
This notwithstanding, the regional body is preparing to become a political federation with a common currency.