Former Malawian President Joyce Banda tips women on leadership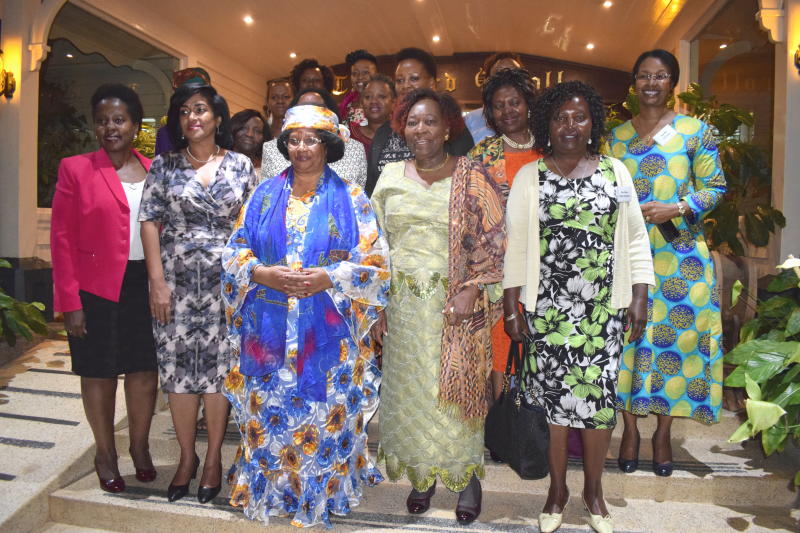 Former Malawi President Joyce Banda has challenged women to support, mentor and empower each other to achieve high posts in society.
Speaking at a dinner hosted by Zahra Moi, wife of Baringo Senator Gideon Moi, at Lord Errol in Nairobi on Thursday, Dr Banda said women should not gang up against each other but instead support one another.
"It's heartbreaking that women are their own enemies, and its men against women. These days, it's men against women through women, and women against women," Dr Banda told the evening function with Kenyan women dubbed 'Achieving Gender Parity in Leadership'.
To make the point clear, she narrated how one woman minister tried to stop her from going to Beijing in 1995 while in civil society. Dr Bandacongratulated President Uhuru Kenyatta and Opposition leader Raila Odinga for the handshake that has brought tranquility in the country, saying the two were her heroes.
"It takes a leader's one decision to shake hands and everything goes quiet. Kenyans need to be proud because you don't know how many countries are talking about the handshake," she said, while asking for support for "these good, progressive leaders".
She hailed the African continent for supporting women leaders, pointing out that there were now five women who are current and former presidents, with Ethiopia's Sahle-Work Zewde being the latest.
Among those in attendance were Education Cabinet Secretary Amina Mohamed, Nairobi Women Representative Esther Passaris, the chair of ODM Women League Beth Syengo, politcal analyst Daisy Amdany, Supreme Court Judge Njoki Ndung'u.
Also present were Beth Mugo, who is a nominated senator, and Njoki Wainaina, both Dr Banda's close friends.
Dr Banda, who lived in Kenya between 1975 and 1976 while aged 26, said there were many obstacles for women to ascend to high positions in society, but they should continue to fight their way to the top through negotiation. She took office following the death of President Bingu wa Mutharika. She was Malawi's fourth and its first female president, and will run for office again in May.
She underscored the role of a father figure in the upbringing of the girl child, saying their empowerment must begin from ages 0 to 10, and not 11 to 19 as it has been the case in most societies.