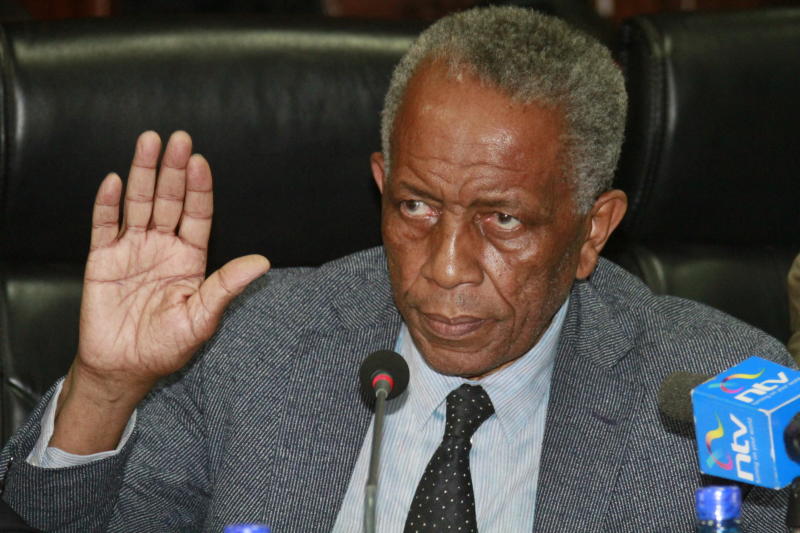 The Ruaraka parcel is part of a prime chunk of land in a puzzling dispute that now spans close to four decades.
It is a story that dates back 37 years to November 6, 1981, the day businessman Francis Mburu registered Huelands Limited with an eye on acquisition prime real estate.
He planned to build hundreds of houses for the now defunct Kenya Posts and Telecommunications Corporation (KPTC) - then one of the country's biggest parastatals.
Two weeks later, he incorporated yet another firm - Afrison Export and Import Limited - which would own half of the 96 acres he would buy from Israeli-owned Joreth Limited.
One month later, on December 29, Mr Mburu, through his two firms, acquired the land registered as 7879/4.
Read More
Consideration for the property was Sh14 million, a princely sum even now.
The next day, Afrison Export and Import Limited was granted a six-month mortgage worth Sh21 million by Continental Credit Finance Limited to fund the construction of 600 government houses.
There are no publicly available records on whether the mortgage provided by the credit firm, which later collapsed, was repaid.
The proposed houses were also never completed, meaning the borrowed funds could well have been spent to pay for the land and make a handsome profit for the owner.
After the project stalled, KPTC, then headed by Kipng'eno arap Ngeny, entered into another mortgage arrangement worth Sh165 million.
It is worth noting that the parcel had never been subdivided formally and records at the national survey offices confirm this.
Informal subdivisions
There have, however, been informal subdivisions carried out by the defunct City Council of Nairobi, whose then senior officials are among the beneficiaries, having put up huge commercial and residential properties.
While the land still legally belongs to Mburu's two firms because no transfers have happened, KPTC's mortgage that was secured against the land meant the ownership would have changed hands.
There are records to indicate that the State Corporation serviced the mortgage for a while before it ran into headwinds.
Some 198 houses had been completed before it went broke, homes that would be bought by the police department for its General Service Unit (GSU) personnel. The GSU later fenced off another 19.5-acre tract around the houses as a buffer zone.
Mburu has argued that the GSU encroached on his land as the basis for his demand for Sh141 billion from the State.