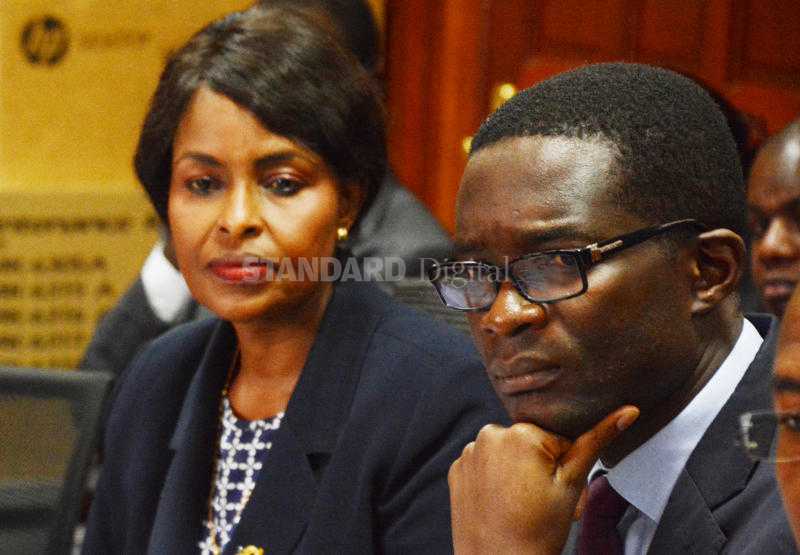 The electoral agency paid a company almost Sh1 billion without any supporting documents, a parliamentary committee has heard.
The Independent Electoral and Boundaries Commission (IEBC) was also hard-pressed to explain the acquisition of printers at a cost of Sh760, 000 each.
Members of the National Assembly's Public Accounts Committee (PAC) were yesterday told that IEBC spent Sh220, 400,000 to purchase 290 printers.
The initial budget was for 337 printers at a cost of Sh654, 000, but the price was increased.
The audit queries were raised yesterday when Vice Chairperson Consolata Maina, Commissioner Paul Kurgat, and Chief Executive Officer Ezra Chiloba appeared before the watchdog committee.
Read More
"When you look at the transactions, you can see a clear trend and pattern. Was there a syndicate at IEBC to defraud the taxpayers? I direct that you supply us with all documents in your next appearance," the committee chairman, Opiyo Wandayi (Ugunja) told the officials.
Mr Chiloba said the commission had initially refused to pay Sh850 million in pending bills due to lack of supporting documents, but it was ordered to do so by the courts.
"The supplier later sued the commission for delay and failure to settle the bill. The court, in its wisdom, determined and ordered the commission to pay the principal amount plus accrued interest," said Chiloba.
The MPs questioned whether there was collusion between the commission's top officials and the firms they gave multi-million shilling contracts.
The IEBC officials could not explain why they used quotation instead of open tender to procure tallying forms for Sh52,470,000 and fingerprint pads and indelible ink at Sh39,872,000 for the March 2013 General Election.
Chiloba said the justification that was given by his predecessor, James Oswago, for this was urgency.