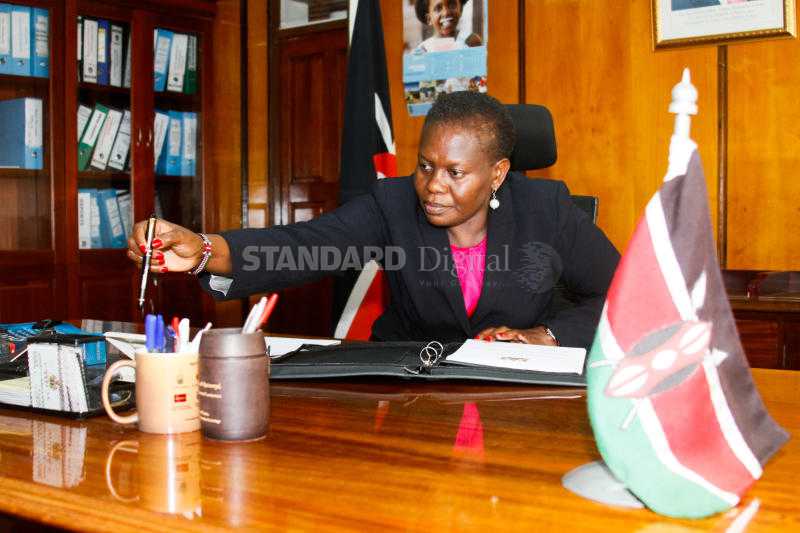 Lands Cabinet Secretary Farida Karoney has advised Kenyans living in rich agricultural regions not to sub-divide their land.
Ms Karoney said the country is grappling with food insecurity because our farms are getting smaller and smaller.
"Pieces of land are now being sub-divided into portions which are smaller than 0.8 acres. Kenyans should realise that the smaller a farm is, the less productive it is economically," she said.
Speaking at Kipsigis Girls High School during the prize giving day, yesterday, she also asked communities living around Mau forest complex to guard it instead of waiting for government agencies. She was accompanied by nominated Member of Parliament David Sankok.
"Mr Sankok mentioned the destruction of Mau forest and I concur with him since I flew over the forest recently with Energy Cabinet Secretary Charles Keter and saw smoke billowing out of the forest due to charcoal burning. We want to tell the communities living around the forest that they should police the environment before the state agencies can even step in," she said.
Read More
Water towers
Destruction of the water tower has been going on unabated and the forest cover now stands at 1.7 per cent. Karoney said though the government has one million acres for tree plantation, ordinary Kenyans must supplement the government efforts by planting trees in their farms.
"Schools and other public institutions should also set aside portions for tree planting," she said.
The CS at the same time encouraged women to acquire land. "Land is an enabler for its owner to venture into various economic activities besides farming," she said.
Karoney disclosed that she had been briefed by the Principal Secretary that title deeds were laying at the Ministry of Lands and the county offices.