Kenyans urged to emulate Lucy's discipline, generosity, courage and love for family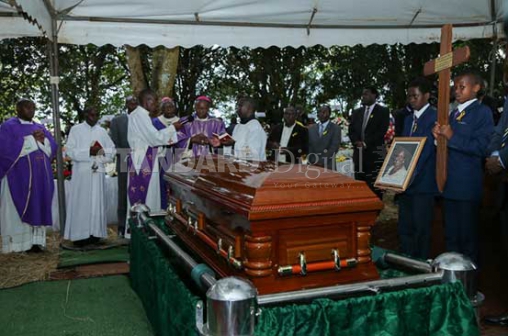 Messages of family values, discipline and generosity dominated glowing tributes by family, friends and leaders during the funeral service for Mama Lucy Kibaki in Othaya constituency, Nyeri County.
Jimmy Kibaki recounted instances which showed his mother as a fearless defender of her family.
He said how his mother was willing to defend her family from any forces out to break it especially after former President Kibaki was elected to office in 2003.
"I remember in 2003 I went to visit my father at State House, and an overzealous government official told me that as his children we had to make an appointment to see the President, when my mother heard of the news, she called a meeting and told the State House staff off," he said.
Jimmy noted that throughout her life, Mama Lucy had been a staunch disciplinarian and did not entertain nonsense.
"My mother took discipline very seriously and when I used to be canned at St Mary's Boys for indiscipline I asked my mother to intervene and she refused insisting I needed to be set straight," he said.
He disclosed that Mama Lucy dissuaded him from running for the Othaya Parliamentary seat in 2013.
"Despite political pressure to run for office in 2013, my mother reminded me that every Kenyan has a duty to serve their country and you don't have to be a politician to serve others," he revealed.
University of Nairobi Mechanical Engineering student Stella Wanjiru delivered an emotional speech on behalf of beneficiaries of the former First Lady's generosity.
"For the past six years Mama Lucy has been a second mother to me, whispering words of encouragement and love, always cheering me on materially and emotionally and I am at a loss on how to express my gratitude," she said.
Offered guidance
Wanjiru said she was lucky because Mama Lucy kept her promise to sponsor her education and showed her love and offered guidance which was rarely the case for many young Kenyans.
Bilha Nderitu and Mary Mungai eulogised Mama Lucy on behalf of her friends and sisters while John Kagai, thanked former President Kibaki for supporting the family especially when the former First Lady lost her four brothers and parents.
"The family was always there for us in tough times and we appreciate the unity and support that Mama Lucy extended to us as the Kagai family," he said.
Marsabit Catholic Bishop Peter Kihara delivered condolences on behalf of his colleagues from Meru, Nyahururu, Embu, and Murang'a.
The head of the Anglican Church of Kenya Archbishop Eliud Wabukala condoled with the family on behalf of all churches and noted that Mama Lucy was a role model to the nation because she embodied disciplined and meant a great deal to different people.
"I think we can learn a great deal from Mama Lucy, we must be disciplined as leaders and Kenyans, lack of discipline is costing Kenya great opportunities locally and globally," Wabukala noted
Former Tanzanian President Jakayo Kikwete said his family and country were mourning the passing on of Mama Lucy who contributed to the close ties between the neighbouring countries during Kibaki's tenure. "Mama Lucy was former President Kibaki's most loyal supporter, and she supported you to be the leader you are today," Kikwete said.
President Uhuru Kenyatta said Kenyans can learn from Mama Lucy that the heart of the nation is in the family.
"As Kenyans we must protect and defend our families tirelessly and leaders must emulate her and defend wananchi," President Kenyatta said.
He said like the former First Lady all Kenyans should be courageous and speak up when they see things going wrong.
"You have a right to speak your mind and heart, like Mama Lucy, she united the nation and it is our duty as leaders to carry own her legacy," President Kenyatta noted.
Murang'a Senator Kembi Gitura spoke on behalf of all elected leaders in the Senate and the National Assembly and assured the Kibaki family that the tributes to Mama Lucy were bi-partisan.
"On Thursday the Senate set aside time to pay tribute to Mama Lucy and it was decided that a copy of the Hansard for that discussion would be delivered to the former President Kibaki and his family for posterity," Mr Gitura said.
He noted that the former First Lady made a significant contribution to nationhood that can never be forgotten.
Vice President William Ruto said Mama Lucy, gave him motherly advice on politics and did not shy away from speaking her mind.
"She changed our perception of the First Lady's office giving it great influence and making it impossible to ignore her," he said.
Mourners eulogise a family matriarch
Kenyans eulogised former First Lady Mama Lucy Kibaki in a ceremony in which thousands of mourners joined members of her family in Othaya, Nyeri County.