The Sh20b project will be home to Kenya's highest suspended restaurant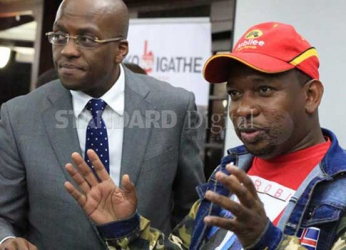 NAIROBI, KENYA: Kenya's capital Nairobi has become the center of iconic buildings witnessing growing investor appetite for landmark building.
In May this year, President Uhuru laid foundation stone for the tallest building in Africa.
The Pinnacle Tower, a 70 storey building in Nairobi's Upper Hill area will offer stylish commercial offices, luxury apartments and a five star Hilton Hotel, joined together by a three storey shopping mall and entertainment center.
On Friday, Cytonn Real Estate made another milestone with the launch of Sh20 billion iconic mixed-use development project named Cytonn Towers.
The project will be situated on a four-acre parcel in Nairobi's Kilimani area. It will be built to embody class standards in destination real estate and is expected to be Nairobi's premier business, retail and entertainment, hospitality and Residential address when complete.
"I wish to congratulate Cytonn for such a high caliber development being done by Kenyans. As Nairobi County government we will support you in building a productive city which is what we are about; productive people and productive living" said Nairobi City County Deputy Governor Polycarp Igathe at the launch.
"A project of this magnitude is a welcome development to the city as we anticipate job creation of over 4,000 people and not to mention the economic development potential it represents" he added.
It will sit on 174,000 square feet will have features like sky bridge restaurant that will be Kenya's highest suspended restaurant, Nairobi's largest ball room, a double horizon fitness club, the largest elevated infinity edge pool in Nairobi and an apex sky lounge and observatory deck that is a celebration of being at the top of the city of Nairobi.
The board chairman, Cytonn Investments, Prof Daniel Mugendi said: "We ensure the management handling our projects conducts business in a very transparent and accountable manner to ensure that investors money is well safe guarded. We hold to task the team working on all these projects to ensure that we always deliver to promise because that is who Cytonn as a brand is" he added
The 150 meters high, 35 floor triplex towers will consist of an office, hotel & serviced apartments and residential apartments that rise above a retail podium.
Construction is expected to commence in fourth quarter of 2018 and it will be built in phases with the structure expected to be complete by December 2022.
It is primarily targeted at the upper middle class, NGOs and embassies personnel looking for prime and iconic space.
The triple tower will consist of three-bedroom duplex apartments and penthouse suites, 180 hotel rooms, 160 serviced apartments and 30 typical office floors.
Cytonns Managing Partner and C.E.O, Edwin Dande said "We always aspire to have the best product in each of our segments. For mixed use development, Cytonn Towers seeks to meet the luxury housing demand, premier business office space and hotel & conferencing facilities for our growing Nairobi city while at the same time offering target returns of 25 per cent per annum to our investors"
Cytonn Towers is an addition to Cytonn' Real Estate ever growing Portfolio with other project such as Amara Ridge which will be completed in the last quarter of this year, The Alma, Taraji Heights, Situ Village, The Ridge, River Run Estates and Newtown; all together adding up to over Sh82 billion of projects under mandate.
To fight drought, involve communities
According to the latest information from the Meteorological Department, rainfall will be poorly distributed in April, May and June, and this will have a serious impact on agriculture