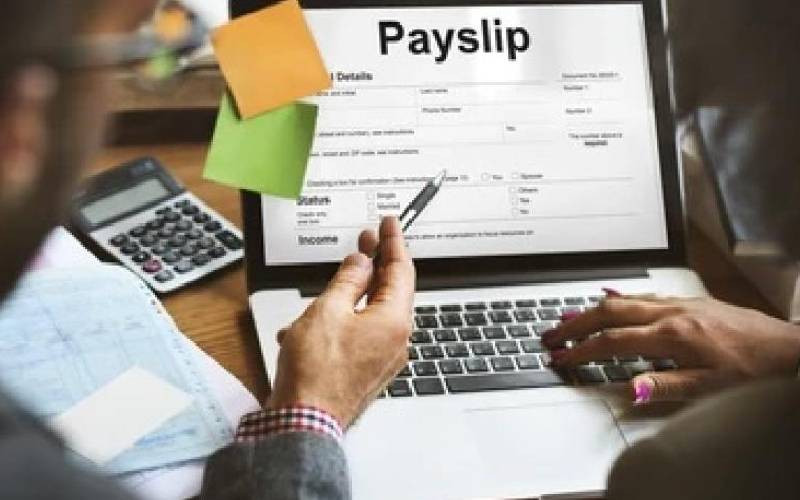 The proposed housing levy has inadvertently exposed the perils of owning a payslip. They used to be manual but are now digitised. The slip - a one-pager - contains your monthly earning and deductions: both statutory and voluntary.
And most are not very exciting to look at. They define in economic terms the life and times of the employed.
Majority of Kenyans own no payslip. But payslip owners are also entrepreneurs. The argument is that our wages and salaries rarely leave any surplus.
You must seek extra income through hustling. No wonder Kenyans as very hardworking, out of necessity. And export that culture abroad. But a payslip does not tell the whole story about the owner.
Sadly, those without entrepreneurial skills resort to corruption. But low wages and salaries do not sufficiently explain corruption; even well the paid have been ensnared in the vice.
A payslip gives you security and probably attenuates your propensity to take risks. But it's a magnet for those seeking help, and more recently tax revenues.
Your friends, relatives, insurance, lenders, churches, governments, and everyone love the payslip because of the certainty of income.
Let's not forget that payslips are not always monthly. In the US it's bi-weekly. No need for advances. Such biweekly pay ensures consumption runs the economy.
The other threat to payslip is inflation. Though prices of lots of goods and services have gone up, not salaries.
The payslip is losing its power and prestige.
The prestige is partly maintained by laws of economics; there are very few payslips, and only about 20 percent of Kenyans own a payslip.
Yet, they benefit disproportionately from taxes, an argument advanced by the Kenya Kwanza government to get a housing levy.
Non pay slippers have less scrutiny, they live "chini ya maji." But the taxman is after them. The threshold for paying taxes has been lowered to Sh500,000 and a turnover tax introduced.
What's the future of payslip? We need more of them. How do we make the economy conducive to creating more payslips?
We must start by embracing innovation and technology. They create more payslips in the long run. Remember how we feared computers? Today? Even mechanising tea harvesting and artificial intelligence (AI) could create more payslips in the long run.
The pay slip is a sign of economic security. 2027 polls should be about payslips.
Finally, let's give credit to the Kenya Kwanza government. After hustler - dynasty story, it's payslip vs non-payslip.
Like the earlier narrative, it puts pay slippers on the defensive. It seems future polls will be won through psychology, sociology, and possibly their ally psychiatry.
On a payslip? Do you love it? Talk to us.
Related Topics