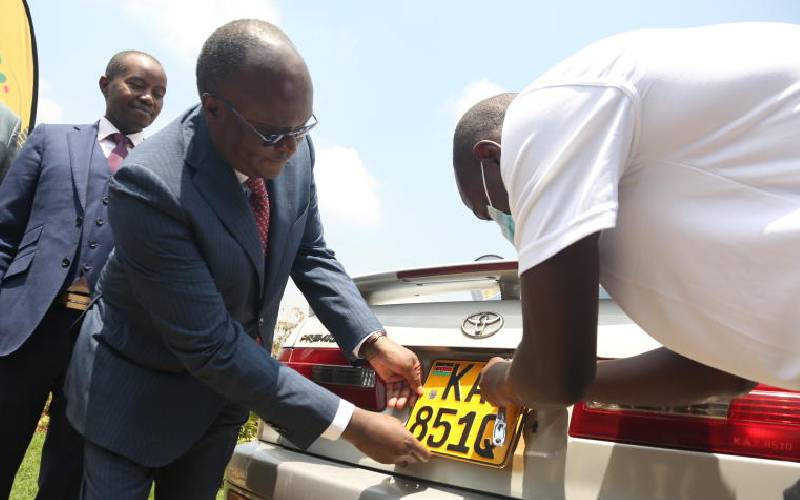 We have finally decided to change our number plates to look more like our neighbours.
Maybe that is the spirit of the East African Community (EAC) to quote Evan Bagae. He added that our new denomination currency also resembles the rest of the EAC. We should be bolder and go beyond new number plates. We should change from driving on the left to the right.
One would have thought the expressway and superhighway should have pioneered that gradual shift to right. Why boldly shift to the right?
Three-quarters of the world keep right. That includes China and the United States. We shall join the community of nations by so doing, stop being outliers.
Ghana and Nigeria, though former British colonies did that. The network effect seems to suggest being part of a bigger group is advantageous. That's why we prefer a phone number from one company compared to the other. Why did number porting die?
Keeping right would make it easy to integrate with the rest of East Africa, particularly Rwanda, Burundi and Democratic Republic of Congo. That will facilitate trade and interaction.
I can finally drive from Mombasa to Matadi on the Atlantic coast. How do truck drivers change as they get into Rwanda from Kenya or Uganda?
Tourists will find it easy to drive without being "caged" in cars. Some could say keeping left "create" jobs for our drivers because lots of tourists can't drive.
Spend more
Keeping right will free our tourists to drive themselves anywhere, possibly travel more and spend more.
Most of them are drivers and own cars, often addicted to them. Cars will become cheaper; we can import them from more places. Not just Japan.
That could also raise the overall quality of cars. Shifting to the right could also serve as a break from Britain, the last left keeper.
Britons are reluctant to change, despite all the evidence that being integrated into Europe has economic benefits. They are retreating to the island.
Let's give credit where it's due; we have changed a lot, who can't recall how we queued to pay for power, water and driving licences?
We have shifted lots of government services online. There is no limit to change, it spices our lives.
We have about two million cars and more roads to build. It's time to make this bold step and start driving on the right before it's too late.
The benefits far outweigh the costs and inconvenience. With such a change, it could be easier to hustle across East Africa. What do you think?
Related Topics