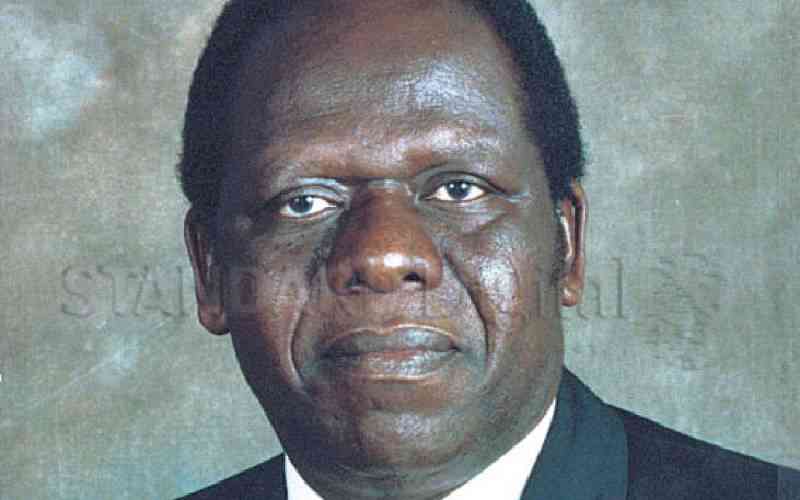 When family and friends of the late Vice President Michael Kijana Wamalwa gathered in Kitale to celebrate the 20th death anniversary this week, the leadership question in the western Kenya region came to fore again.
At the moment, National Assembly Speaker Moses Wetang'ula and Prime Cabinet Secretary Musalia Mudavadi are the senior most leaders in the region.
The Azimio la Umoja One Kenya has former Defence Cabinet Secretary Eugene Wamalwa, who is the Democratic Alliance Party (DAP) leader and former Kakamega governor Wycliffe Oparanya, who by virtue of being ODM deputy party leader takes his position among the big political sons of the region.
Focus is mainly on Wetang'ula and Mudavadi because of their senior positions in the ruling coalition though they have not found the fitting size of the Wamalwa's shoes that in 20 years.
But does their clout come close to Wamalwa's? Prof Masibo Lumala, the director of the School of Information Sciences at Moi University, argues that Wamalwa was a notch higher than the current leaders.
"There was a process that elevated him to that top level which included being nurtured by Masinde Muliro and Jaramogi Oginga Odinga," says Prof Lumala.
He recounts how the late VP also fought quite hard against ODM leader Raila Odinga to own Ford Kenya and take over as both chairman and party leader which was not a walk in the park.
And so by the time he was joining hands with the late President Mwai Kibaki and Charity Ngilu to register the National Alliance of Kenya (NAK), it was clear there was no other person who was better than him politically in the western region.
The current situation is, however, a bit tricky because there is a clear-cut point person between Wetang'ula and Mudavadi although on one hand there is that feeling that by being Prime Cabinet Secretary (PCS), the latter should be the regional kingpin.
That should apply in an ideal situation but constitutionally, Wetang'ula the man voters in western have given the moniker Papa wa Roma is number three behind the President and Deputy President by virtue of being National Assembly Speaker.
In that pecking order, Wetang'ula should be a heartbeat away from the president especially because there is an argument that the PCS office is not recognized in law.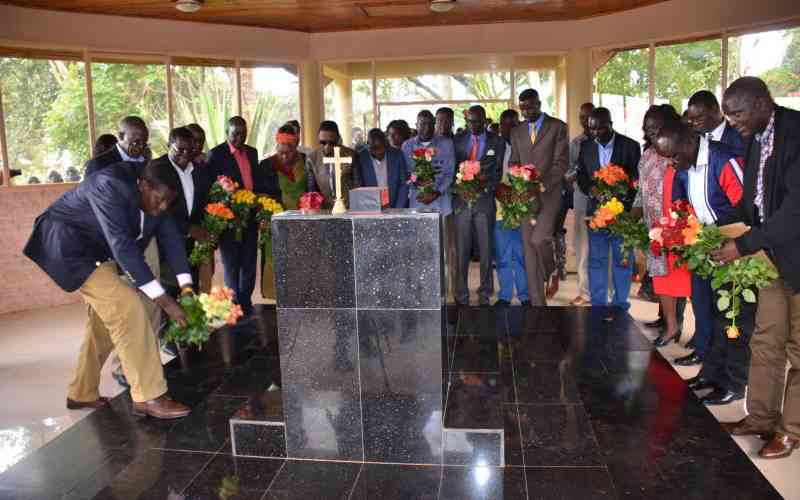 Prof Lumala also thinks the President is obliged to listen to Wetang'ula more because he dictates the agenda of the National Assembly where government business is transacted.
But from the Luhya perspective, the region has not come to a point where it can be said that there is unity of purpose like when Wamalwa became VP and unified the whole of western.
During the 2002 elections, Wamalwa marshalled the entire region to vote for President Kibaki and the National Rainbow Coalition (Narc) except for Mt Elgon parliamentary seat which went to Kanu.
Currently in terms of political parties with roots in the region, Mudavadi's Amani National Congress (ANC) does not have enough clout, same to Wetang'ula's Ford Kenya because they both have very few MPs.
"The two leaders are in the positions they occupy not because of what they contributed to Kenya Kwanza in parliament but for boldly supporting the president, otherwise they would have not mattered even in the opposition because they don't have the numbers," says Lumala.
Again, not all Luhyas are solidly behind them as was demonstrated by voters in Mudavadi's home county of Vihiga who voted for a woman representative from the Presidents UDA party and a Senator from Raila Odinga's ODM.
That raises therefore raises question; Do they command the same authority that Wamalwa had when he was in Narc?
The answer is no, because the reality of the matter is that the late Wamalwa had galvanised Luhya across the region including Busia county where he married from and within a very short time had become a man of the people.
And so there is a difference in terms of charisma, popularity and in the fact that current leaders are seen more as Bukusu and Maragoli leaders meaning other Luhya subtribes become easy targets for grabs by leaders from other communities.
"I really wished that there should some way of uniting the two so that Luhya's do not remain confused and operate like a group that does not have solidifying leadership," added Lumala.
Political analyst Martin Andati also thinks Wamalwa managed to consolidate the region despite the financial challenges he had and otherwise.
He credits the former Ford-K leader for performing well in the 1997 elections when the party managed to get a significant number of seats in parliament.
Although the party didn't sweep the entire region, it won seats in Kakamega, Busia, Bungoma,Trans Nzoia and other parts of the country and was after the death of party founding leader Jaramogi Oginga Odinga in 1994.
"By the time elections were held in 1997, most of the Luo MPs had abandoned FK and joined Raila's National Development Party (NDP) but he managed to take quite a number of substantial seats in western Kenya," says Andati.
But it was in 2003, when the party solidified its base and only lost one seat in Busia after former Finance Minister Chris Okemo won in Nambale constituency on a Kanu ticket.
In Kakamega, Ford-K again won the majority of sits although Raila Odinga's new party the Liberal Democratic Party also got a few including in Vihiga where former Assistant Minister Andrew Ligale also won on the LDP ticket.
So before he death in August 2003, Ford Kenya was slowly but steadily gaining popularity not only in the western region but in all the eight regions around the country.
Politicians like former Imenti Central MP Gitobu Imanyara who was the chief guest at this week's memorial prayer meeting at Wamalwa's home in Kitale were elected on the Ford Kenya ticket.
"It was a major achievement that he managed to rally the whole region in one banner and also helped the party get seats in the coastal region, Nairobi and Mt Kenya areas," says Andati.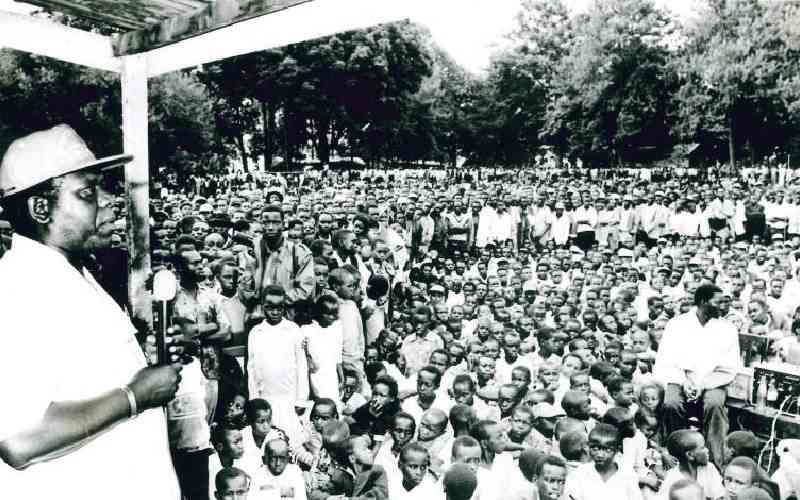 He thinks Wetang'ula is trying to strengthen the party by working with MPs from the region to strengthen its reach in Kakamega, Vihiga and Busia.
The Speaker has also had some little battles along the way before he took full control of Ford Kenya which under previous chairman Musikari Kombo had shrank into an empty shell with only one MP in Parliament.
He fought a tough fight with Kombo and later with Eugene Wamalwa before party found its footing again until last year when another attempt was made by the Jubilee administration to take over the party, an attempt he thwarted in court.
Wetang'ula, is noe engaged in frequent tours of the entire western region while accompanied by almost all MPs from the region and has held several fundraising meetings in Kakameg, a strategy Andati argues is working in his favour.
"He has taken the harambee approach but is also receiving delegations at his Kanduyi home, which is a good strategy in terms of building on the gains he made by delivering votes to Kenya Kwanza in Bungoma and Trans Nzoia," added Andati.
He also performed better than Mudavadi and delivered crucial votes to President Ruto which helped him against Raila last year by the slimmest of margins.
Comparing the two, Andati thinks Mudavadi is doing very badly because he has not done anything to consolidate and place his ANC party in a strong position.
The ANC is currently chaired by Lamu Governor Issa Timamy and has lost some key members like former Kakamega Senator County Cleophas Malala.
Apart from handing over the party to a busy governor, the analyst thinks Mudavadi also goofed when he picked MPs Omboko Milemba (Secretary General) and Beatrice Adagala (Vice Chairman) both from his home county of Vihiga.
At the memorial function in Kitale, Mumias East MP Peter Salasia and Azimio principal George Oluchiri Wajackoya told the congregation they will support Eugene's bid in 2027.
It is, however, highly expected that Raila will throw his weight behind Kalonzo Musyoka but it is the running mate position that has generated debate among pundits with the names of Karua, Eugene and even Wetang'ula' name pops up.
Related Topics