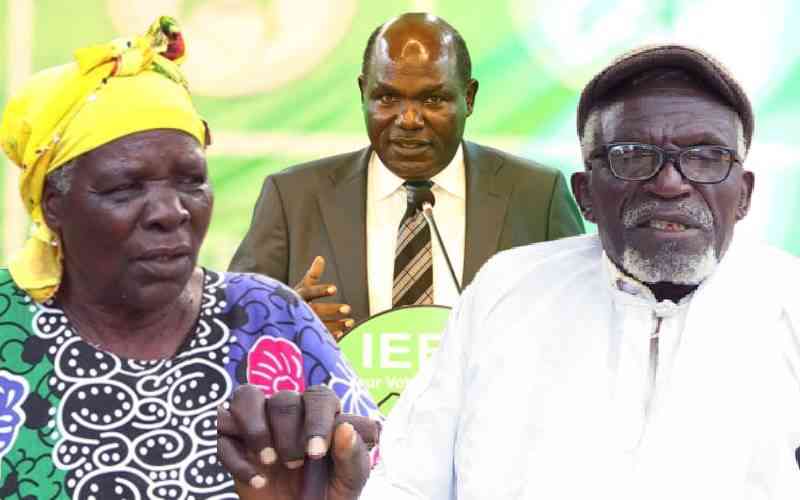 How do you bring out the sentiments of a father of a man who has retired from public office speaking about his son? And that, in fact, the father still looks at the retired man with pride. That indeed he followed the teachings which he imparted to him while still a boy.
That is not all. There is his mother too. She speaks about her son with glitter in her aged eyes.
Could this be the reason why they have lived so long? Seeing their son complete school, join a previously highly sought-after degree course in law, began his practice and end up the Chairman of an electoral body that conducts an election and declares one of the contestants president-elect. One wonders!
Owing to the uniqueness of this story, let's begin it this way.
That immediate former IEBC Chairman Wafula Chebukati has always been a man of few words. And what appears to be his polite and sometimes stubborn stance where he rarely changes his mind once made up, as has been described by those who have worked with him, is something that he has had since his childhood. His parents now say. That he was always polite and firm.
His 90-year-old father, John Wafula Chebukati, speaks of his third-born child as a man of valour who has always been likeable to many throughout his life.
Born the first son to the senior Chebukati and mama Joina Wafula in 1961, the former IEBC chairman went through normal life, enrolling at the local Matisi Primary school in Chwele, Bungoma county at the age of four.
However, a few unusual things that tended to reveal his future trajectory and that he would end up in the national limelight occurred during his birth and thereafter in life. Senior Chebukati says.
When The Standard arrived at the former IEBC chairman's parent's home in Kwanza constituency in Trans Nzoia county on Friday, Chebukati's father welcomed us with open arms. His small talk is punctuated by chuckles and great teasing moments. It is said that when men age, they grow happier, especially if their children have turned out well becoming high achievers - John Chebukati is.
Clad in a white robe with spectacles and a checked hat, similar to that worn by the late Jaramogi Oginga Odinga in his heyday, he slowly rose clutching at his walking stick to open the gate, ushering our crew in.
"I have been reluctant to speak to visitors, so many of them have been here before, but oh! You are my children, even one has a gap in his teeth," he said referring to a member of our crew as he ushered the team into his vast compound.
Conspicuous within the precincts is a herd of Freshian and jersey cattle that Mzee Chebukati tends to most of his time. His house is a simple permanent structure sitting in the middle of the compound.
To liven up the moment and create a relaxed environment for camaraderie, Senior Chebukati makes constant jokes that provoke laughter.
After quick introductions, he opens up on the lives and times of his son, whom he describes as brilliant and bold but who rarely spoke much.
"You may not believe that this is the man who sired a now bald-headed son" He says of himself as his hand goes for his hat removing it from his head which is all grey
"But that it is. You may think I am younger than my son, but that is God's work,"
He introduces his wife Joina before narrating to us how God revealed to him that his son would be a great man on the day of he was born.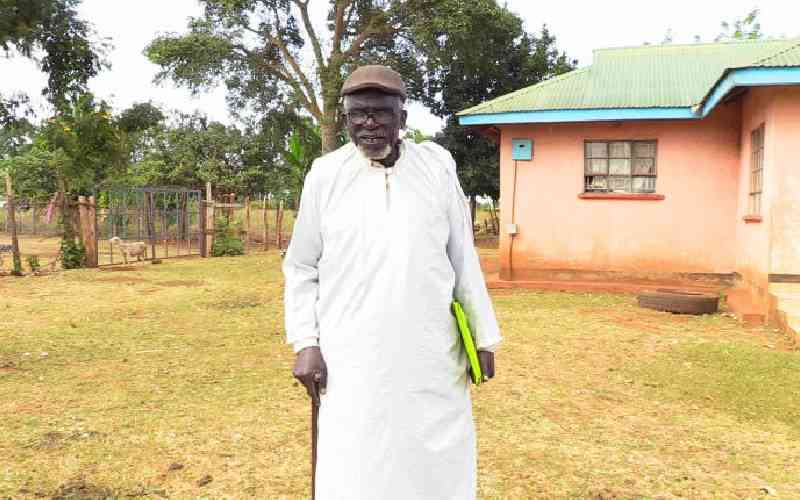 Mzee Chebukati says he placed three bottles with flowers on his newborn son's head. When his wife asked about what he was doing, he told her that God had revealed to him that his son would be a man of the people.
Just as beautiful flowers are loved by all and sundry, Mzee Chebukati noted that this was simply a gesture that his son would be loved by all.
After completing his Certificate of Primary Education examination at Matisi Primary school in Chwele (Bungoma County) young Chebukati joined St Peters Mumias Boys, now in Kakamega county for his secondary-level education.
However, he had to be transferred to Bokoli secondary in Bungoma, a school that was closer home after he developed complications while in Form three.
Throughout his academic life, said his father, Chebukati displayed prowess and was loved by his teachers. He joined Lenana School where he passed with Division I and later the University of Nairobi where he studied law.
Chebukati teamed up with partners working at a law firm in Mombasa, where his father would later visit him.
His mother Joina Wafula describes younger Chebukati as a person who spent most of his time engrossed in thought. He would just answer a question put to him and flip back to his quiet and calm demeanour. He did not speak much but acted wisely, she added.
"My son did not speak much, right from his childhood. If you posed a question to him, he would respond and then maintain his silence,"
She says Chebukati was her first son and third born in their family of 11 and has been a role model. His siblings have emulated him and have made it in life- as he has.
"Among his brothers and sisters is a high school principal and a police officer who has also followed in the footsteps of their elder brother Chebukati", She says.
The former IEBC chairman's parents described him as a man who loves his parents and always found time within his highly busy schedule to be with them.
They have called on whoever will replace him at the electoral body to seek for their son's wise counsel whenever things are rocky. They believe that his great experience in his line of duty that helped him keep away political storms is something that anyone should emulate.
Friends and relatives described the immediate former IEBC Chair in a similar fashion. Nominated MCA at the Transzoia county assembly Margret Wanjala says Chebukati has always been a polite man who handles complex issues with calm boldness and utmost care.
His neighbour at his Kwanza home deputy leader of majority at the County Assembly of Transzoia Kefa notes that Chebukati is a man of the people who has done his best for his country.
Related Topics