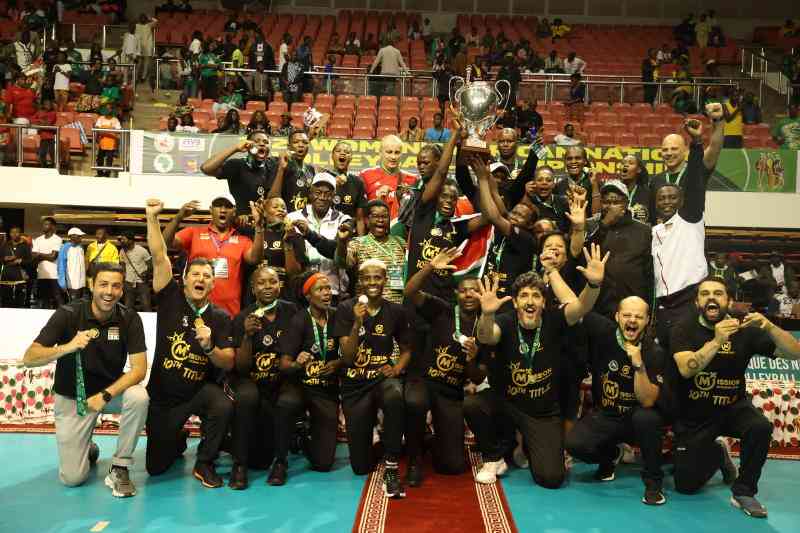 In a triumphant climax of exceptional skill and unwavering determination, Malkia Strikers shattered the heavy clouds of an eight-year title drought, casting a radiant glow over the courts of the Africa Nations Championship (AFCON) finals in Yaounde, Cameroon.
With a resolute spirit that burned brighter than ever before, Malkia are, not only champions but record-breaking champions.
A record-breaking 10th African title now adorns their legacy, a testament to their indomitable spirit and unrelenting pursuit of excellence.
The Malkia Strikers had not merely won a championship; they had ignited a flame that would burn brightly for generations to come.
In a climactic climax that will be etched in the annals of volleyball history, Malkia Strikers sealed their victory with a 3-0 (25-22, 25-20, 25-14) sweep over Egypt on Thursday night in Yaounde.
And with the victory, Malkia Strikers have earned themselves a ticket to the Paris 2024 Olympic Games.
"I am very happy that Kenya, we have qualified for the Olympics next year," said Most Valuable Player (MVP) Sharon Chepchumba after inspiring Kenya to victory.
"It is time now that we need to show the world that we are the best."
Chumba, who made it to the team of the tournament alongside youngster Emmaculate Nekesa, who won the best setter award, and skipper Mercy Moim, who was crowned best outside hitter, thanked her teammates for helping her win the MVP award.
"I missed the first two matches with injury and wasn't playing at my best for another two but they covered well for my absence. If they hadn't won those games we probably wouldn't have made it to the final. This award is for the team," said the former KCB player.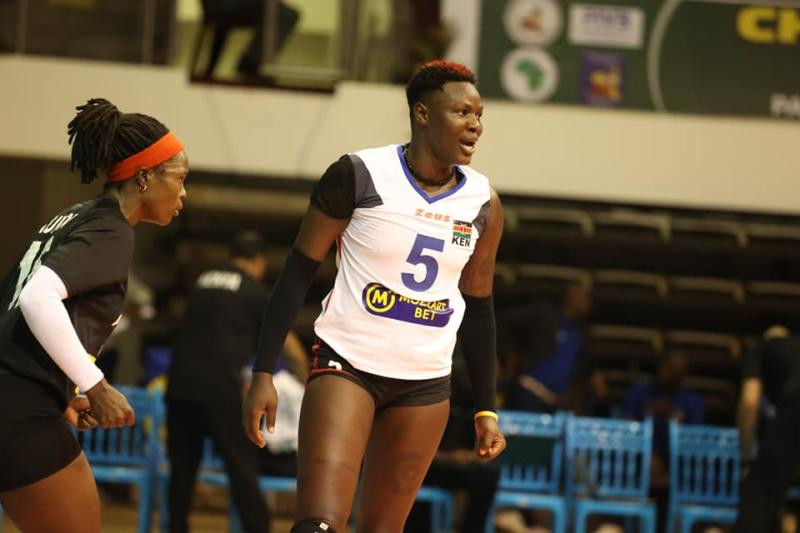 Malkia's journey towards redemption painted a picture of vibrant hues of sheer excellence.
The champions got their campaign for the tenth African Nations Championship title off to a perfect start as they saw off Rwanda 3-0 (25-16, 25-20, 25-17) at the Palais Polyvalent des Sports.
Newbies Burkina Faso followed suit as Kenya picked an easy (25-10, 25-9, 25-10) win before dispensing Uganda in straight sets (25-14, 25-16, 25-14) to make it three wins in a row.
Kenya's first real test in the championship followed in Morocco but Malkia fought hard to keep their winning streak going by beating the North Africans 3-1.
Kenya claimed the first two sets 25-16 and 25-23 before losing the third 22-25 but recovered to claim the fourth 25-14
Lesotho was no match for the menacing Malkia Strikers as the Kenyans easily picked up a 3-0 (25-5, 25-8, 25-13) win in their final Group B match.
In the quarter-finals, Nigeria was humbled 3-0 (25-14, 25-17, 25-11) as Kenya qualified to play defending champions Cameroon in what was a repeat of the last three finals.
But like a wounded lion, Malkia came from behind to silence their bitter rivals Cameroon 3-1 (25-27, 25-14, 25-11, 25-18) at their own backyard.
As the final match dawned, anticipation hung in the air like a thousand butterflies fluttering.
The arena buzzed with electric energy, each heartbeat echoing the dreams of an entire nation as Kenya faced Egypt seeking to end their long title drought. Kenya had last clinched the title (ninth title) in 2015 in Nairobi under the celebrated coach David Lung'aho.
And a well-oiled Luizomar de Moura-led side delivered the eagerly awaited trophy in style.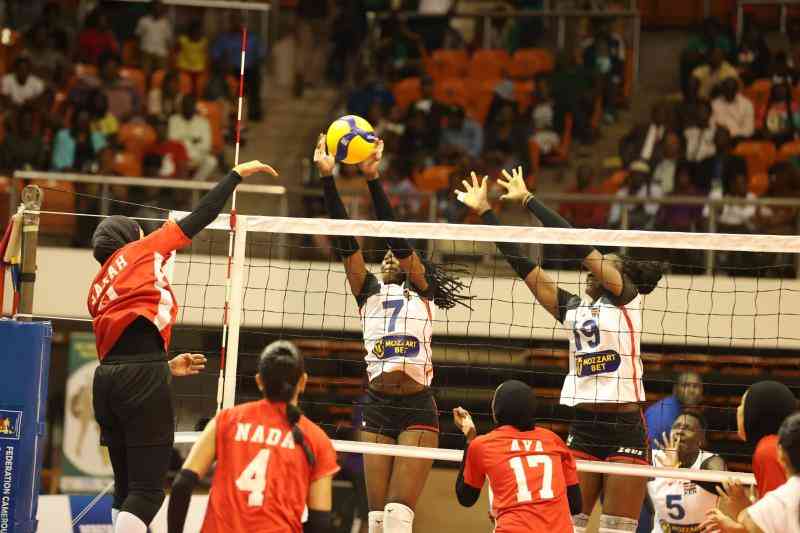 Their triumph was a tapestry woven from threads of perseverance, teamwork, and sheer brilliance with a perfect blend of youth and experienced players.
Save for Moim, Trizah Atuka, Edith Wisa and Aggripina Kundu, most of the players were winning the continental title for the first time.
"This is a result of sheer hard work. I am proud of the ladies' commitment since we started the journey three years ago. Today, they showed that Kenya is back as the top team in Africa. Not only in ranking but also as champions of Africa," said Luizomar, who is the head of the FIVB-recommended technical bench.
As they held the trophy aloft, the radiance of their achievement illuminated not just the court, but the hearts of every fan who had stood by them, sharing in their triumph as if it were their own.
Related Topics