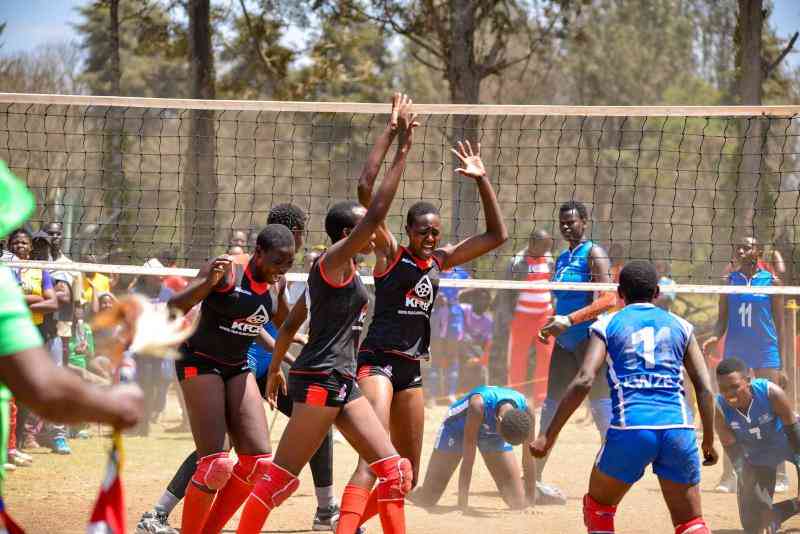 It will be an all-Kenyan affair when defending champions Kwanthanze and Kesogon Secondary schools clash in the Federation of East Africa Secondary Schools Sports Association girls volleyball final.
Tanzania Game and Trekkers (TGT) Grounds in Arusha, Tanzania will be today's battlefield as the two sides lock horns in a repeat of the national final.
Pitted against one another for a second time in 11 days, Kwanthanze will be out to prove that they are indeed the queen's of volleyball while Kesogon will be on a mission to avenge the 3-1 (25-20, 17-25, 13-25, 19-25) loss to Kwanthanze that denied them the national trophy.
Kwanthanze, the five-time East Africa champions will be keen to defend their title and add a sixth gong in their trophy cabinet.
Kwanzanthe captain Faith Cherotich said that they expect a very tough encounter but she believes that they will accomplish their objectives.
"We don't expect them to let us have it easily and we are therefore prepared for the game," Cherotich said.
She added that they didn't relax after the national games and immediately embarked on preparations for East Africa games.
"We shelved our celebrations after the victory at the national games because we knew we had a bigger battle to fight. We have worked on our game, changed our approach and I believe that our efforts will come to fruition."
Cherotich admitted that they struggled in their semis clash against Rwanda's IPRC Kigali despite winning 3-1 (25-16, 23-25, 25-11, 25-22).
"We struggled because we lost confidence during the second set. We are grateful that our coach reminded us that we have a mission to accomplish and together with other Kenyans rallied us to victory," Cherotich concluded.
Her Kesogon counterpart Brigid Barasa on the other hand says that they are yearning to exert revenge.
"We showed them (Kwanthanze) so much respect in the national final and we paid dearly. They will meet a totally new side because I believe that making it this far on our debut is proof enough that we are equally good and deserve to win the trophy," Barasa said.
Barasa said that they are now more confident that they were at the national games and Kwanthanze should be ready to taste defeat.
"It is our first time here but I believe that we have shown our mettle and consistency at the games will count for nothing because we are determined to bag the title we believe that they are beatable despite being the most decorated side," she said.
Kesogon beat Mkalapa of Tanzania in straight sets of 25-15, 25-17 and 25-17 to guarantee themselves top two finish. Home girls Mkalapa will take on IPRC Kigali in third place play-offs.
In basketball, Kenya's Dr Aggrey Secondary School, who are debuting at the games, will face Uganda's Bethel Covenant in today's semis, as defending champions Buddo Secondary School (Uganda) play Rwandese side Lycee De Kigali.
Kenyan representatives in girls' basketball, Kaya Tiwi Secondary School and Olympic High School failed in their bid to reach the semis.
National boys' basketball champions Dr Aggrey were the only Kenyans standing after finishing second in Group Group A to book a date with Lycee De Kigali of Rwanda in the semis.
The going got tough for other Kenyan sides. It was end of the road for Dagoretti High, Kaya Tiwi and Olympic Mixed who failed to overcome there opponents to bow out of the contest.
In girls football, champions Wiyeta and finalists Dagoretti Mixed will face off in the semi-final. The 2017 East Africa champions Wiyeta finished on top of Group A while Dagoretti were second in Group B with with seven points each.
In boys' football, Kenya's Highway Secondary School made it to the semi-finals after edging out Uganda's Kibuli Secondary School 1-0 to finish second in Group A with eight points.
National champions Ebwali were eliminated after going down 4-0 to record holders St Mary's Kitende of Uganda.
Related Topics